Prosecutors are seeking the ultimate punishment for a Dunnellon man accused of choking a Lecanto man to death and burglarizing his home.
During Circuit Judge Richard "Ric" Howard's Monday morning court hearings, Assistant State Attorney Pete Magrino announced he was seeking the death sentence for 33-year-old Christopher Eugene Smith for the April 2017 murder of 73-year-old James Thomas Roman.
Magrino won't be seeking death for Smith's Inverness co-defendant, 24-year-old Sara Jane Atwood, who allegedly conspired with Smith to murder Roman, her grandfather, for financial gain.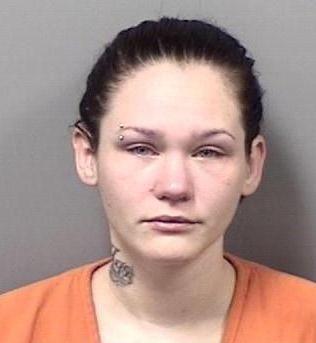 Magrino, who filed Smith's death notice Monday, accused Smith of being directly responsible on April 30, 2017, for burglarizing Roman's mobile home off West Cardamon Place and choking Roman to death.
"The evidence that's currently known to the state is that Smith was the hands-on person with regards to the murder of Mr. Roman," Magrino said in a phone interview.
Howard scheduled the couple's next court appearance for Dec. 12. They will continue to remain in custody without a bond.
After a yearslong investigation, detectives with the Citrus County Sheriff's Major Crimes Unit in early September arrested Smith and Atwood on a warrant charging them with murder while committing a felony and home invasion, prior reports show. 
A Citrus County grand jury on Sept. 24 indicted the couple on a capital-felony count of first-degree premeditated murder and a life-felony count of armed burglary, court records show.
If Smith is convicted of capital murder but a jury doesn't find him eligible for the death penalty, Howard must still issue him a life sentence, Magrino said, adding Atwood will also stay behind prison bars for life if jurors find her guilty of murder.
Sheriff's deputies discovered Roman's body during the early morning hours of May 2, 2017, after being led back to Roman's house following a vehicle chase the day before with Smith, who was driving Roman's Nissan pickup truck.
Smith was able to lose his pursuers in Citrus County, but was apprehended later that morning after a brief pursuit in Marion County.
A judge in September 2017 sentenced Smith to serve a year and six months for charges connected with the pursuit, and Smith was afterward extradited back to Citrus County on Sept. 5 to face his latest charges, reports show.