A high-speed chase through Citrus and two other counties ended Sunday morning with authorities ramming a stolen truck driven by a Bushnell man, who earlier had fired on pursuing troopers.
Medics airlifted Travis Duane Lovett to Regional Medical Center Bayonet Point after the 22-year-old was ejected from a burgundy 2007 Ford F-250 pickup truck off of Sumter County Road 476 near Southwest 41st Terrace, outside of Bushnell, according to the Florida Highway Patrol (FHP).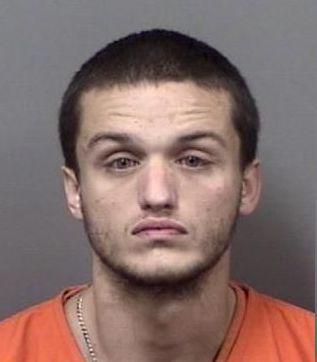 As of Monday, he was still being treated at Tampa General Hospital for his injuries, FHP spokesman Sgt. Steve Gaskins said.
Citrus County Sheriff's Office (CCSO) investigators had been searching since 7:17 a.m. for the truck, which was reported stolen from an address off of Mountain Lake Avenue in Floral City, according to a CCSO news release.
Working off of a tip, sheriff's deputies at 9:15 a.m. went to a property on the 5300 block of East Muzzleloaders Court in Inverness and found Lovett in the truck.
Lovett drove the truck toward one of the deputies, who had to jump out of the way. Lovett continued to drive through a fence and accelerated towards another responding deputy's cruiser, which swerved to avoid a collision, the sheriff's release states.
A neighbor told a Chronicle reporter she saw several people sitting at the front porch warn the getaway driver about the approaching deputies, who had parked their patrol cars to block the driveway and much of the front yard when the truck backed up through chicken-wire fencing to escape.
Robin Richardson said she went to the front of her relative's home after hearing a "boom" from the truck plowing through the fence.
"By the time I got the door, the deputies were already down the road chasing someone or something," she said.
Lovett fled from deputies through Inverness, driving in opposite lanes, running through numerous intersections without slowing. He struck at least one civilian's vehicle during his getaway.
David Nichols said he and his wife were about to turn south onto Pleasant Grove Road from westbound State Road 44 when they were halted by a red pickup truck that traveled just in front of them, through the intersection's red light on its northbound route up Forest Drive, followed close behind by three sheriff's patrol cars.
"Another five seconds and we would have been in the news," Nichols said, adding a tan SUV to his right had to veer away from almost getting broadsided. "I'm amazed he didn't get clobbered."
CCSO is asking anyone who thinks their property was damaged during the pursuit to call its nonemergency number at 352-726-1121 to report the damage.
FHP troopers joined in the chase as it neared U.S. 41's intersection with Kabrich Road, north of Floral City.
Lovett got onto South Great Oaks Drive and travelled south, leaving the roadway near the intersection with Bayberry Lane to travel on the Withlacoochee State Trail, according to CCSO spokeswoman Jodi Sanders and FHP.
Lovett continued driving on-and-off the trail for roughly 1.6 miles, almost colliding with several pedestrians, before going south on Istachatta Road.
Troopers kept pursuing Lovett into Hernando County and eastbound onto County Road 476.
Troopers said Lovett pointed an unknown object at them before he fired three gunshots from a handgun through the truck's rear windshield, with one round striking the right side of an FHP cruiser's front windshield, according to the agency.
"Shots fired! Shots fired!" a trooper was heard saying in provided dashboard-camera footage.
No police injuries were reported.
Troopers were able to get a vehicle-tracking device onto the Ford, and tried several times to get Lovett off the road with PIT (precision immobilization technique) maneuvers, according to FHP.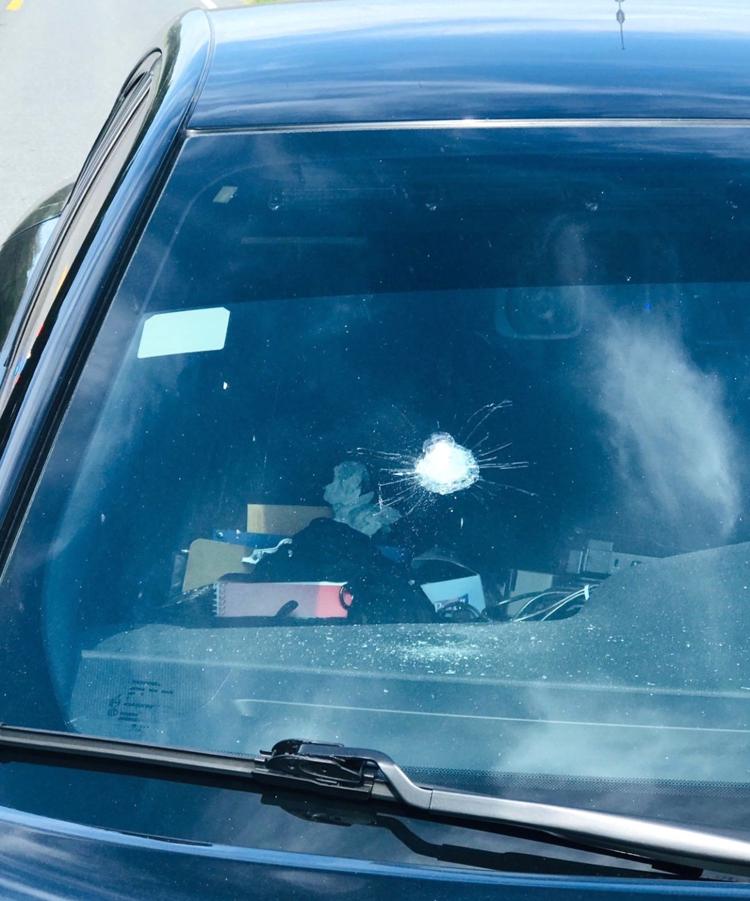 Police followed Lovett on C.R. 476 into Sumter County, where troopers executed another PIT maneuver on the truck, causing the vehicle to overturn numerous times onto the road's southern shoulder. Lovett, who was not wearing a seatbelt, was ejected from the vehicle.
FHP also recovered from the crash scene a Phoenix Arms 25-caliber pistol, 1.2 grams of cocaine, 0.5 grams of methamphetamine, $952 in cash, a business card with drug-selling information on it and Lovett's cellphone, according to an agency report.
Lovett's blood was also drawn at the hospital and collected by FHP.
For Lovett's alleged crime spree in Citrus County, CCSO will be charging him with two counts of aggravated assault and one count of aggravated fleeing and eluding, the agency's release shows.
Other charges from the sheriff's office and FHP are pending.
This is not first time Lovett has had a run-in with the law.
FHP arrested him in January on accusations he stole a Honda Civic from Sumter County and lead authorities in a pursuit north through Pasco, Hernando, Citrus and Levy counties, according to the agency.
A trooper did a PIT maneuver to stop Lovett at U.S. 19 and East Cason Boulevard near Inglis, and apprehended Lovett as he was trying to run from the car. Prosecutors are charging Lovett with aggravated fleeing and eluding, a second-degree felony in connection with that chase, court records show.
Lovett is scheduled for a May 9 court appearance.
Lovett was also released from state prison in January 2017 after serving a two-year sentence from May 2015 for charges of carrying a concealed firearm, possessing meth and grand theft of a motor vehicle committed in August 2014 and February 2015 in Sumter County, according to the Florida Department of Corrections.