After a judge undercut her hope for justice, a Citrus County mother is making a final plea to the court for a fair punishment to hand the Dunnellon woman accused of sexually coercing and molesting her teenage son.
"I get that the court is looking out for her best interests," she told the Chronicle, which withheld the woman's name to protect her family's identity, "but what about my child ... where was that for him?"
Ashlee Nicole Graham, 21, is scheduled to stand trial the week of Sept. 27 on accusations she sent sexually-explicit text messages to a then-13-year-old boy she also had touch her inappropriately.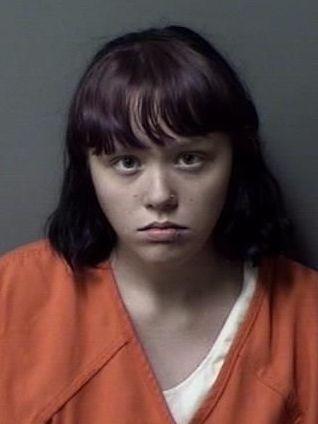 Graham's charged with one count of soliciting a child for sexual conduct, two counts of lewd and lascivious molestation of a child between 12 and 16 years old and three counts of transmitting harmful material to a minor.
If jurors find her guilty of the six felonies, Graham would face a prison sentence of up to 50 years.
However, Graham's case might not resolve with a trial.
A plea offer from Circuit Court Judge Richard "Ric" Howard is on the table for Graham to serve six years of sex-offender probation as a youthful offender. Howard's offer would also adjudicate Graham guilty of the offenses, making her a convicted felon.
Howard's offer came after prosecutors with the State Attorney's Office asked Graham in March to consider pleading out to a 42-month prison sentence followed by two years of probation, according to Assistant State Attorney Blake Shore, who supervises Graham's prosecutor. 
Shore said Howard relayed his offer to involved attorneys during a conference in the judge's chambers. Graham's lawyer, Robert Christensen, could not be reached for comment.
While it's common practice for judges to make plea offers for defendants, Howard's shocked the boy's family. 
"I have so much respect for Judge Howard, I really do," the mother said, "so this just like blew us out of the water."
Florida law allows judges to sentence someone as a youthful offender if the defendant committed a crime before turning 21 that wasn't either a life or capital felony.
Judges can order youthful offenders to serve either six years of probation, up to 365 days in a jail or community facility as a condition of probation, a split sentence of prison and probation not to exceed six years or a prison sentence of up to six years.  
A prison term between three and four years was an acceptable sentence for Graham, the boy and his family agreed in conversations with the prosecution.
"That gives her time to reflect on what she's done," the mother said.
Graham has a final pretrial hearing set for Monday, when the boy's family will plea with Howard to have Graham spend time behind bars.
"I really want to push for some of jail time," the mother said. "Someone has to be there to advocate for my son because, unfortunately, the court's not doing it."
Graham shouldn't be considered a youthful offender, the boy's mother said, because she was aware of her alleged actions and understood their consequences.
Verizon alerted the boy's mother in August 2020 to a purported text conversation of 172 messages between her son and Graham that contained sexual content, she said.
Graham's arrest report shows the boy told investigators Graham sent him nude photos and asked him to send a nude photo of himself. He also said Graham forced him to touch her inappropriately, and told him to keep what happened a secret.
According to his mother, the boy's internet access was limited and monitored, but Graham tried to get him to download other chat and social media applications.
"She knew what she was doing was wrong," the mother said.
In an interview with authorities before she was jailed in September, her arrest report states, Graham denied either soliciting the boy for a nude photo or forcing him to touch her. She did admit to sending him three nude photographs.
Graham was released from custody later in the month after posting bail on a $28,000 bond, court records show.