DUNNELLON — A Dunnellon man on Feb. 6 allegedly brandished a sharp-pointed metal sword in the faces of attendees at a local flag-waving event held to celebrate the impeachment acquittal of President Donald Trump.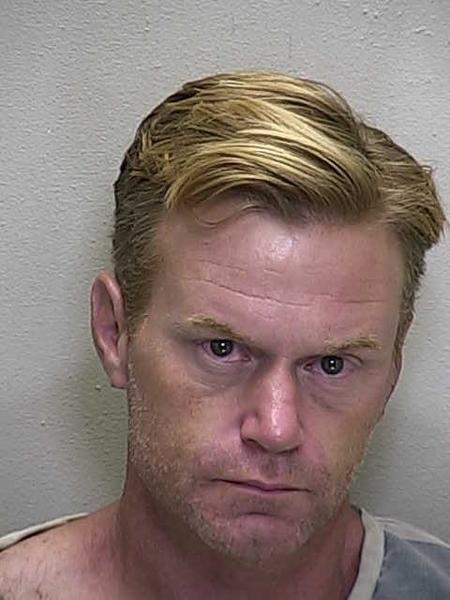 James Whitehurst II, 49, was charged Feb. 6 with 10 counts of aggravated assault with a deadly weapon without intent to kill and one count of disorderly conduct.
The sword was unsheathed from an unscrewed wooden cane stick, which was similar in dimension to a short pool stick.
According to the Dunnellon Police report, the victims said Whitehurst approached the gathering of people at the rally at around 11:15 a.m. on Thursday, Feb. 6, with his sword unsheathed. He then made threats against the group and pointed the sword in the faces of attendees, the victims said.
The event was held across the street from McDonald's on North Williams Street. Approximately 30 to 40 people were in attendance.
"I saw him remove the weapon from the sheath as he crossed Highway 41," said Kenneth Hall, who was among those in attendance. "He was enraged when he got to the middle of (41)."
The victims said Whitehurtst made threatening remarks while pointing the cane sword within approximately 6 inches of their faces. They reported they were in fear for their lives. 
The wooden walking cane Whitehurst carried unscrews near the middle to reveal a sharp-pointed metal sword inside a sheath. The handle side has a smooth bulb for gripping.
Whitehurst told the Dunnellon Police Department he approached the rally peacefully with the sword unsheathed and pointed it at the attendees. He said he didn't intend to hurt anyone. 
The defendant was transported to the Marion County Jail without incident.
Whitehurt's bond for the 10 counts of aggravated assault was set at $20,000. He has an additional bond of $500 for the disorderly conduct charge.