After two psychologists reached separate conclusions on Ryan Connell's competency, a judge ordered a third to evaluate the Floral City man who purportedly threatened to attack local schools after violating his probation.
At Connell's Wednesday morning hearing, Circuit Court Judge Richard "Ric" Howard granted Dr. Emily Lazarou to asses Connell's understanding of the judicial process before his case continues further.
Connell's attorney, Assistant Public Defender Susan Falardeau, waived his appearance.
Assistant State Attorney Nicole Morris had told the judge that her office's psychologist said Connell was competent, and that Falardeau's hired psychologist reported he wasn't.
Morris said a third opinion was needed, and the Florida Courts office had to pay Lazarou $150 an hour for the service, which Howard agreed to.
Howard set Connell's next court appearance for Nov. 20.
Connell, 35, is due to be sentenced up to five years in prison for breaking the conditions of his probation that stems from Connell head butting a corrections officer in July 2017.
On July 31, Connell tested positive for drug use while in Mental Health Court, and subsequently damaged the window of a courthouse holding cell, resulting in a new misdemeanor charge.
While Citrus County Sheriff's Office deputies were jailing him, Connell made several comments that he'd "shoot up" Inverness Primary and Citrus High schools. He also made similar statements to a jail psychologist and to his father in recorded jail phone calls.
On Aug. 15, the State Attorney's Office announced it couldn't prosecute Connell because his comments didn't meet the statutory criteria to charge him with "writing threats to do harm or kill."
State legislators, county school and sheriff's officials said they've been working to amend laws so that verbal threats can be prosecuted.
Rep. Ralph Massullo, R-Lecanto, recently filed a bill that would make a it felony for a person to say they'll attack someone or a building with a weapon.
DUI manslaughter case gets another court date
Sidney Thomas James, the Lecanto man accused of driving impaired and causing a head-on crash last year that killed a woman and injured a man, got another court date for Dec. 18.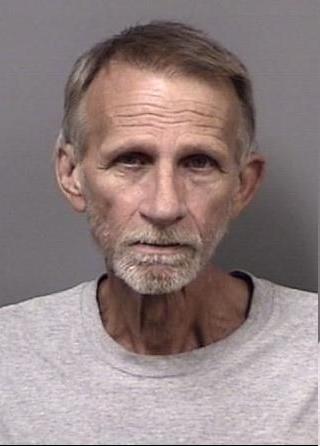 James, 67, is expected then to choose between taking his case to trial or changing his not-guilty plea to his five charges connected to the Sept. 27, 2018, collision in Homosassa, Howard ordered at James' court hearing on Wednesday.
Howard also granted Assistant State Attorney Blake Shore's motion to release James' medical records pertaining to his blood alcohol content following the September 2018 crash.
James is charged with DUI manslaughter with prior DUI convictions, DUI causing serious injury with prior DUI convictions, driving with an invalid license and two counts of DUI causing property damage.
Shore said James has three prior convictions of DUI, or driving under the influence.
Prosecutors allege that James had a blood alcohol content of 0.245 percent on the night of Sept. 27, when his Dodge Durango left the westbound lanes of West Homosassa Trail near the intersection with South Illinois Terrace, and struck a Ford Explorer head on.
Marc Lantz, the Explorer's then-40-year-old driver from Homosassa, and James were airlifted to Regional Medical Center Bayonet Point for treatment of traumatic injuries.
Kimberly Perry, Lantz' 37-year-old passenger from Mount Zion, Illinois, died at the scene.
According to his court-filed arrest report, James told medics who were treating him that he had been drinking all day.
Following months of investigations, Florida Highway Patrol arrested James in August.
During a bond motion hearing this September, Howard reduced James' total bond from $55,000 to $4,500, court documents show. James posted bail and was released later that month, wearing a GPS monitoring device.
Vehicular homicide case set for trial
Howard scheduled Joshua Nathaniel Marsden's vehicular-homicide case for trial the week of Dec. 9, with a final pretrial hearing on Dec. 2.
Marsden, 24, of Inverness, is charged with a second-degree felony count of vehicular homicide in connection with a January 2018 crash that killed 77-year-old Idaisa Baylon.
It's alleged that while racing against a westbound Chevrolet Corvette on State Road 44, Marsden lost control of his Nissan 350Z, which spun across eastbound lanes of the road near Arlene Avenue and struck a Honda Civic driven by Baylon.
Baylon died after being transported to Citrus Memorial Hospital. Marsden was treated at Ocala Regional Medical Center for serious injuries, and released the next day.