When Ryan Scott Connell walked out of court Thursday afternoon to start serving five years in prison for violating his probation, he did so without causing a stir.
"You have a good day, your honor," the cuffed 35-year-old Floral City man told Circuit Court Judge Richard "Ric" Howard as bailiffs escorted him away.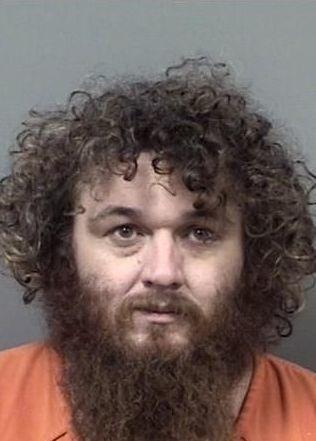 But when Connell found out July 31 he was being punished for using an illegal drug he claims he never touched, he broke a holding cell window and threatened to "shoot up" and harm students at two local schools.
"I would like to apologize for what I said on that day … I use this 'snapping thing' as like a vent," Connell said at his sentencing, explaining his symptoms of what he said is depression. "I have a lot of respect for human life."
"I don't understand you; I don't know what you're mad about, I don't know what you're depressed about," Howard responded. "You can do it, but I don't know why you blow up."
Connell was not charged for his purported threats against Inverness Primary and Citrus High schools, because there's no state law that allows prosecution for verbal threats.
As a result, Rep. Ralph Massullo, R-Lecanto, filed a bill that would make a it felony for a person to say they'll attack someone or a building with a weapon. 
"We are thankful that Connell is no longer a threat to our schools," School Superintendent Sandra "Sam" Himmel said in a Facebook post. "We stand by Rep. Ralph Massullo, and his push for felony charges for a person who verbally threatens a student or a school."
Connell's sentencing stems from testing positive for codeine July 31 in Mental Health Court, breaking the terms of his probation, which carried a prison sentence of up to five years for a violation.
Howard had placed Connell on three years of probation and into Mental Health Court in October 2017, after Connell pleaded to head-butting a corrections officer in July 2017.
Kelly Kell, supervisor of Citrus County Circuit Court's alternative court programs, testified Thursday that Connell started Mental Health Court in April 2018.
Kell said Connell's behavior was somewhat unpredictable, like sending "aggressive texts" to her staff.
"The littlest things would trigger him," she said. "I do think he needs help and I think he's a danger to himself and others."
Kell said Connell did test positive for THC, the psychoactive chemical in marijuana, during his time in her program, but Connell remained there because he was making an effort to stop.
After Connell was told he had codeine in his system and had to take his case back to Howard's felony court, he became outraged, claiming he didn't know he was using that substance.
Citrus County Sheriff's Office deputy and courtroom bailiff Gregory Popovich testified that Connell struck a pair of holding cell windows, breaking one pane as he was being jailed.
Popovich said Connell was not violent toward him or other deputies, and even put out his arms to be handcuffed.
Along with other profane comments, Connell also said he would go to Inverness Primary School and kill the children there and that a Netflix movie would be made about him, Popovich said.
Connell made similar threats against Inverness Primary and Citrus High schools to a jail psychologist, and in recorded jail phone calls to his father that were played for Howard.
Assistant Public Defender Susan Falardeau, Connell's lawyer, objected to any mention of what Connell said or did following his ousting from Mental Health Court, arguing Connell's probation violation is from a positive drug test, not threats.
Howard overruled Falardeau's objection, saying, "it has everything to do" with Connell.
Sheriff's office Detective Brian Casalvieri testified his agency has been responding to incidents involving Connell since 2013, and deemed him a threat to police.
Many of Connell's prior charges had been dismissed, and his criminal history is minor, prior reports show.
Casalvieri added that Connell's threats against schools are common, but he's been unable to charge him for that.
"It's a threat that he just falls back on," Casalvieri said. "We have an opportunity here to put him away for five years and keep our community safe."
Connell's father testified that his son's years-long outbursts stem from him being bullied, and pleaded with Howard to put Connell through counseling and medication that curbs his depression and doesn't give him side effects.
Howard ruled Wednesday that Connell was competent, based on evaluations by three psychologists.
Connell insisted Thursday he never had an intention to follow through on his threats, but uses them to strike a cord with people who get him upset, instead of striking them. 
"I'm getting hurt and there's no way to hurt them back without physically beating them up," he said. "I want the mental scar of it, the 'shock thing,' I guess."