Vernon Wilson Roe, the Crystal River man accused of concussing a Citrus County Sheriff's Office deputy in a scuffle faces additional allegations of striking two jail guards with a broomstick.
Roe, 39, was arrested and charged Friday, June 26, 2020, with two counts of aggravated battery with a deadly weapon.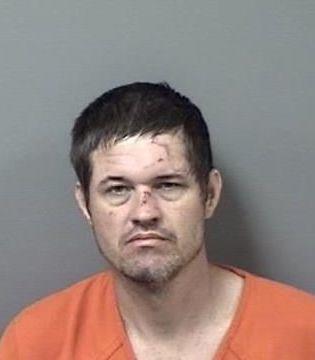 His bond was set at $20,000.
According to Roe's arrest report, a corrections officer at the Citrus County Detention Facility in Lecanto ordered Roe back to his cell during a lockdown.
Roe ignored the officer's commands and threw a cup of coffee at him, prompting the officer to radio for backup. 
A pair of guards then sprayed Roe with pepper spray, and Roe lashed out at the officers with a broomstick, striking them several times before he was detained by other officers, according to his arrest report.
A responding sheriff's office deputy found injuries on both guards before charging Roe for their alleged batteries.
Roe has been jailed at the Citrus County Detention Facility since March 1, 2020, on charges of attempted first-degree murder of a law enforcement officer, depriving an officer of their protection, attempting to deprive an officer of their protection and resisting an officer with violence.
He's accused of attacking and knocking Deputy Randy Robinson unconscious March 1 in a church parking lot near Crystal River, after the deputy pulled Roe from a roadway and traffic, according to prior reports.
It's alleged Roe grabbed at Robinson's Taser and sidearm during the fight, which ended when two bystanders pulled Roe off the deputy.
Court records show Roe was scheduled to be evaluated for competency. His next court hearing is set for Sept. 3, 2020.