A Dunnellon man facing a possible death sentence for his alleged involvement in a deadly burglary had additional charges brought against him Sunday after he allegedly attacked another jail inmate and held a dozen others hostage with a homemade knife.
Citrus County Sheriff's Office deputies were called out to the Citrus County Detention Facility in Lecanto on Sunday to investigate an incident involving 34-year-old Christopher Eugene Smith that occurred earlier that afternoon. Smith has been jailed there without bond since last September while he awaits an outcome in the state's case against him for the May 2017 premeditated murder and armed burglary of James Thomas Roman. Prosecutors are seeking the death penalty.
Once there, deputies reviewed surveillance footage that showed Smith, at 1:33 p.m., putting his shoes on inside his cell, going downstairs in the housing pod, running up to another inmate and striking him several times in the face with a closed fist, his arrest report states.
Smith continued to hit the inmate after he fell to the ground, and then separated himself from the scuffle moments later.
After arguing with Smith, the battered inmate went to the jail's medical unit to be treated for facial swelling and a potentially ruptured eardrum, according to Smith's arrest report.
At around 2:55 p.m., the footage showed, Smith took a mop bucket and threw it at a surveillance camera. 
Smith then covered his face with some clothing and continued to throw objects at the camera, eventually knocking it down and causing roughly $1,500 worth of damage, the report states.
A corrections officer told deputies that after Smith destroyed the camera, he grabbed a shank, which was made by sharpening a white toilet brush handle.
Smith then told 12 inmates to get behind him in the pod as he confronted the arriving guards, telling them, "No one is leaving, this is a hostage situation," his arrest report states.
Following some negotiations with the corrections officer, Smith threw the shank towards the pod's front door, allowing guards to apprehend him at 4:15 p.m.
Smith was charged with introducing a weapon into a detention facility, holding people hostage inside a detention facility, battering an inmate and criminal mischief. His bond was set at $14,000.
Smith is also scheduled to appear in court July 1 to face the first-degree murder and armed burglary charges connected with Roman's slaying two years ago.
Sara Jane Atwood, a beneficiary of Roman's will, is accused of conspiring with Smith to burglarize the 73-year-old's home on West Cardamon Place in Lecanto, where Smith strangled Roman to death during the break-in, reports shows.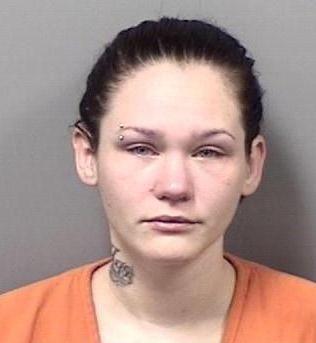 Smith then stole Roman's Nissan pickup truck and led sheriff's deputies and Florida Highway Patrol troopers on a pursuit that ended with his apprehension in Marion County.
Atwood, 24, has a court hearing July 15 and is scheduled to stand trial the week of July 22.