From holding cells behind a Citrus County courtroom, Michael Ball's voice carried.
"I'm being railroaded," the Beverly Hills 64-year-old said amid his muffled yells, before bailiffs escorted him into his sentencing hearing the afternoon of Wednesday, Sept. 15, in front of Circuit Court Judge Richard "Ric" Howard.
Throughout his 30-minute court appearance, interrupting the judge and attorneys, Ball griped over how his freedoms were miscarried after he fatally shot his neighbor, Tyler Dorbert.
"What are you talking about?" Howard said, talking over Ball in the middle of his statement. "You realize how serious this is, Mr. Ball? You took a man's life, sir. ... You're acting like a spoiled brat."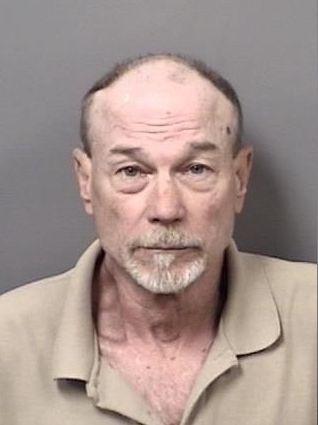 "And you're sitting there talking s***," Ball responded. "You guys are giving me life for protecting myself."
Ball's obscenity-riddled rant forced Howard to have bailiffs take Ball out of the courtroom, but within earshot of the judge announcing Ball's lifelong prison sentence for Dorbert's second-degree murder involving a firearm.
Howard also ordered Ball to serve five, concurrent years in prison for his felony charge of carrying a concealed weapon without a permit.
Ball's words could still be heard after bailiffs closed the door between him and the courtroom.
"The guy attacked me," he yelled. "He attacked me."
A jury found Ball guilty as charged for Dorbert's murder after a three-day trial in August, pitting Ball against a prison sentence of between 25 years and up to life.
Ball was also convicted of carrying a concealed Colt 1911 pistol — the weapon he used the morning of March 25, 2020, to shoot Dorbert with, killing the 32-year-old on the front yard of his home catty-corner to Ball's at South Monroe Street and Plaza Street.
Katelyn Howard, Dorbert's fiancée, and a few other neighbors tried to treat Dorbert's gunshot wound to his chest while Ball berated them.
Ball's shouts were heard in the backgrounds of 911 calls prosecutors played for Ball's jury.
After detaining him, Citrus County Sheriff's Office deputies arrested Ball for unlawfully holstering the firearm. Ball was released from custody after posting bail, but was arrested a month later after prosecutors filed his murder charge.
Citing Ball's remorseless behavior and the damage he caused to Dorbert's family, Assistant State Attorney Blake Shore asked Howard to hand Ball the maximum punishment allowed.
"You heard the facts of this case," the prosecutor said. "The court is very familiar with the defendant's comments ... on how everyone else is an ***hole other than him."
Ball's lawyer, Assistant Public Defender Ed Spaight, pleaded with Howard to order the minimum sentence.
In a letter read aloud by a victim-witness advocate, Dorbert's mother, Linda Wikoff, said her son "died protecting his family" from "an incorrigible coward of a man."
She asked Howard to show no mercy for Ball.
"I want him to suffer 10 times more than what my son suffered through ... after he was shot," Wikoff wrote.
Dorbert and Katelyn Howard lived together with their two young children, according to trial testimony, including an infant.
In his trial defense, Ball tried to show he's been in fear of Dorbert since April 2018, when Dorbert purportedly struck Ball in his head. Trial testimony showed Ball didn't cooperate with the deputy who responded to the incident, and no arrests were made.
Testimony from Ball and Dorbert's neighbors, along with a series of their 911 calls, proved to jurors Ball was the main aggressor during his argument with Dorbert preceding the deadly shooting. 
Dorbert was also unarmed and had his hands raised in a questioning gesture while Ball had a handgun drawn on him while both men were on the street, witnesses said on the stand.
Ball claimed Dorbert lunged at him, causing him to open fire. He said he wanted to wound Dorbert by shooting him in the shoulder.
"He came right up to me, sir," Ball told Howard on Wednesday. "I didn't want to die, sir; he should've killed me the first time."
Howard, who also presided over Ball's trial, said Ball had different intentions when he went outside his home with a handgun hidden under his clothing while Dorbert was leaving for work.
"You were hunting for that guy that morning," the judge said before Ball erupted in objections and denials. 
"I'm telling you," Ball said, "you're not right, sir."
Ball filed a motion in the early stages of his case for Howard to dismiss it, arguing his gunfire was a justified use of deadly force under what's known as Florida's stand-your-ground law. 
Howard rejected Ball's argument after a hearing in June, leading the case to trial.
Howard noted Ball's misdemeanor convictions from the 1980s and '90s, which included a DUI and several charges of possessing marijuana.
"It's not like you're new to the system," the judge said.
Howard also questioned Ball over his purported service in the U.S. Army from 1976 to '79 because there was no documentation of it in Ball's pre-sentence investigation record.
"I don't know what to believe from you," he said.
Spaight told Howard he'll be appealing Ball's sentence.