Jessica Figueroa's hefty bond will stay unchanged while the Brevard County woman faces criminal accusations she fatally struck her infant son during a weekend in Citrus County and didn't seek treatment for him as he succumbed to injuries.
Circuit Court Judge Richard "Ric" Howard on Wednesday, Jan. 20, denied Figueroa's motion to lower her $330,000 bond, citing her "embarrassing" criminal history and lack of local ties.
"There is no basis for a bond reduction," the judge told Figueroa, who appeared to court via a live video link from the county jail in Lecanto.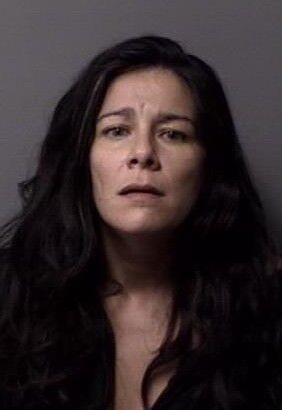 If Figueroa were to post bail, the Merritt Island 36-year-old must wear a GPS monitoring device, Howard ordered.
"I would just like to go home and straighten some things out with my family," Figueroa told Howard.
Howard on Wednesday also scheduled Figueroa's next court date for April 1, allowing involved attorneys to start deposing the roughly 40 witnesses and continue reviewing quantities of case evidence.
Figueroa is charged with aggravated manslaughter of a child, aggravated child abuse and child neglect involving great bodily harm.
If convicted as charged on the three felonies, Figueroa could be sentenced to between 223 months and 75 years in prison.
Citrus County Sheriff's Office Special Victims Unit Detective Tiffany Barry arrested Figueroa on Sept. 28, after Figueroa admitted in a Mirandized interview to striking her 3-month-old son twice Sept. 26 and failing to get the infant care until he was hospitalized Sept. 28.
At Figueroa's bond hearing Wednesday, Barry testified to arriving at a helicopter landing zone Sept. 28 to document the boy's injuries before he was airlifted to UF Health Shands Hospital in Gainesville.
"I witnessed severe injuries to his face, a lot of bruising, and you could see some linear lines on his face … striations," she testified, adding the infant was suffering from tremors and wasn't responsive before he died Oct. 1 from non-accidental blunt-force trauma.
Barry said she went to the incident scene at a house off of North Quarterhorse Terrace near Crystal River, where Figueroa had been staying for the weekend.
Figueroa, who worked setting up light and audio equipment as a stagehand in Orlando, told Howard on Tuesday she went to Citrus County to practice gospel music performances with her coworker.
While questioned by Barry before her arrest, Figueroa at first denied harming her child, claiming the infant fell from his bed, but she later admitted to striking her boy twice on Sept. 26.
According to Barry's testimony, deputies responded the night of Sept. 26 to the neighborhood of Figueroa's weekend home, where Figueroa became intoxicated, got lost during a walk and lost her infant son.
Figueroa started knocking on neighboring doors to find her missing child, who was later found uninjured sitting on a chair inside the home she was visiting, Barry testified, leading authorities to believe Figueroa's alleged abuse occurred sometime afterward.
It wouldn't be until early Sept. 28, according to the arrest report, when Figueroa's friend noticed the infant's injuries and called 911.
Assistant Public Defender Edward Spaight, Figueroa's lawyer, said at Wednesday's hearing he's unsure why the Florida Department of Children and Families didn't take action Sept. 26 to save the boy. 
"DCF had been there two days before and left child in the care of an intoxicated mother," he said. "I don't understand why that happened, but she didn't call when the child was injured."
Figueroa told Barry she was afraid to take her son in for treatment because she was scared of getting into trouble.
Barry said a search of Figueroa's cellphone revealed numerous text messages from Figueroa to who's believed to be the child's father, in which she pleads for him to take their son to a hospital. 
According to testimony, Figueroa also has two daughters — ages 16 and 3 — but she no longer has custody of them.
Assistant State Attorney Kevin Davis showed Howard photos of the infant's injuries along with the local house Figueroa was staying at.
Howard pointed out an ironic scene from one of the prosecutor's images to Figueroa.
"You're jamming out with someone who appears to be faith-based, but all those faith-based books are right next to open containers of alcoholic beverages," the judge said. "They're likely all open, they're likely all empty, they were likely right next to the baby … and they were likely consumed by you."
Spaight shared with Howard a photo collage of Figueroa at her own home with her baby before the incident happened.
"What we see is a loving mother and a clean house," he told Howard, asking the judge to set a reasonable bond for Figueroa so she can mourn her son's death.
Figueroa's mother also phoned into Wednesday's hearing to ensure her daughter would stay at her Merritt Island home — a roughly three-hour drive from Citrus County — and would show for future court appearances.
"She's not a flight risk," the woman said, "she'll be home with me."
Davis said Figueroa's current bond was appropriate, arguing her one felony conviction of aggravated battery, and most of her misdemeanor convictions, stem from alcohol use.
Figueroa was also arrested in 2002 for failing to appear to a court date then, Davis said.
"Her criminal history shows she has a problem with alcohol and following any directions given to her," Davis said.
Howard sided with the prosecutor.