An Inverness woman sitting in the Citrus County jail facing multiple drug charges could be sitting behind bars even longer after deputies brought new charges against the inmate.
The arresting Citrus County deputy was called Sunday, Nov. 22, 2020, to the Citrus County jail after facility officials suspected 30-year-old Hayley Dawn Ross of suspicious behavior, according to Ross' arrest report.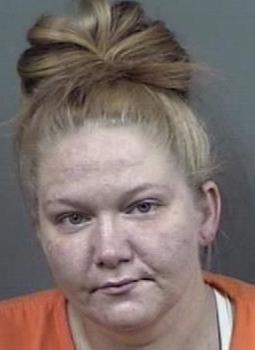 Ross had been arrested Nov. 18 after the Citrus County Sheriff's swat team raided her home and charged her with drug possession. The day she was originally processed at the jail she was additionally charged when jail security officers spotted a baggie of drugs fall from the woman's bra as she changed into prison clothes.
On Nov. 22, a jail security officer took Ross into a changing room to search her when Ross said, "I'm going to make this easy on you," and retrieved a bag from under her pants, according to her Nov. 22 arrest report.
The jail security officer said the baggie contained marijuana, methamphetamine, and several pills.
The sheriff's deputy tested the reviewed the drugs and they included 3.4 grams of marijuana, 3.5 grams of methamphetamine, 10 one-half oxymorphone hydrochloride pill, nine amphetamine pills, and four diazepam pills, according to the report.
The white powder in the baggie tested positive for methamphetamine, the report stated.
The deputy reported Ross said she had smuggled the drugs into the jail by pushing the baggie into her vagina. Her bond on the new charges was $11,000.