A 47-year-old Inverness who woman threatened to kick a deputy's gluteus maximus and then later spit at him, faces a number of charges after causing a two-car wreck Tuesday, Sept. 8, 2020, in downtown Crystal River, according to a Citrus County Sheriff's Office arrest report.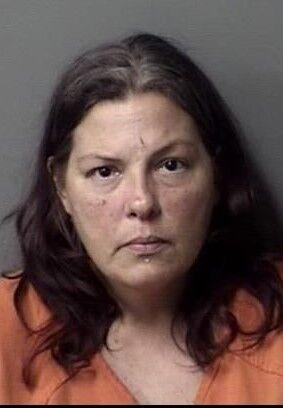 Melanie Ann Thomas was arrested and charged with battery on a law enforcement officer, driving under the influence, DUI with serious bodily injury and DUI with damage to property of person or another. Her bond was set at $27,000.
According to the report, deputies were dispatched to the intersection of Northeast Fifth Street and Northeast 12th Avenue in Crystal River. Upon arriving, Deputy Randy Robinson saw Thomas walking in the middle of the road next to her vehicle. After making contact with her, the subject was immediately confrontational. Robinson could smell alcohol on her and watched as Thomas fell twice
Thomas, who had bloodshot eyes and slurred speech, told deputies she had been drinking at Mickey's Bar, the report stated. She agreed to do field sobriety exercises; however, during the first exercise, Thomas fell again. Robinson did not continue with the exercises, and placed her in handcuffs.
While doing so, Thomas became more confrontational, telling Robinson she was going to beat his "(expletive)," the report stated. She also kept screaming, "I'm a Marine, I will (expletive) up." Robinson as well as another deputy were able place her in the back of a patrol car. After doing so, Robinson contacted Nature Coast EMS to have Thomas evaluated due her having a small laceration on her forehead as well as left forearm.
As Robinson opened the door, the report stated Thomas told him, "I'm going to spit on you." Before he could move, the defendant had already spit, where it landed on his face, lips and uniform shirt. Robinson closed the door. Because of the concern for her injuries, Robinson opened the other side door of the patrol car where Thomas again spit in his face, refusing EMS services.
While transporting Thomas to the Citrus County Detention Facility, she continued to make threats to do harm to the Robinson as well as the detention staff, the report stated. Upon his arrival, multiple detention officers assisted removing Thomas from the patrol vehicle.
According to the report, due to Thomas' demeanor and threats, the jail supervisor advised it was a risk to herself and jail employees to conduct field sobriety tasks and a Breathalyzer; therefore, per the supervisor, the defendant refused to submit a lawful breath test.