An Inverness woman was fired from a local daycare center and then arrested for forcing a boy with special needs to the ground and wall.
Jonathan Richey and Jason Cook, detectives of the Citrus County Sheriff's Office's Major Crimes Unit, apprehended 43-year-old Amber Danielle Summers on Wednesday, Nov. 18, 2020.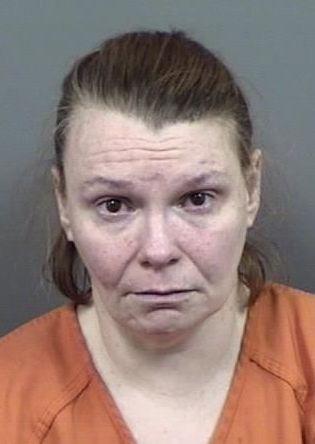 Summers faces a charge of child abuse without causing great bodily harm. She was booked into the county jail under a $2,000 bond.
According to the sheriff's office and agency spokeswoman Brittney Carman, the Dunnellon-area daycare contacted authorities Monday to report Summers' alleged abuse of a 6-year-old boy who's autistic and nonverbal. 
Summers was fired before deputies and detectives arrived.
Daycare surveillance footage received by investigators showed Summers grabbing the child by his arms and sometimes using her legs to move him around a play area, according to the sheriff's office.
Summers then clutched the boy by the back of his neck, and pushed his head down to the floor and against a wall in attempts to restrain him from behind a table. 
When another staff member is visible in the footage, according to the sheriff's office, Summers deescalated her behavior toward the boy.
Witnesses also corroborated Summers' alleged actions. 
When questioned by detectives Richey and Cook, who also showed her the video footage, Summers admitted to being aggressive, adding she had been frustrated that day.
According to the sheriff's office, the Florida Department of Children and Families (DCF) is also investigating the incident.
Those with information about suspected child abuse can contact DCF at 800-962-2873.