"Simply shocking to the conscious."
That's how Citrus County Judge Bruce Carney described Beautiful's injury of neglect before he said the canine's master could no longer own an animal in the county.
"For whatever reason, he maliciously tortured Beautiful," the judge said of Crystal River-area 30-year-old Aaron Cornelius Barrett during a civil hearing the afternoon of Monday, June 28.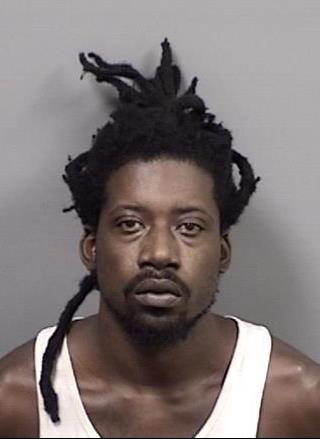 Favoring a county petition, Carney's decision came after Dr. Meaghan Mielo, chief veterinarian of Citrus County Animal Services, talked him through a photo collection of a large, open wound to the top of the 3-year-old pit bull terrier's left forelimb.
Mielo said three inches of bone were exposed, causing a severe infection along with an infestation of maggots. Beautiful's ligaments also became distorted, forcing her to walk atop her wrist.
"I hope she will be able to keep the limb but it'll never return to full-capacity," the veterinarian testified. "(Barrett) has not met the community standard of care for animals."
Along with outlawing Barrett from owning or contacting animals in the future, Carney also ordered Beautiful, five of Barrett's other dogs and four of his rabbits over to ownership of county animal services. 
Carney also instructed Barrett to pay the county $6,486 for the veterinarian treatment it's given his animals. Barrett, who didn't appear to the hearing, has 30 days to appeal Carney's findings.
Officers with the Citrus County Sheriff's Office Animal Control Unit seized the animals May 26 from Barrett's home on the 1800 block of North Scenic Way, before deputies arrested Barrett.
Animal Control Unit Supervisor Lora Peckham told Carney her officers saw the dogs were either living in small and unshaded kennels or were being unlawfully tethered, violating county ordinances. 
Along with having fleas, Mielo said, many of the dogs also tested positive for hookworms, whipworms and heartworms.
According to his arrest report, Barrett told authorities another dog attacked Beautiful a couple weeks ago while she was with a friend.
Barrett said he knew Beautiful was injured but didn't seek care for her because he thought the regular injections of penicillin he was giving her would suffice, Peckham said.
In connection to Beautiful's suffering, the State Attorney's Office charged Barrett June 21 with aggravated animal cruelty — a felony punishable by up to five years in state prison.
Barrett's lawyer, Assistant Public Defender Luke Waatti, pleaded not guilty on behalf of his present client Monday during Barrett's arraignment before Circuit Court Judge Richard "Ric" Howard.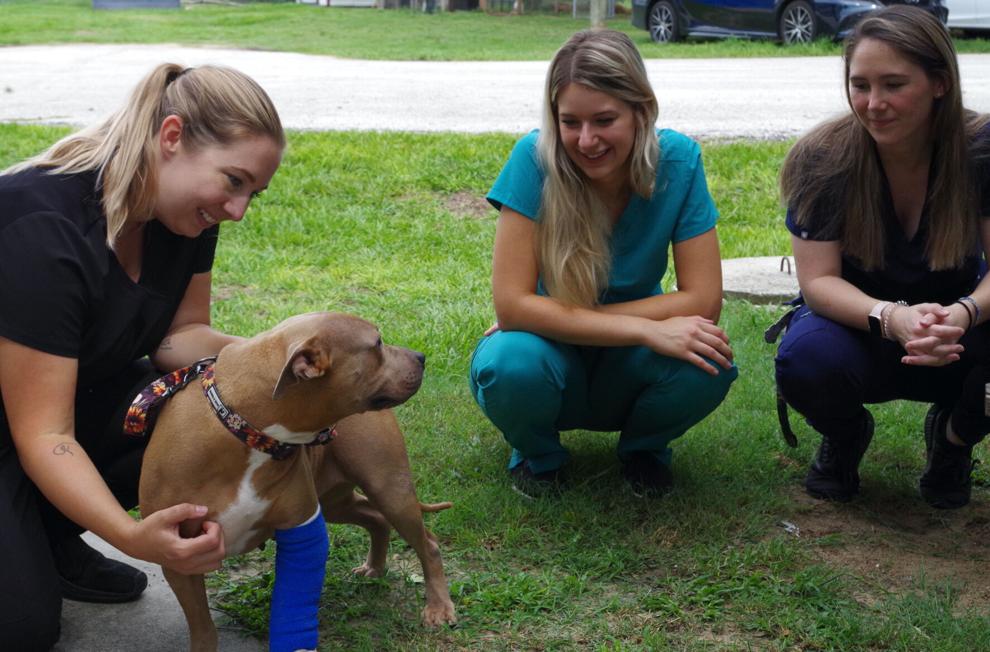 Howard scheduled Aug. 19 as Barrett's next courtroom appearance.
It will be sometime before Beautiful fully recovers, but she still has her leg and her high spirits. 
With a songful howl and a swinging tail, Beautiful expressed her gratitude June 23 to Mielo, Peckham and the other animal control and shelter personnel who've healed her.
"She is doing so well," Peckham told the Chronicle. "When she came in, the entire front of her leg was missing — all the way down to the bone; you could see tendons, you could see everything inside."
After around 10 days, tissue formed over Beautiful's wound, requiring bandage changes every other day instead of daily. June 23 was also Beautiful's first day without a splint on her leg.
Mielo told the Chronicle it's unclear what injured Beautiful, but it was unlikely another dog.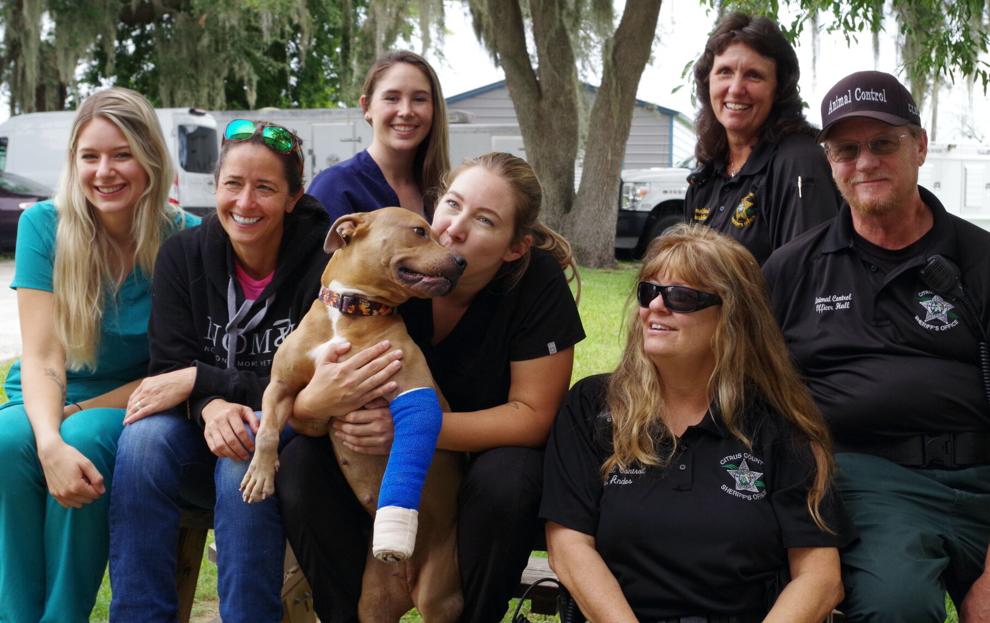 "It's hard to say since the injury was so old and there was so much damage from insects, infection and everything," she said, "but there are no other wounds on her that would support her being attacked by a dog."
If the county's custody over her stands, Beautiful will be up for adoption. Knowing when that could be will be up to her period of recovery, which might include long-term medical foster care.
"All of the staff have been involved in her care and have bene rooting for her," said Mielo, who's been assisted by lead veterinarian technician Stephanie Daniell and vet tech Erin Cagwin. "Everyone here is in love with her."
Animal abuse should be reported to authorities either when it's happening or when it's been documented.
Witnesses can submit anonymous tips to Citrus County Crimes Stoppers by calling 888-269-8477.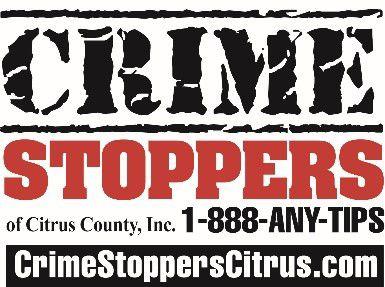 Peckham said outside pets, especially during the summer, should have a collar or harness, fresh water and shelter from the elements — a kennel no smaller than 80 square feet per dog.
Although not recommended, tethering can be used if it the leash is longer than 20 feet, is not used as a primary method of containment and the animal's owner can see them.
"You can't just wrap a chain around their neck," Peckham said.
Peckham, Mielo and Animal Services Director Colleen Yarbrough said the relationship between the county sheriff's office and animal services hasn't been this strong in a long time.
With experience in field-training and forensics, staff at the animal shelter have been reporting stronger evidence of abuses to Peckham and her officers to bring forth for prosecution.
This includes the fatal cyst in Bennie, a chihuahua whose Inverness owner, Kevin Lee Thompson, was sentenced in May to five years in prison for not getting the dog treatment.
"Our partnership has made it possible for arrests to happen and for felonies to go forward," Mielo said, "which has never been the case around here."
"We're seeing that so much now," Peckham added, "that the sad endings are few and far between."