Instead of standing trial in two weeks and risking up to three life sentences, William Cecil Poole decided to spend between 25 and 40 years in a Florida prison for fatally shooting a relative in their Hernando neighborhood before opening fire on Citrus County Sheriff's Office deputies.
In exchange for the punishment, 63-year-old Poole announced a plea of no contest to his eight felony charges Monday, Nov. 22. It was Poole's final case-status hearing before his scheduled trial the week of Dec. 6.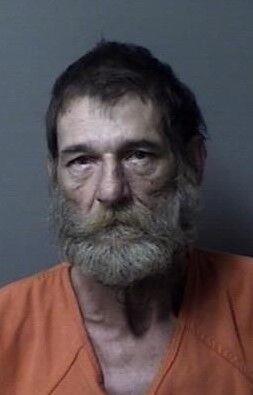 Poole appeared to court via a live video link from the Citrus County jail. Poole did not wish to speak beyond his answers to questions from Circuit Court Judge Richard "Ric" Howard, who adjudicated Poole guilty of the offenses before ordering his sentence. 
Authorities arrested Poole on Oct. 10, 2020, from the shooting scene on the 1500 block of North Julia Way. 
Deputies there also recovered the body of Poole's 80-year-old father-in-law, William White, from outside his home where Poole had barricaded himself to fire at responding deputies.
Poole shot and killed White during an argument over White telling Poole he could no longer live in a vehicle on the property. 
Afterward, Poole aimed a pistol at a pair of responding deputies before retreating to White's house, where he fired gunshots from the windows. Rounds struck vehicles and neighboring homes, including one residence where four people were taking cover inside.
When members of SWAT teams from the Citrus and Sumter County sheriff's offices responded, Poole fired at one of their armored vehicles, which had seven deputies inside. Poole's bullets also narrowly missed two deputies.
SWAT team personnel rescued the people seeking shelter from the gunfire, while sheriff's office negotiators talked Poole into surrendering, after he set fire to the house.
Deputies did not exchange gunfire with Poole.
In his Mirandized statements to deputies, Poole said he killed White out of self-defense, claiming White had a gun concealed under his shirt. White was found to be unarmed.
Poole admitted to shooting at deputies but wasn't aiming for them, adding he was shooting over his head. He said he reloaded his weapon three times and fired around 15 rounds.
Poole also said the fire inside White's house ignited by accident from a lit cigar.
Prosecutors charged Poole with second-degree murder with a firearm, arson, and two counts each of shooting at an occupied vehicle or dwelling, aggravated assault of a law enforcement officer, and attempted murder of a law enforcement officer. 
Before Poole changed his not-guilty plea on Monday, his lawyer, Assistant Public Defender Ed Spaight, told Howard his client was ready to take his case to jurors.
Spaight said Poole originally declined the 40-year plea deal from the State Attorney's Office.
"This is a fair and reasonable resolution," he told Howard.
Assistant State Attorney Blake Shore told Howard if a jury convicted Poole as charged, the judge would have no choice but to order Poole to mandatory life sentences for each of his attempted-murder charges.
Poole's murder charge, Shore said, is also punishable by up to life with a minimum-mandatory prison term of 25 years because the crime involved a discharged firearm.
In order to comply with by Poole's negotiated punishment, prosecutors amended his two attempted-murder charges to aggravated assault of a law enforcement officer.
Shore told Howard he discussed Poole's plea offer with White's family, the sheriff's office and his supervisors. 
"Everybody was in agreement this was acceptable resolution to this case," the prosecutor said.
A handful of White's relatives appeared at Poole's court hearing on Monday. They told Howard they didn't understand why Poole wasn't facing either first-degree murder or the death penalty.
Howard said prosecutors have the "unfettered discretion" to file charges how they see fit.
Shore told the Chronicle after Monday's hearing Poole was charged with second-degree murder because there wasn't premeditation, noting Poole shot White during the heat of an argument.