After he was hospitalized and jailed for roughly a month in Marion County, a Dunnellon man returned to Citrus County to face allegations of a woman's battery, assault and kidnapping.
A Citrus County Sheriff's Office deputy transported 57-year-old Benjamin Allen Jones from the Marion County jail to the local jail in Lecanto on Thursday, June 25, 2020.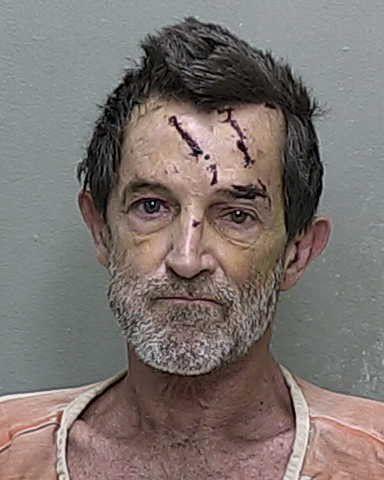 Jones was booked in on a warrant charging him with burglary with battery, kidnapping with intent to inflict harm and two counts of aggravated assault with a deadly weapon.
His bond was set at none.
Jones was booked into the Marion County jail on May 27, 2020, after he was treated at Ocala Regional Medical Center for two large cuts to his forehead, according to his arrest reports.
Nature Coast EMS medics transported Jones to the hospital on the night of May 26, after a Citrus County Sheriff's Office deputy detained him outside an RV off of West Mina Lane in Dunnellon.
It's alleged, according to arrest reports, Jones called the RV's homeowner earlier and told her he was coming over.
The woman told Jones not to, but Jones showed and entered the RV through an unlocked door before locking the door behind him.
According to his arrest reports, Jones sexually abused the woman and grabbed her by the throat while clutching a small pocket knife as she tried to unlock her front door.
A pair of men heard the commotion from outside the RV, and one went inside to grab Jones off of the woman. 
This caused all three people to fall outside the RV and onto the ground, where the man and Jones wrestled before Jones was subdued and the deputy arrived.
According to Jones arrest reports, the deputy found possible knife cuts on the woman, man and Jones.
When questioned by the deputy, according to his arrest report, Jones appeared to be intoxicated, stated he was under the influence of cocaine and could not hold a conversation.
After Jones was taken by Nature Coast EMS, the deputy questioned the woman, who said she met Jones about a year ago when he asked her to clean his house.
Jones made the woman feel uncomfortable, she said, and harassed her over the phone and with unwanted visits since then, according to arrest reports. 
A warrant was issued for Jones' arrest on May 29, court records show. Jones has a court hearing scheduled for Aug. 25, 2020.