One Inverness woman made a bad call.
Detectives arrested Nichole Leigh Cash on Tuesday, July 28, 2020, after the 22-year-old Inverness woman sold an undercover detective 14 grams of methamphetamine and 6 grams of heroin for $1,700 in the parking lot of a convenience store in the 7600 block of West Homosassa Trail in Homosassa, according to a Citrus County Sheriff's Office arrest affidavit.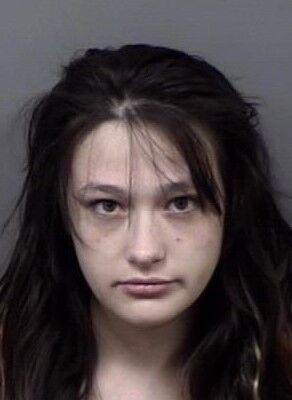 Cash was charged with one count of trafficking heroin, one count of trafficking in methamphetamine, one count of possession of a controlled substance, one count of possession of drug paraphernalia and one count of unlawful use of a two-way communication device. Her bond was set at $55,000.
Cash already had five active Citrus County warrants related to the undercover buy operations, the sheriff's office said.
According to the report, the undercover detective and Cash had reached an agreement on a deal and location for the transaction via cell phone. The pair met in the parking lot, with Cash arriving in a 2016 Orange Hyundai two-door vehicle.
The detective entered Cash's car via the passenger side door where the two had a conversation, the report noted. During the transaction, the detective handed Cash the agreed amount of $1,720 for 14 grams of methamphetamine and 6 grams of heroin.
According to the report, Cash then placed two baggies, one containing a brown powder and the other containing a crystal like substance. While Cash counted the money, other units on scene took her into custody. She was transported to the Emergency Operation Center for her interview.
While processing the scene, including the vehicle, detectives found the baggie of crystal-like substance on the ground next to her purse, the report stated. It tested positive for methamphetamine, weighing approximately 14.6 grams.
The baggie with the brown power tested positive for the presence of fentanyl, weighing approximately 6.2 grams, the report stated.
In addition, detectives found a pink zipper pouch that had one baggie containing two plastic baggies, which tested positive for traces of fentanyl, approximately 1 gram, and a cut blue straw, the report stated. Also inside the pink zipper pouch was a metal cylinder containing an unknown white substance.
According to the report, detectives also found various drug paraphernalia items.