A 38-year-old Floral City man was arrested Tuesday on a litany of felony charges, according to multiple Citrus County Sheriff's Office arrest affidavits.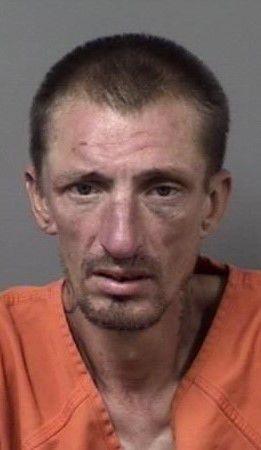 Justin Edward Fraleigh was charged Tuesday for a number of incidents Tuesday, April 21, and Monday, April 20. In all, Fraleigh was arrested on 13 charges including aggravated assault with a deadly weapon without the intent to kill, grand theft, burglary to several structures, auto theft and attempted auto theft.
The majority of charges stem from crimes committed in the Floral City area, according to the reports, where Fraleigh broke into the Floral City VFW, Floral City Auto Sales, Prime Auto Sales as well as a Spectrum work van. In addition, Fraleigh is charged with burglarizing a law office in Inverness.
During the crime spree, the reports stated Fraleigh caused damage to various structures, breaking windows and doors in the process. He took items such as computers, credit cards and surveillance equipment that were reported stolen. Some of the items were recovered. Additionally, various tools and office supplies, including Christmas decorations, were taken from the numerous locations.
Fraleigh burglarized Prime Auto Sales at 7240 S. Florida Ave. He was unsuccessful at his attempt to steal a 2001 GMC Sonoma pickup-truck, according to the reports, but was successful in the theft of a gold, 2004 Chevy Impala from a car lot. He was also charged with criminal mischief to the property.
An employee at the Floral City Auto Sales, where Fraleigh was arrested, confronted the defendant Tuesday while the suspect was on the property. During the confrontation, Fraleigh was overheard by a victim and a witness to say he had a "piece" on him, according to the report.
The victim and a witness told deputies the suspect attempted to put his hand in his pocket and the victim said he felt threatened by what he believed was a gun in Fraleigh's pocket, the reports stated. Eventually the victim was able to detain the suspect and hold him until deputies arrived.
Deputies searched Fraleigh but were unable to find a weapon.
Fraleigh's bond was set at $49,000.