Security cameras reportedly show a 32-year-old Crystal River woman burglarizing a Homosassa area business Sunday, June 21, 2020, leading to her arrest and charges.
Felicia Marie Kettleman was caught hiding in a pontoon boat covered by a tarp at the rear of Ace Consignment Place at 5349 S. Suncoast Blvd., Citrus County Sheriff's Office deputies noted in their report. She was charged with three counts of conveyance burglary and one count of petit theft. Her bond was set at $6,500.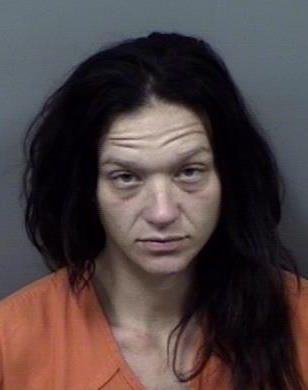 According to the report, deputies responded to a burglary at 6:09 p.m. Sunday at the business. Law enforcement officials learned that the business owner was out of town but observed a white female, wearing an orange shirt and shorts walking around the property on surveillance cameras.
The business owner told deputies no one had permission to be on the property.
While searching the area, deputies heard shuffling noises coming from a pontoon boat under a tarp at the rear of the property, their report stated.
Kettleman, who had been hiding in the boat, could not provide the name to the business owners and was arrested. The business owner told law enforcement officials he watched Kettleman go under the carport on the north end of the property and rummage through a boat and Volkswagen and climb into the pontoon boat. All three vehicles, the report stated, belong to the business owner.
Kettleman was also seen carrying a black drawstring bag, which was found under the pontoon boat. Inside the bag, deputies found a large hose nozzle and a red and green mount light for a boat.