Vernon Wilson Roe will be treated at a Florida psychiatric hospital for his separate attacks on a Citrus County Sheriff's Office deputy and a pair of local jail guards.
During his court hearing the afternoon of Thursday, Sept. 3, 2020, Roe pleaded not guilty by reason of insanity to his two unrelated felony cases.
Citrus County Circuit Judge Richard "Ric" Howard signed an order to commit the Crystal River 39-year-old.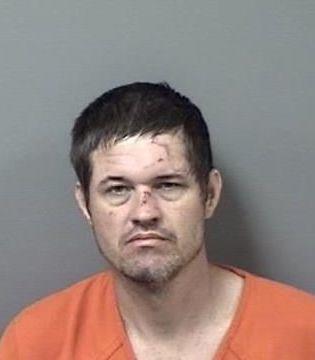 "They're going to evaluate you, they're going to work on you and they're going to continue working on your medications," Howard told Roe, who appeared via a live video link from the Citrus County Detention Facility.
Howard told Roe he'd be transported to a state hospital within the next 30 days. 
Assistant Public Defender Edward Spaight, Roe's Attorney, asked Howard to sign the commitment order after psychologists hired by Spaight's office and prosecutors to evaluate Roe found he was not sane at the time of the offenses.
Assistant State Attorney Kevin Davis did not object to Roe's plea or Howard's order affirming Roe meets the criteria for insanity.
"That's what our psychologist has found," he said.
Roe's plea means "he is not held criminally responsible" for the March 2020 attempted murder of CCSO Deputy Randy Robinson and the June 2020 aggravated battery of two county jail correctional officers "because of his mental state," Spaight said after the hearing.
Spaight said a defendant's competency, or their understanding of standing trial, can change each day, but "their sanity never changes."
Roe remained collected throughout his hearing, contrary, Howard noted, to an outburst he had during August court appearance when guards had to escort him back to his cell.
"I'm doing all right," Roe told Howard on Thursday, adding he's been taking medications to deal with stress.
"It's like a different person standing here in front of me," the judge said.
"He is a very different person," Spaight said.
Robinson encountered Roe after the deputy was dispatched the evening of March 1 to a trespassing call at the Gulf to Lake Baptist Church on State Road 44 in the Crystal River-area.
Prior reports state Roe was in the parking lot, quoting Bible verses to himself, before he started walking onto the roadway and into oncoming traffic, saying, "I want to meet with God."
Robinson ordered Roe out of the road and, when Roe ignored him, grabbed Roe by the wrist to pull him from traffic.
Roe responded by striking Robinson in his face. Robinson tried to explain he was trying to help, but Roe continued to strike the deputy.
Robinson tried to stun Roe with his Taser twice, but Roe dislodged the device's darts from his body both times while he kept attacking the deputy and grabbing his Taser.
At one point during the scuffle, Roe struck Robinson in his head with an unknown object and knocked the deputy unconscious. 
Robinson awoke to Roe on top of him, his fists still striking the deputy. 
Roe then grabbed Robinson's agency pistol by its grip and tried to unholster it while threatening the deputy before a pair of bystanders were able to pull him from Robinson.
Prosecutors charged Roe with attempted murder of a law enforcement officer, resisting law enforcement with violence, depriving an officer of their means of protection and attempting to deprive an officer of their means of protection. 
Robinson was in the courtroom during Roe's change-of-plea hearing, but did not speak. 
While he was in custody on June 26 at the county jail in Lecanto, Roe threw a cup of coffee at a correctional officer who ordered him back to his cell.
When a pair of guards sprayed Roe with pepper spray in response, Roe lashed out at the officers with a broomstick, striking them several times before he was detained.
Roe was charged with two counts of aggravated battery with a deadly weapon.