A Lecanto man is facing accusations he lashed out at a pair of Citrus County Sheriff's Office deputies who took him into custody for spitting at and striking a woman in a store parking lot.
Authorities the night of Saturday, Oct. 2, booked 50-year-old Jeffrey Scott Curtis into the county jail under charges of battery, resisting law enforcement with violence and two counts of battery against a law enforcement officer.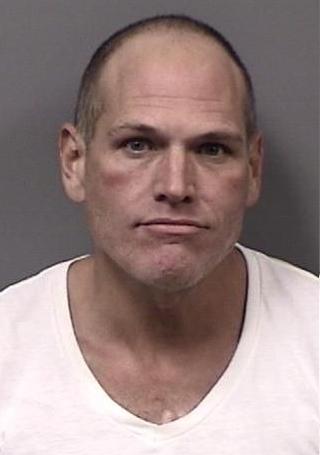 Deputies went to apprehend Curtis at his home after a woman identified him as her assailant from earlier that evening outside the Walmart in Lecanto.
According to Curtis' arrest report, obtained Tuesday, the woman told deputies Curtis — her neighbor — confronted her because he believes she stole his cat a couple weeks ago. She said Curtis spat on and slapped her face before he drove away. 
Witnesses and the Walmart surveillance system corroborated the woman's statements to deputies, who left to arrest Curtis for battery.
When two deputies asked him to step outside his house, Curtis said he didn't do anything wrong, telling the deputies they weren't "real cops" before he shut his front door, his arrest report states.
A Citrus County Fire Rescue crew arrived to treat chest pains Curtis was reporting. Curtis opened his door to tell the firefighters they weren't needed. 
Curtis tried to close the door again, but a deputy managed to put his foot in the way and grab Curtis by the arm to arrest him.
In response, according to his arrest report, Curtis pulled the deputy into his house, prompting the second deputy to follow inside as backup. 
As the two deputies tried to restrain him, Curtis flailed his arms, striking a deputy twice in the back of his head.
Deputies were able to pin Curtis up against his front door, and used a Taser to try and stun him. Curtis pushed himself off the door, causing a deputy to strike the back of his head on a wooden bannister.
A deputy wrapped his arms around Curtis, brought him outside and swept his legs, bringing Curtis to the ground, where deputies could get his hands into cuffs.
Curtis threw himself out of a patrol car, and complained of having chest pains, according to his arrest report. Medics transported Curtis to hospital, where he continued to be treated into Sunday.
After arresting Curtis, deputies decided to release him on his own recognizance.