Most of the Citrus County School District's families are comfortable sending students back to campuses in the fall if COVID-19 health guidelines allow.
Out of the 6,887 anonymous parent responses to a recent districtwide survey, 5236 or 76% of them were in favor of their children returning to school on Aug. 10, district staff told school board members at a Tuesday, June 9, 2020, meeting.
School district staff sent the four-question survey in late-May 2020 to every enrolled family, which were limited to answer one survey per student in a household.
The school district educates around 16,000 students across 22 campuses.
"We thought we had a great response," Dr. Scott Hebert, the district's chief academic officer, told the school board.
"It was just to determine the pulse of what our county is thinking," added Amy Crowell, district director of research and accountability.
Almost 25% or 1,651 of survey participates were uneasy having their children return to campus, especially elementary grades.
"As the child is getting older, parents are more willing on sending them to school," Crowell said.
Crowell said those who didn't want to return gave mixed reasons why, like they were concerned about a second wave of the virus, that wearing masks or similar policies wouldn't be enforced or because health guidelines would restrict their child too much. 
Of those surveyed, 68% said they're OK with their children learning inside brick-and-mortar classrooms, while roughly 30% wanted to or are considering enrolling with the Citrus Virtual School.
Hebert said more or less families could consider signing up for Citrus Virtual, depending on how rampant COVID-19 is.
"Timing is everything," he told a Chronicle reporter. "We're still gathering information to hear from parents."
Hebert emphasized there are major differences between the Citrus Virtual School and the remote learning curriculum school district officials were forced to implement when COVID-19 closed campuses in mid-March 2020.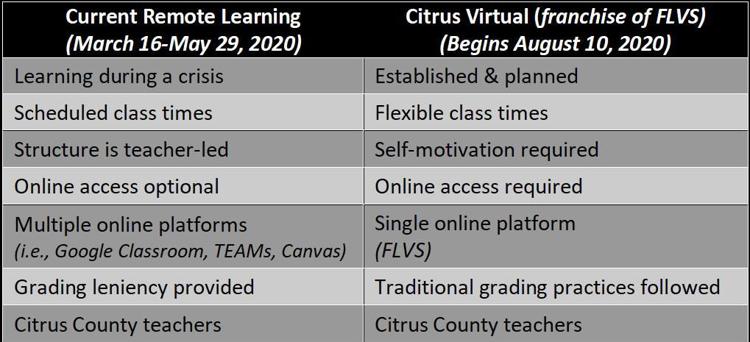 Hebert said district staff are finalizing an agreement with Florida Virtual School to franchise Citrus Virtual, which will be taught by local teachers.
"It's not like we're getting a brand new school," Hebert told board members. "We're taking away what's already there."
Unlike remote learning, Citrus Virtual will use a single learning platform and a standard curriculum with flexible classes enforced by familiar grading and attendance policies.
"We're not opening a virtual school, we're offering virtual classes through our schools," district assistant superintendent Mike Mullen told a Chronicle reporter.
Students will also be allowed to transfer from Citrus Virtual to a traditional district school.
They can also have a choice to take study some courses online and some at school.
"Kids are doing that now," Hebert told a Chronicle reporter.
Hebert told the school board another position would have to be created to oversee Citrus Virtual School.
"I do not have the staff or time to do that," he said.
Hebert said a 48-member group is working to develop multiple options for how students could return to schools.
Much of those plans await updated recommendations from the Centers for Disease Control and Prevention, Gov. Ron DeSantis and the Florida Department of Education, Hebert said.
"We're having very difficult discussions about what next year looks like with where we are," he told the school board.
"Whatever we decide, I have confidence in our staff and classroom teachers," board chairwoman Sandy Counts said.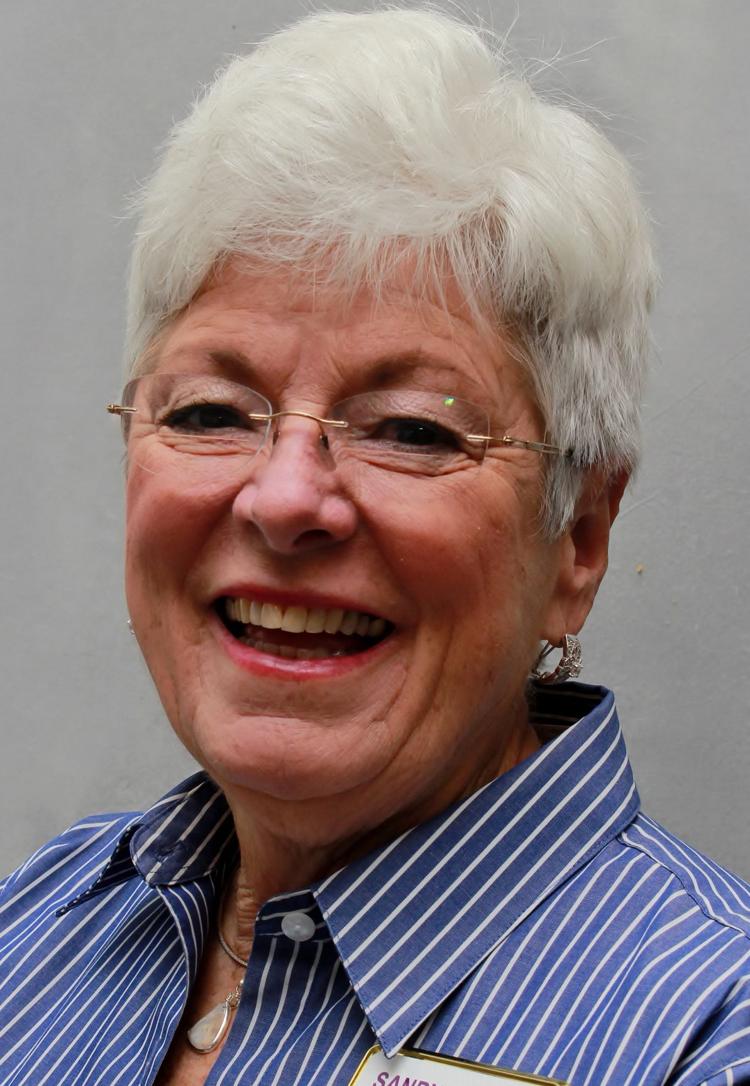 Board members Thomas Kennedy and Doug Dodd said they're in favor of schooling with a hybrid of virtual and in-person education, giving students, teachers and parents flexibility in what they can do.
"We meet their needs and have options available," Dodd said.
"We have got to remain reasonable and use common sense in addressing what we need," Kennedy added. "If you're interested in virtual school, please talk to a student or parent to have some understanding, or talk to a school administrator."
There were 329 survey participants who wanted to enroll their child outside the district, like in a private school. 
Hebert pointed out that if students leave the school district, the state won't allocate as much funding to the school district.
Dodd said the district must advertise its Citrus Virtual School to help keep local students enrolled.
"We've got to market that and make sure parents know," he said.
There are other obstacles the district has to face, like affording additional buses if fewer students can ride because social distancing is still required.
There's also a risk of students losing eligibility for free and reduced school meals if they chose to enroll with Citrus Virtual School, Hebert said.
Roy Pistone II, director of district food services, told the school board he's applied for numerous waivers with the state but has yet to get a response.
Assistant Superintendent of Schools Jonny Bishop told the Chronicle the school district applied for an extension to feed off-campus students this school year by busing them packaged meals, similar to what occurred after campuses closed due to COVID-10 in March 2020.
District officials are still waiting for a response, Bishop said.
Close to 10,500 district students qualified for affordable breakfasts and lunches in March 2020.