Citrus County School District officials have updated their online COVID-19 case dashboard again to show the total number of student and staff infections at brick-and-mortar campuses only.
Prior data sets from between the first day of school on Thursday Aug. 20, 2020, to Monday, Sept. 14, included cases from both physical schools and the Citrus Virtual School.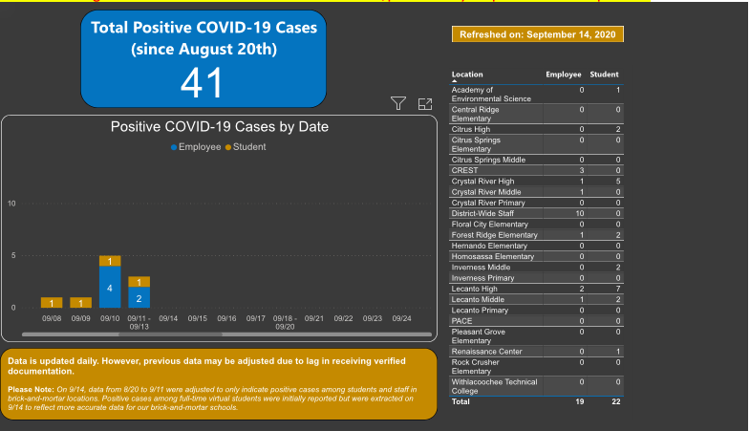 To see the data on positive coronavirus cases reported to the school district, visit tinyurl.com/y6l9wj2n. 
Before Monday's change, there were 49 reported cases across the school district. 
After non-brick-and-mortar students were removed from the dashboard's counts, 41 cases remained, which also includes the addition of one student and two staff members whose positive tests were recorded over the weekend.
High schools, including the Academy of Environmental Science, accounted for 18 cases; middle schools, six; and elementary schools, three.
A trio of employees from the CREST (Citrus Resources for Exceptional Student Transition) School have tested positive, along with a Renaissance Center student.
No cases have been reported at either the Withlacoochee Technical College or the Pace Center for Girls.
School district staff accounted for 10 cases.
Previous data may change due to a lag in receiving verified documentation on cases.
District spokeswoman Lindsay Blair said a handful of Crystal River Middle School students had potential contact with a confirmed COVID-19 case late last week.
Blair said health department officials were unable to notify them over the weekend; however, when the students arrived at school Monday morning, staff immediately isolated them and contacted their parents to pick them up.