Students have two choices when it comes to enrolling with the Citrus County School District for the upcoming school year amid COVID-19: traditional or virtual.
School district officials released instructions on how families can register their children for either an education in brick-and-mortar classrooms or online with Citrus Virtual School.
"We are relying on families' prompt reply which will help us finalize our plans for the fall," stated a school district news release. "Working together, we can ensure that students start the 2020-2021 school year ready for success." 
Aug. 10, 2020, is the first day of school, but registration for Citrus Virtual School is due by July 11, 2020, according to the school district.
Families new to the school district must provide several documents and request a Skyward account. For information, visit tinyurl.com/ycceevuf.
Those wanting to enroll students in a physical or virtual school must either update their children's emergency form or send in a new one through Skyward. For information, visit tinyurl.com/y9b8sdgb.
Students who don't select an option by July 11 will, by default, be enrolled at a brick-and-mortar school.
Questions can be asked by contacting the school a student is zoned for during regular business hours, Monday through Thursday.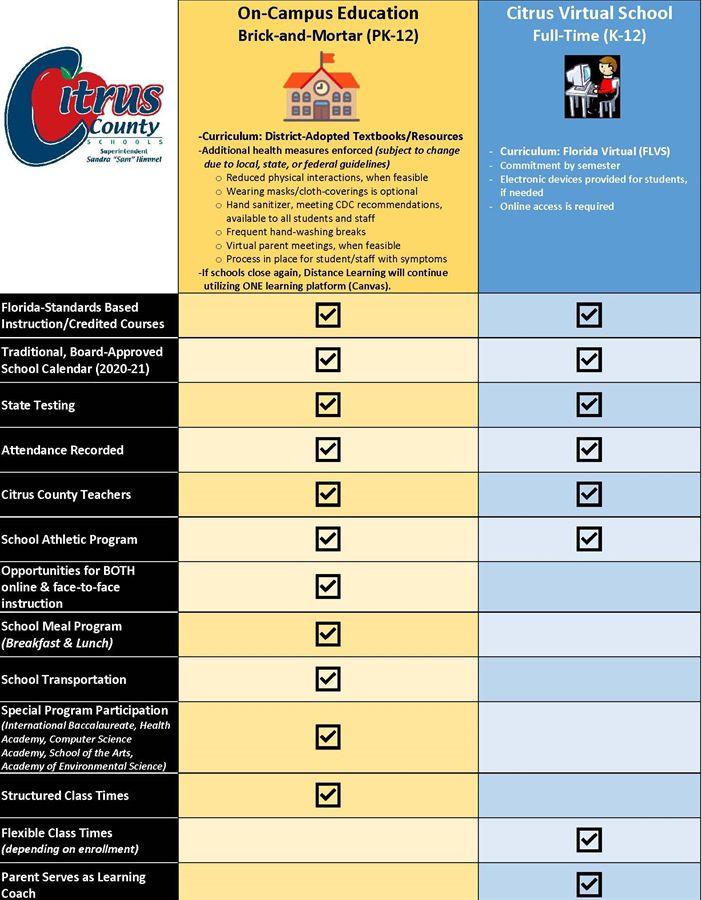 Citrus Virtual School is a franchise of the Florida Virtual School with state-standard curriculum taught online by local teachers with help from parents acting as "learning coaches."
Electronic devices will be provided to help students access the internet.
Even though student class times will be flexible, subjects will be taught over a universal platform that tests, takes attendance and records grades.
Citrus Virtual School students won't be able to participate in the International Baccalaureate or academy programs, but there is a school athletic program available.
Students must commit at least a semester of Citrus Virtual School before they can decide to transfer out of it.
In addition to what virtual schooling would offer, with the exception of flexible class times and parent help, enrolling in a physical school will give students access to face-to-face instruction, busing and school meals.
While learning at a school, students will have reduced physical interactions and frequent hand-washing breaks. They'll also be recommended to wear a mask or cloth-covering.
If COVID-19 causes campuses to close, like the virus did in March 2020, students will continue their education through distanced learning, which is different than the virtual school.