Before COVID-19 became part of our everyday existence, Crystal River's Gay and Phil Courter encountered it head on.
They, along with some friends, were sailing the Diamond Princess, enjoying visits to the Far East.
Then someone aboard the boat contracted a virus unknown at the time outside China and everything the Courters held as normal went right out the porthole.
Suddenly, guests were confined to the ship and getting their temperatures checked. A two-week ship's quarantine followed, fear bubbling as passengers continued getting sick despite being locked in their staterooms.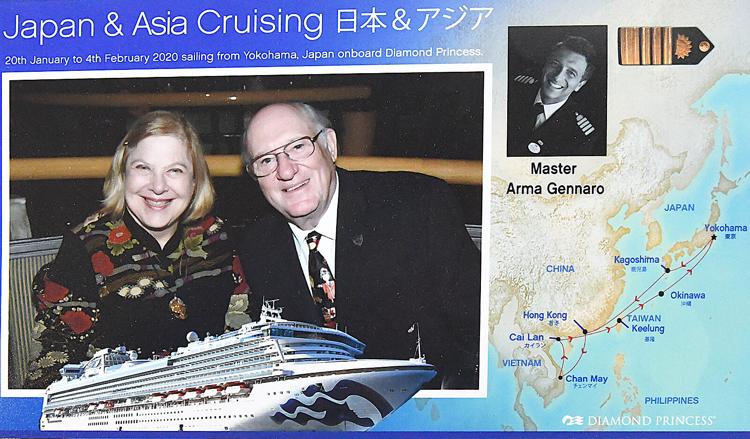 Watching the drama unfold while also being a part of it was something Gay had to share.
"I'm imagining two weeks in this room," she said in an interview. "My son called checking on us and I'm flipping out. He said, 'Mom, you have every writer's dream. You're locked in a hotel room for two weeks and you have a great story to tell. That got my attention and I started working on a proposal for a book."
That book, "Quarantine!: How I Survived the Diamond Princess Coronavirus Crisis," goes on sale Tuesday, Nov. 10, 2020.
• How a seemingly innocent visit to Hong Kong led to one infection aboard the Diamond Princess and, despite quarantine, many more.
• The Courters reaching out to friends in the media so that the Diamond Princess quarantine story remained in the news, pressuring U.S. authorities to act.
• Once rescued from the cruise ship, a harrowing 12-hour flight aboard a military cargo plane where confirmed coronavirus patients were separated from others with plastic sheeting.
• Two more weeks of quarantine at a Texas air base.
• How the Courters were able to cash in on — true story — pandemic insurance, providing them a direct flight home to Crystal River.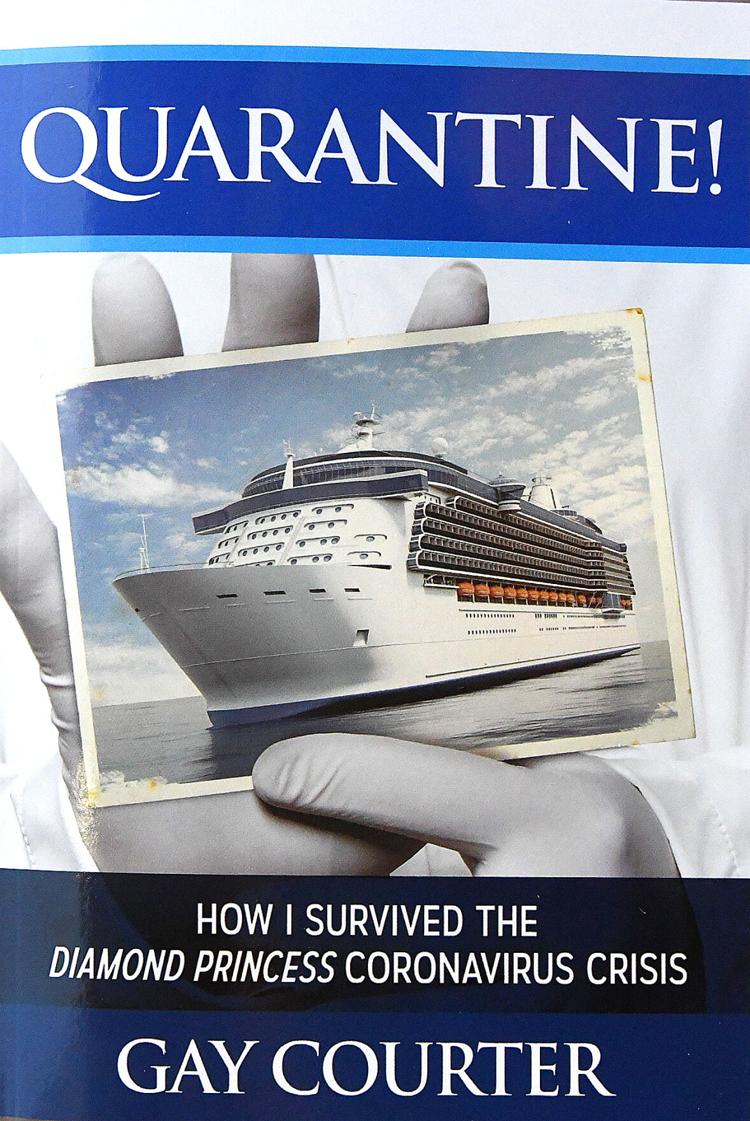 And when they returned home after a weeks-long ordeal, the Courters were surprised to learn that the virus was now seeping into American lives.
"It caught up to us as soon as we got back to Florida," Phil said. "I don't think it occurred to us that it would sweep across the country like that."
The Courters are worldly people who travel frequently. Gay, 76, is a best-selling author. Phil, 78, an award-winning documentary filmmaker.
Cruises are the best way to see the world, Gay said.
"In recent years we found cruising is the most economical way to see very out of the way places," Gay said. "Phil doesn't particularly like traveling. He doesn't like airports, missing planes, the whole anxiety about travel. But he does like getting on a cruise ship, unpacking once, staying on the ship two, three weeks, sometimes a month."
Re: the front-page story, "County calm, but cautious"): Today, Friday, March 13, the Chronic…
Gay, in particular, packs for any unseen circumstance. That's why she had with her face masks, even though she had never worn one, and Tamiflu in case one of them gets sick.
And they're extremely careful.
"People who cruise a lot like we do are very concerned about hygiene," she said. "I had a whole medical kit. We had Clorox wipes to wipe down surfaces. I will never touch a railing on a ship.
A friend back home with a connection in the State Department began sending the Courters emails warning them of an unknown virus that was spreading through parts of China. The Courters and their friends were planning a one-day visit to Hong Kong to celebrate the Chinese New Year.
"That was going to be the high point of the trip," Gay said.
Of the Diamond Princess's 4,000 passengers, many were Asian families, including parents, grandparents and young children.
"There was a thousand Japanese on the ship alone, mostly in family groups," Gay said.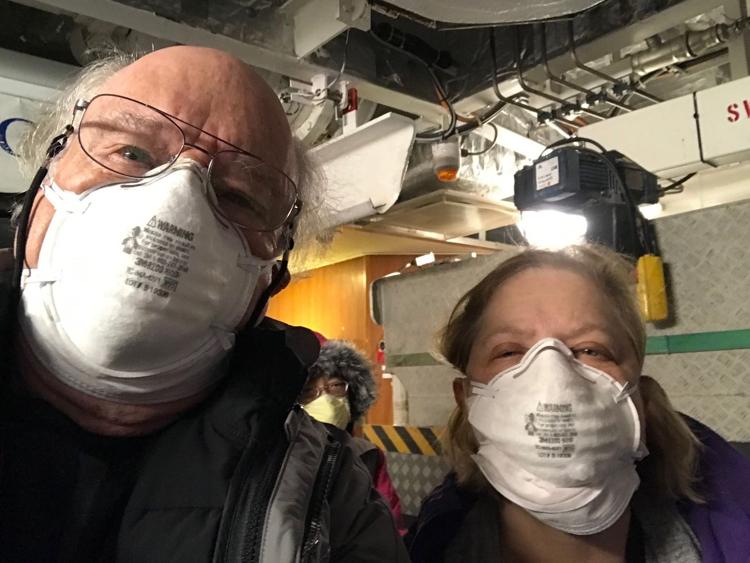 Getting off the ship, passengers had their temperatures taken for the first time. Venturing into Hong Kong, they saw people wearing masks but didn't think much of it.
"None of us had ever wore a mask before," Gay said.
At a crowded temple, Gay removed masks from her backpack.
"Phil said, 'I'm not going to wear this,'" Gay said.
Before leaving for the trip, the Courters added an interesting $100 rider to their insurance to cover terrorism, kidnapping and pandemic. Basically, the insurance company would ensure safe transportation from dangerous spots.
The idea behind the rider was concern about pro-Democracy demonstrations in Hong Kong.
"We heard of a few cases of this weird virus in Wuhan, China," Gay said. "Where the hell is Wuhan? It's nowhere near Hong Kong."
Then a second oddity. At the ship's last stop in Okinawa, Japanese authorities had everyone removed from the ship for a health inspection. The Courters said that isn't unusual, except the inspections usually occur while passengers remain onboard.
"They never make thousands of people get off the ship," she said. "It seemed a little over the top. We didn't know what was going on."
The ship went sailing for two days at sea and the Courters were packing to disembark the next morning. A car was to meet them at the cruise terminal and take them to the train station, where they planned another week in Japan's countryside.
Feb. 2 was the scheduled last day of the cruise. The Courters were at dinner when the captain came over the speaker and said a passenger who got off the ship at Hong Kong and didn't return had tested positive for the coronavirus and, because of that, Japanese authorities didn't want anyone off the ship until they had their temperatures taken.
The captain told passengers to expect a knock on their stateroom door during the night for a temperature screening.
Still, not a lot of concern.
"There was the shock that there had been some guy on the ship who had the virus," Gay said. "What were the chances? There were thousands of people on the ship."
Philip and Gay Courter spend these agonizing days in their cabin aboard the Diamond Princess…
That next morning, the captain said disembarking would be delayed a day as Japanese authorities completed their temperature screenings. Passengers were allowed to roam freely aboard the ship, so long as they were available for temperature checks.
But it wasn't a happy time.
"Something didn't feel right to me," Gay said. "We walked all over the ship and all you see is pissed off, mad passengers."
Gay emailed a friend who is a producer for ABC News. The producer asked Gay to walk around the ship, recording a standup of what was going on.
"We were just amusing ourselves," she said.
The next day came more startling news: Ten people onboard had tested positive for the coronavirus. Japanese authorities put the ship under quarantine for two weeks and ordered all passengers to stay in their rooms.
As the ship docked, Phil and Gay went to the balcony and saw rushed activity on the pier: military vehicles, firetrucks, ambulances, press satellite trucks, helicopters.
"People running around in white uniforms, yellow uniforms, red — all with different designations on their back," Gay said. "It was like we landed in the middle of a science-fiction movie. We were not used to seeing people in hazmat suits.
"I couldn't process it. We were in complete shock."
Nowhere to go. Confined to quarters. Eventually, authorities allowed brief deck walks for those in rooms without windows or balconies. But passengers had to follow the rules: masks on and keep 6 feet from others.
The confinement was bad enough. But the numbers of infected passengers and crew continued to rise daily.
"The people were getting sick at a rate of 30, 40, 70 a day," Gay said. "It was constant medical. We were all keeping tallies. 'Oh my God, there's 100 sick now.' At some point, they stopped giving the numbers. We were able to get the numbers from the press."
Worry began seeping in as scattered positive cases popped up throughout the ship.
"We were not allowed to leave our room, so how are we getting sick? How the hell are we getting sick?" Gay said. "We didn't feel invulnerable. We were terrified."
The Courters started researching to find out what kind of virus they were dealing with. It was clearly airborne, spread through mouth, nose and close contact.
They contacted friends in the medical field and sought advice.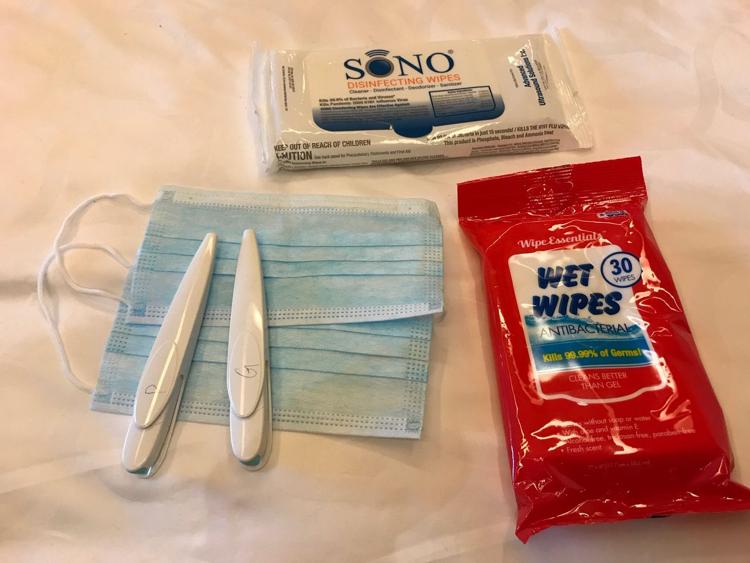 "The concern was we could be getting sick through the air vents, and what do do about that," Gay said.
So they used cardboard to block the vents, and opened the balcony doors, warming themselves with sweaters and additional blankets from the chilly air.
"The captain said the air we have here is perfectly safe," she said. "No scientist has been on board to test that. Now it's pretty well known that's what they think it is."
• • •
The Courters knew they had to act. Despite some friends suggesting they not draw attention to problems aboard the Diamond Princess, the Courters were worried about their health and that of fellow shipmates.
They contacted their son Blake in Boston and asked him to coordinate the horde of media interview requests coming in from around the world. Soon that task was too much for Blake, so they hired a public relations firm to get the message out.
Their message was direct. Governments had to get their citizens off the ship.
The U.S. government sent a plane to Wuhan to remove State Department employees. The Courters pleaded, through the media, for the United States to do the same thing for American passengers aboard the Diamond Princess.
Two days before the 14-day ship quarantine was to end, passengers received an email from the State Department with an offer: We'll remove you from the ship, fly you to an Air Force base in the States, where you'll quarantine another 14 days.
The alternative was leaving the ship on their own when the quarantine ended, but even that was uncertain.
"It was a little unclear," Gay said. "Fourteen days with nobody getting sick? More and more people were getting sick. How is that happening? You're just under siege by something."
Plus, Japanese authorities were saying that once off the ship, passengers would need to quarantine another 14 days before being allowed on their way.
And passengers were worried about getting sick and hospitalized without loved ones nearby.
"Being separated was our biggest fear," Gay said. "I know Japanese medical care is excellent. But when you can't communicate, that's a problem."
Staying on the ship one day more than necessary was out of the question.
"People were getting sick like crazy on the boat," Phil said. "Quarantine on the boat was a complete failure."
So they decided to take the U.S. government offer.
• • •
Time to hurry up and wait.
Passengers were removed from the ship in groups and bordered buses for the airport.
"We're sitting there, not going anywhere," Gay said. "We just sat there in the rain for hour after hour, not knowing what the hell was going on.
"We hadn't seen other people in two weeks. Now we're packed in buses wearing masks, but it didn't feel good."
TOKYO  — A pair of Crystal River couples who have been quarantined on the Diamond Princess c…
They would later learn about the holdup. Shortly before the buses were about to leave, Japanese authorities received the results of coronavirus tests given passengers 10 days earlier. Fourteen passengers who were now packed onto buses had tested positive.
"At that point we did not know that," Phil said.
The U.S. Centers for Disease Control and Prevention said the passengers couldn't board an airplane and suggested passengers either return to the ship or send the infected patients to hospitals. The State Department made it clear this was their only chance to leave.
Buses finally departed for the airport, where they waited on the tarmac for more time. They finally boarded the cargo plane, where restrooms were porta-potties, and there was neither heat, nor air conditioning.
What it had, though, was plastic sheeting set up to cordon off an area for the infected passengers.
Gay was waiting to use the restroom.
"This guy wearing a hazmat suit lumbers up the woman right in front of me in the porta-potty line, 'Are you Mrs. So and So? We just got back your COVID test and you're positive,' and I'm standing there. He takes her arm and takes her back into the tent. Now I'm 1-foot from this lady who turns positive.
"I told Phil this story and said, 'We're doomed.'"
• • •
The landed in a foggy dawn at Lackland Air Force Base in Texas. 
"All these people are running around in white hazmat suits — and us," Gay said. "It was like 'First Encounters of the Third Kind,' and we were the space invaders and they were the earthlings protecting."
Passengers headed to an airplane hangar and were greeted with applause from soldiers and volunteers.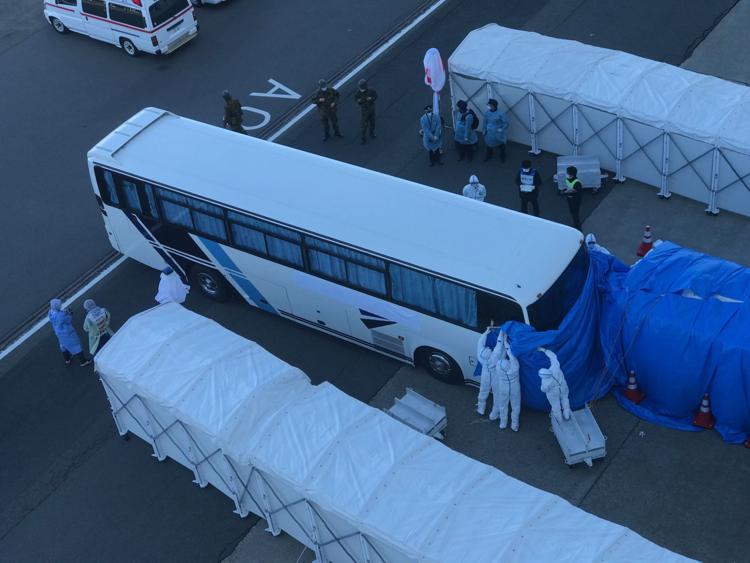 "I burst into tears," Gay said. "They're welcoming us back to America and the only reason we're there is because we're Americans and our government came for us."
They were assigned rooms on the base and told to stay indoors. Each day food was provided in plastic bags and everyone was invited to participate in daily conference calls to ensure needs were met.
"We felt safer," Phil said. "This was a very strict quarantine. These guys knew what they were doing."
• • •
And then, 14 days later, yet another glitch.
Passengers had their luggage near the buses to drive to the airport. Instead, the buses left without them.
Turns out the mayor of San Antonio didn't want Diamond Princess passengers in his city even though they had just been through quarantine.
"So we had to spend another night there," Gay said. "The group of passengers, a very pleasant group of mostly older people, lost it. One guy tried to run the fences, screaming. We were all so furious. Another letdown?"
But that $100 pandemic insurance rider came through.
Phil learned there was a private fixed-base operator at the Lackland air base, meaning private planes could arrive and take off as well. They contacted the company covering the insurance policy, and it sent a plane to whisk them home.
"The next morning they sent a plane and flew us right back to Crystal River," Gay said.
Phil added: "This was a nutty icing on the cake."
• • •
There is no mask debate in the Courter household.
"We know from the very strict quarantine at Lackland, you don't go anywhere without a mask," Phil said. "That's the way you prevent the spread."
Since home, the Courters have stayed away from crowds. They get together occasionally with friends they know are equally as cautious.
Coming about as close as one can to catching COVID-19 without actually doing so gives the Courters perspective.
"We've seen the conditions under which many people got sick and they were all being careful and supposedly in quarantine," Gay said. "That's why we're more careful than a lot of people."
Lessons learned from all this?
"Ask for help," Gay said. "You never know who knows who."
They will cruise again once a COVID-19 vaccine is secure.
"If there's a good vaccine and everybody has to have it, sure," Phil said. "If treatment is available, you're basically in the same category as the flu, and you're going to be OK."