A Citrus County man faces two counts of lewd and lascivious molestation charges after the Citrus County Sheriff's Office alleged he inappropriately touched a child in his care.
The investigation that led to the arrest of Bryar John-Dalton Benson, 22, began May 14 when the victim was interviewed by staff of the Lake City Advocacy Center.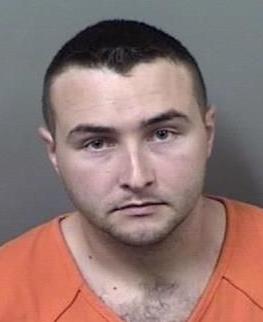 Deputies charged Benson with one count of lewd and lascivious molestation on a victim over 12 years old and one count of lewd and lascivious molestation on a victim under the age of 16. Deputies took Benson to jail.     
Benson is a paraprofessional and teacher's aide at Hernando Elementary School, according to school district spokeswoman Lindsay Blair. He was hired in August, 2019.
Citrus County Sheriff Mike Prendergast told the Chronicle that when Detective Richey and Detective Barry interviewed Benson, Benson confessed to inappropriate touching.
Prendergast said that additional charges could be pending but said there is nothing in the investigation to suggest that this molestation occurred on a school property.
Prior to his job with the Citrus County School District, Benson worked for a Crystal River preschool from 2015-18 and the YMCA from 2016-19 overseeing after-school programs and summer camps, according to his school district résumé provided to the Chronicle by Blair.
YMCA spokeswoman Lalita Llerena said all staff members are screened and trained to recognize and prevent child abuse from occurring.
"In this case, the background screening revealed no indication of prior misconduct," she said. "The YMCA of the Suncoast will cooperate with any investigation upon request. We are committed to the safety and welfare of all children in our care."
As a result of Benson's arrest and per the school district's policies, Blair said, school district administrators reassigned Benson to work at their main office in Inverness, where he'll have no contact with students.
Benson's last day interacting with students was March 9, during spring break and when campuses were closed due to COVID-19, Blair said. 
Blair said Benson had no prior disciplinary history with the school district before his arrest.