Visitors to Walt Disney World can now buy a piece of Inverness when they go the Orlando theme park.
Some of the gourmet fruit and wine pops produced at Pop Fusions can now be found at Epcot and Disney Springs. And it may not be long before the "pops" show up at California's Disneyland Park.
Quite a lucrative "get" for friends Kelli O'Grady and Nancy Glessner, owners of Pop Fusions, which operates out of a small building at 105 S. Line Ave., Inverness.
"Sometimes, it seems like a dream," O'Grady said.
The accomplishment is even more impressive given that the longtime friends started their business only three years ago as a hobby, selling their ice pops out of an old 1966 Airstream food trailer they purchased.
What started as a way "to do something fun for the summer" soon became a going concern. Along the way, they partnered with Island Grove Wine Company in Hawthorne, Florida, to make wine pops.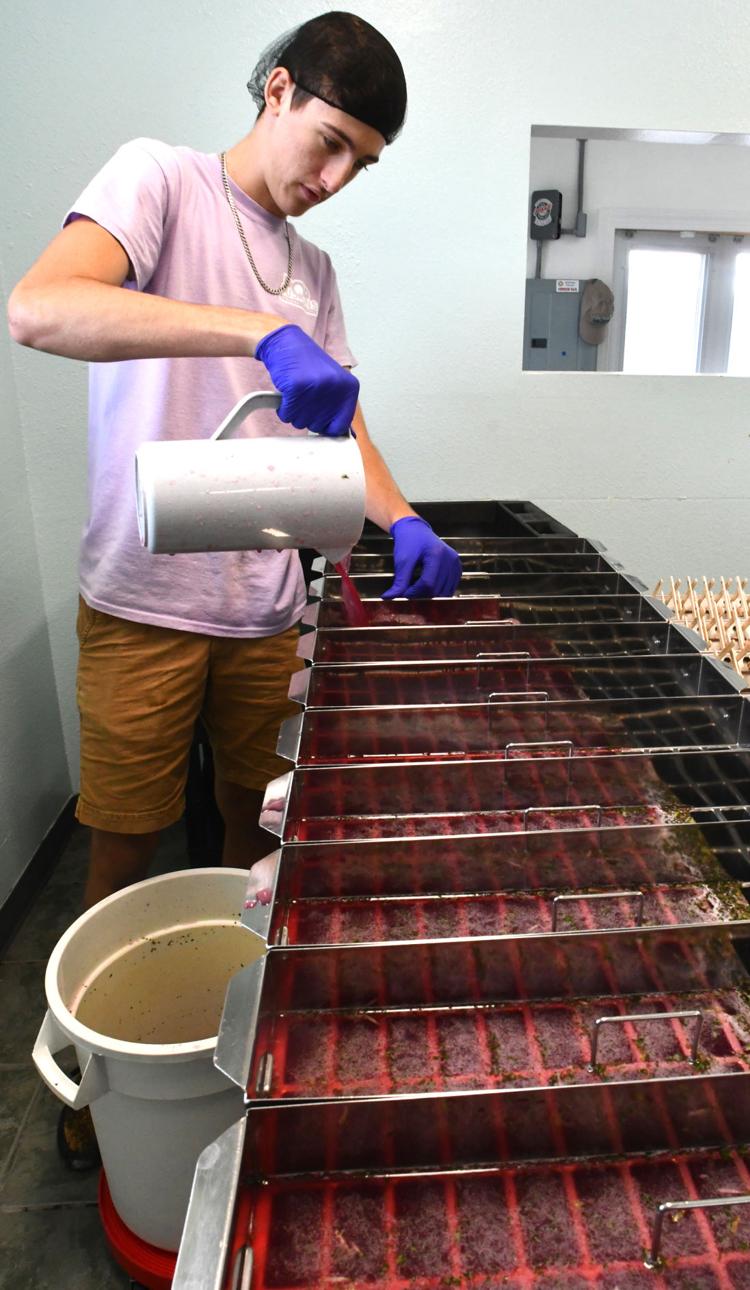 O'Grady and Glessner eventually parked the old Airstream and opened their Line Avenue operation in June 2018.
In May 2019, they finalized an agreement with Disney and placed their first order. The Pop Fusions bars are sold out of a mobile cart in front of Via Napoli at Epcot World Showcase and inside the Pizza Ponte restaurant at Disney Springs.
Disney is one of 99 wholesale customers — all in Florida — of Pop Fusions.
O'Grady said it came about in fall 2017 after a distributor for Island Grove, which did business at Disney World, told her the gourmet pops "belong at Disney."
O'Grady said the idea seemed a bit fantastic at first and she didn't act on the suggestion. She was intrigued, but the business wasn't ready to take it on.
But after moving into the new building, she thought it was time to grow the brand and opened up negotiations.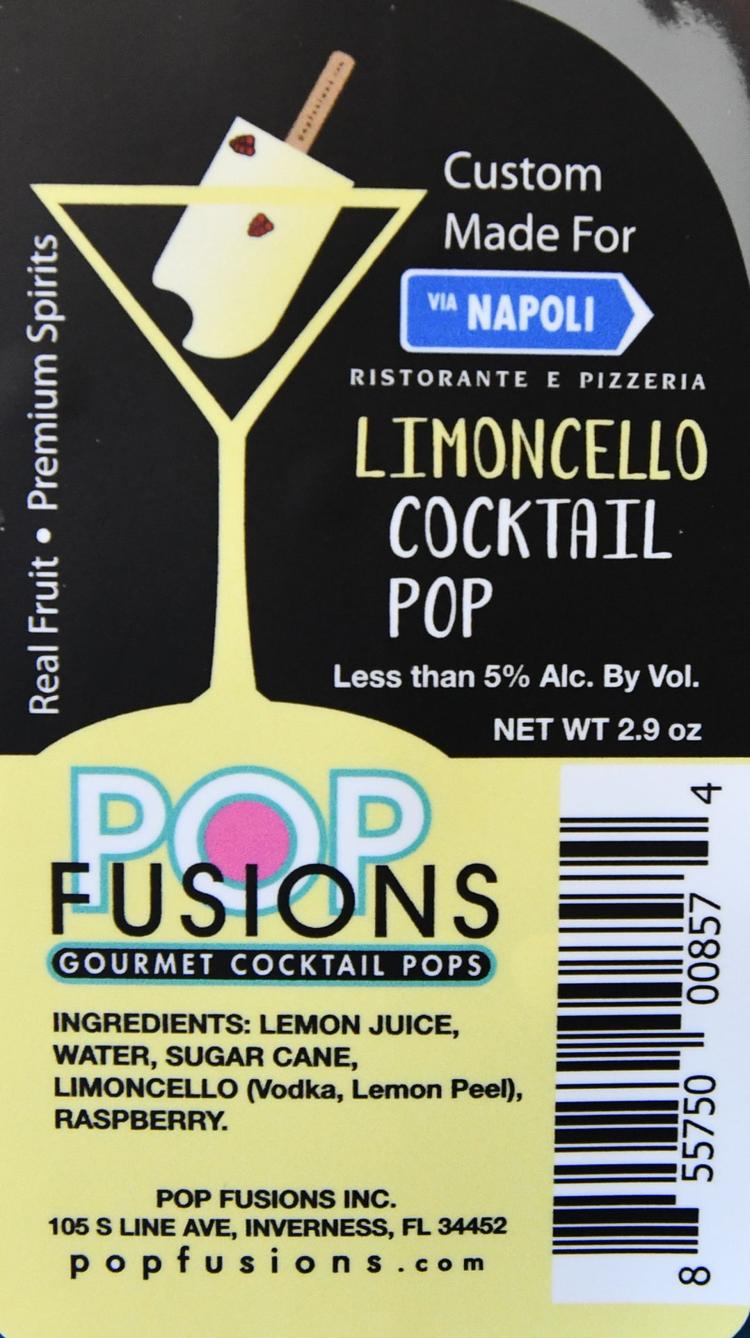 And now, firmly established in Disney World, O'Grady has set her eyes on Disneyland. She just got back on a red-eye flight from California Wednesday morning and hopes a deal can be worked out. There is interest, she said, in selling the liquor-infused Limoncello pop at that park.
To handle the booming business, Pop Fusions now has 18 employees, plus a sales director. O'Grady said they bought three refrigerated trucks to transport their products statewide. They also have financial partners.
The Inverness location is capable of making 100,000 gourmet pops a week.
Trevor Van Voorthuijsen is Pop Fusions' production manager — the guy who daily makes the pops.
Van Voorthuijsen has known O'Grady for a long time and she asked him if he wanted to produce the product. He wasn't sure because he had never made pops in his life. But he took the job and "now I'm in charge of it," he said.
Van Voorthuijsen said he's thrilled that the product he makes is found on Disney property.
"Disney is great," he said. "Hopefully, we can work with them for a long time."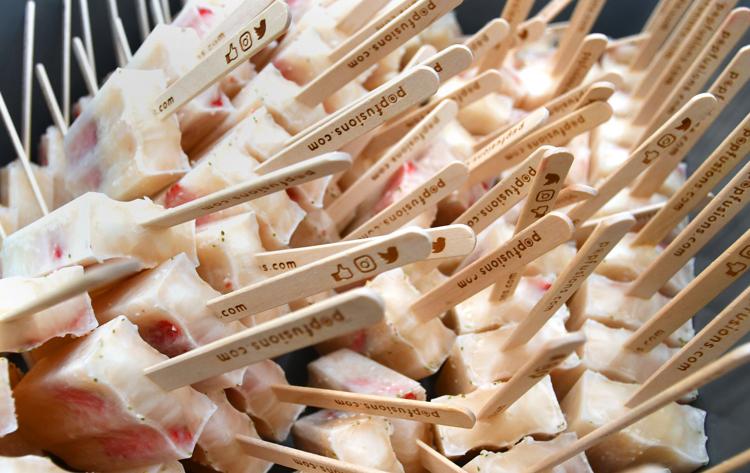 Fruit pops come in assorted flavors, including honey dew coconut kiwi, blackberry vanilla, pineapple mango, Florida orange and strawberry basil.
Wine pops include Berry Sangria, White Sangria and Backporch Peach Chardonnay
"I (now) consider myself an entrepreneur," O'Grady said.
But in the beginning, "I was just a girl who liked to cook," she said.
The reason she and Glessner chose pops was because they were simple to make and package, sold well out of a mobile trailer and filled an unmet need on the market for healthy frozen snacks.
Plus, who doesn't like a cold treat in the Florida heat?
"I eat one for breakfast every day," O'Grady said.
Eighty percent of what goes into the gourmet pops is produced in Florida. The strawberries, for example, come from Ferris Groves in Floral City.
The pops have real fruit and are flash frozen to eat on a stick.
"I'm proud that Disney has not compromised our packaging," O'Grady said. "It says 'right from Inverness, Florida.'"
O'Grady's mom, Dianne Lakeman, helps out at the shop. She's proud of her daughter's business acumen.
"It's like starting a lemonade stand and it turned out huge," Lakeman said.