It took Mark Halstead just six months to figure out retirement just wasn't going to work out.
Halstead, 54, did his share of fishing, sleeping in and watching TV. But then he got bored. The former senior training manager for AT&T decided to start a business. For no particular reason, he decided he wanted to sell quality antique furniture.
And he still marvels how fast it all came together.
In just 90 days, Halstead bought up antique chairs, beds, dressers, bureaus and loads of other collectibles from estate sales and rented a storefront inside the Crystal River Mall.
Last week, he opened Highly Favored Antiques, Collectibles and More, a name he took from his late mom, who — when she was asked how she was doing — would respond "I'm blessed and highly favored."
His two daughters, Heather and Raina, help out at the store occasionally,
Halstead wanted an antique store for all ages and all budgets. He's still trying to get the word out that he's inside the mall and open for business.
That's why he purposely placed what he calls the showpiece of his collection near the entrance. It's a gorgeous ensemble of Asian rosewood furniture inlaid with mother-of-pearl. The chairs, known as Chinese thrones, sell for $600 a piece.
The set doesn't match everyone's budget or home decor, but he puts it right at the front of the store to draw people in because of its beauty.
To show how eclectic the store is, there is a pair of 60-inch bull horns resting on a table. Nearby is a cast iron wood-burning stove in great condition.
Halstead said he is confident business will come back to the Crystal River Mall.
"People still think it's closed," he said. "It's going to take a lot of word of mouth (to change that perception)."
Halstead also runs an antique store at Howard's Flea Market, which has a more extensive line of glassware.
For more information, call Halstead at 904-635-5595.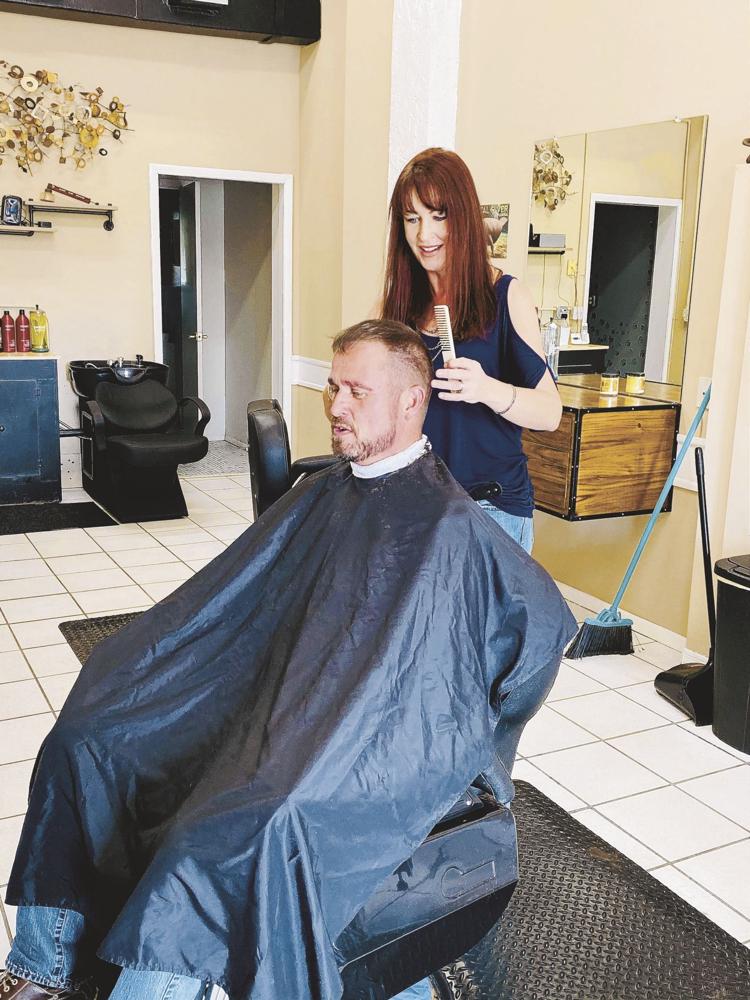 Jennifer Bravo has opened Men's Hair on the Square at 103 Courthouse Square in downtown Inverness.
If that address sounds familiar, it's because — for 19 years — it was home to another men's hair salon, Jagged Edge.
But Bravo, who worked at Jagged Edge as a stylist for over 12 years, said the former owner chose to close and downsize. Bravo had the opportunity to take over the store and decided to give it a go.
She switched out the former sports theme and instead will line the walls with photos depicting locations in Citrus County. And, of course, that will include a manatee, she joked.
"I figured this is a great location," Bravo said. "I love Inverness. I love the downtown. There are a lot of great people here."
Appliance King of Homosassa
This used appliance store has opened a second location at 6420 U.S. 19, across from Howard's Flea Market in Homosassa.
Customers will find used refrigerators, stoves, washers, freezers, dishwashers, microwave ovens and more.
Appliance King's other store is at 721 N. Maynard Ave. in Lecanto.
Virginia Simmens, who helps out at the store, said great demand on the county's westside prompted the owner to open this second site. The store will mirror the Lecanto location, she said.
For more information, call 352-419-4390.
To be included in a future Comings & Goings column, contact Chronicle reporter Michael D. Bates at 352-563-3205 or mbates@chronicleonline.com.