Two weeks after the Japanese bombed Pearl Harbor, Barbara Lincoln's father enlisted in the U.S. Navy.
By September 1944, new high school graduate Lincoln, who's now 94 and living in Inverness, joined the U.S. Cadet Nurse Corps herself.
"I think everyone felt patriotic. It was our country," she said.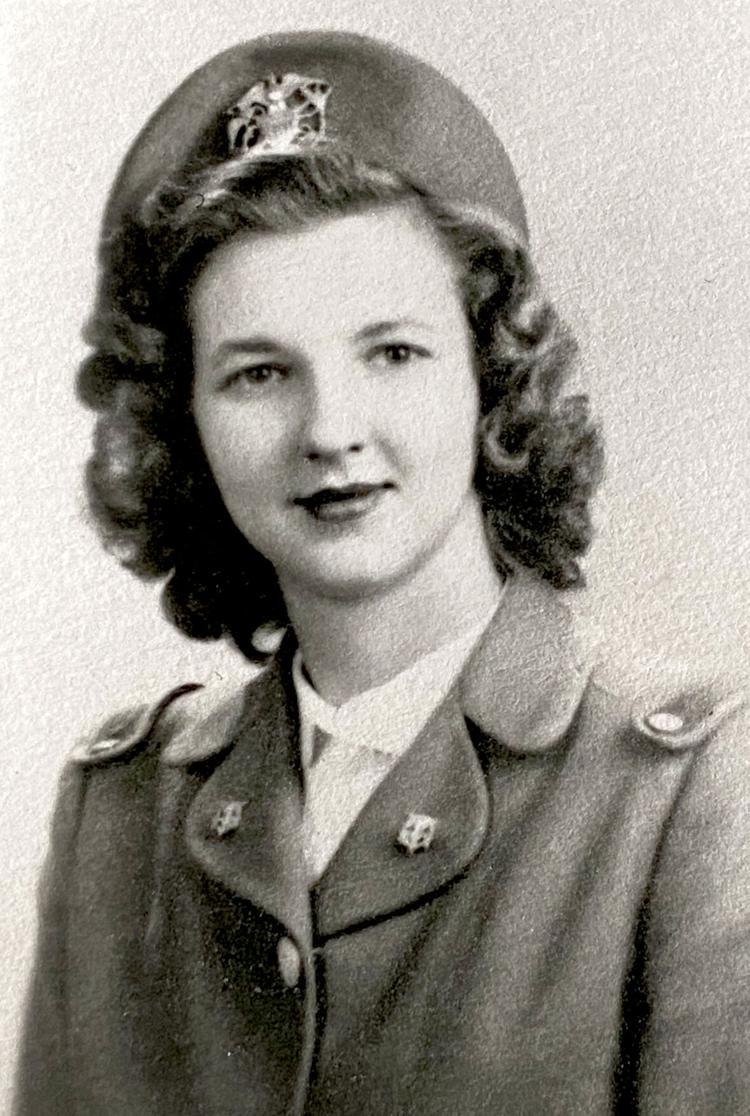 From 1943-1948, the government sponsored the Cadet Nurse program, under which students received a stipend and tuition in exchange for a promise of, upon graduation, military service or three years of service as a civilian nurse. There was a severe nursing shortage at the time.
Lincoln donned her cadet uniform and trained at Lenox Hill Hospital in New York City for 2 1/2 years. She finished training at Marine Hospital on Staten Island, graduating as a registered nurse in 1947. She said she earned $21 a month while training.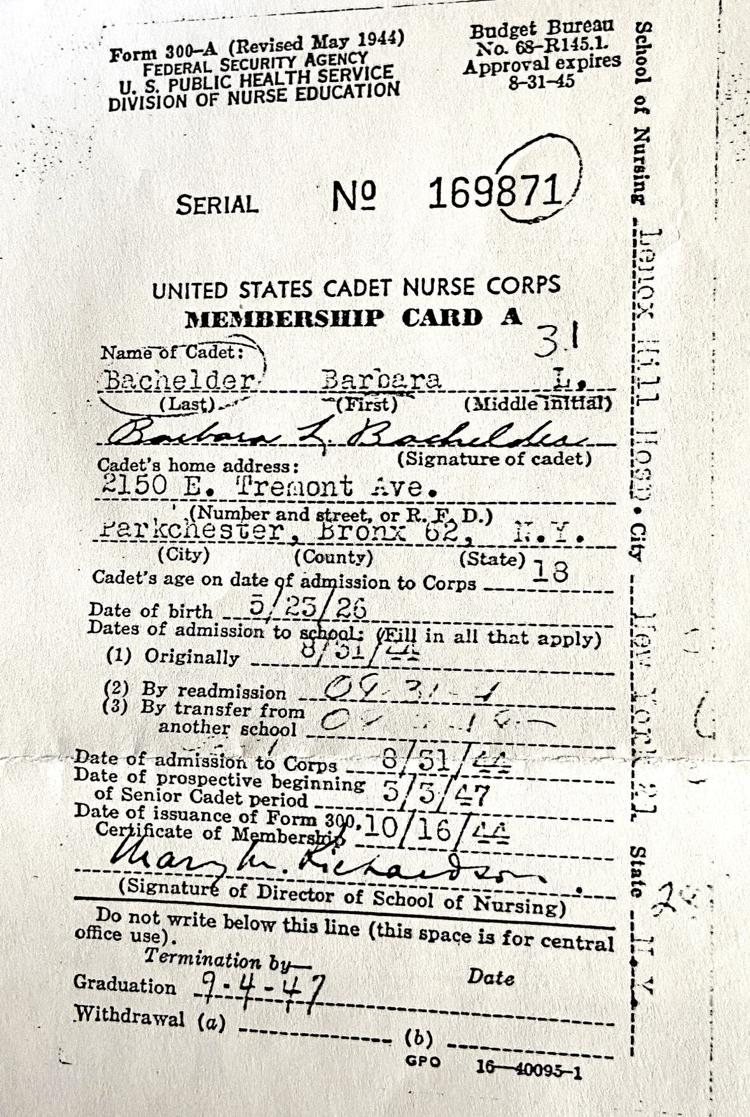 She recalled celebrating the end of World War II in 1945 as a student nurse in Times Square. It was early in the morning and the student nurses just had gotten off work. A police officer told the young women they should go home. But they were ready to party.
After graduation, Lincoln received more training to be a public health nurse, then worked as a public health nurse in New York's Nassau and Suffolk counties.
She recalled how she would have to visit people infected with polio before there was a vaccine.
"It was scary," she remembered. "We all were careful. … We didn't close schools. I don't recall us wearing masks," she said but added, "Masks are better than nothing."
She said in her day, people had chicken pox parties to expose children to that virus, but comparing those festivities to COVID parties today is not the same. COVID is more serious.
"Take the necessary precautions," she said. "Wear masks and keep social distancing. … I'd rather wear a mask than a ventilator."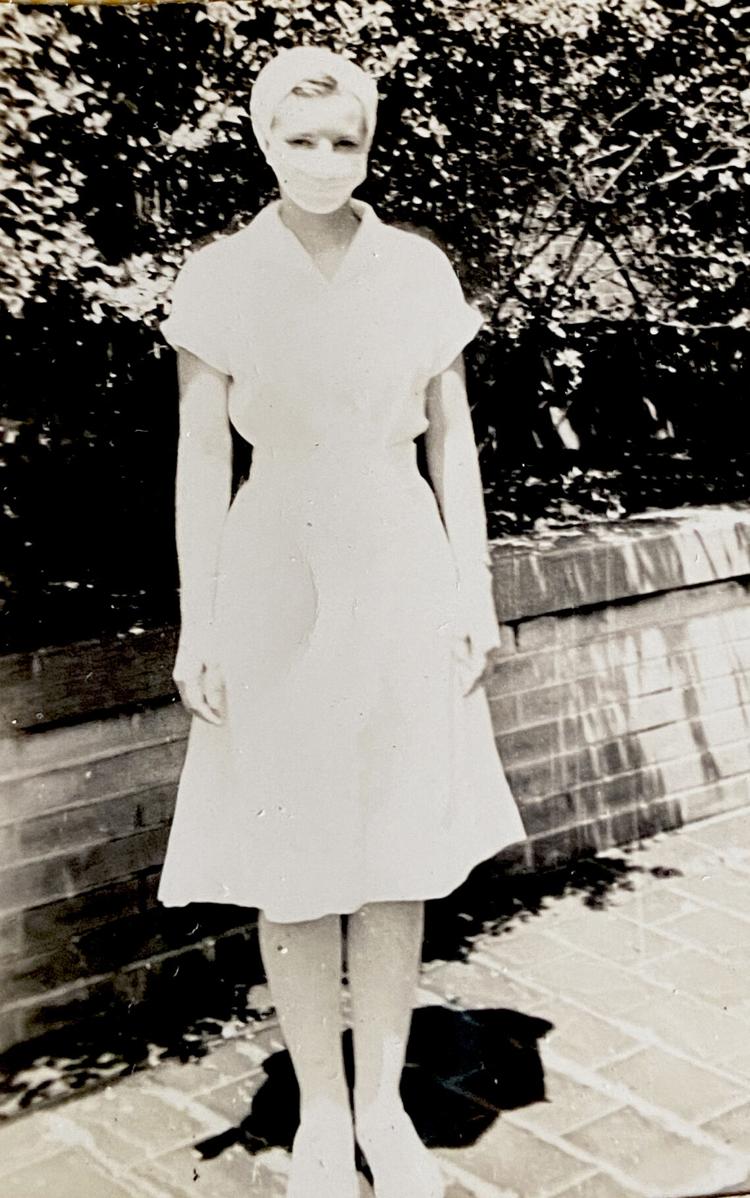 Lincoln has not been afraid to speak her mind over the years. In 2003, she received a letter from Florida's former Congresswoman Ginny Brown-Waite, thanking Lincoln for contacting her about a bill that would recognize Cadet Nurses as veterans. Brown-Waite promised to support the bill.
According to information on the Washington State Nurses Association website, www.wsna.org, the Cadet Nurses are the only uniformed corps members from World War II who have not been recognized as veterans. By 1945, Cadet Nurses were providing 80% of the nursing care in U.S. hospitals, the website states.
Despite the letter, Lincoln and other Cadet Nurses still wait for that recognition. Lincoln said she believes one of the problems is that the cadets were not a member of a specific branch of service, like the Marines or Army.
Nevertheless, Lincoln worked not only the three years promised, but all of her adult life as a nurse. She married in 1949 and had three children but worked part time throughout. Her first husband, Donald Pantke, served during the war under U.S, Army General George S. Patton.
Pantke died when Lincoln was 35. She had three young children. One job she held as a newly single mom was teaching expectant parents through programs run by the department stores Macy's and Gimbels.
Over the years, Lincoln added certifications as a nurse practitioner and as a school nurse/teacher. She also earned a bachelor's degree in human health services.
She's been a charge nurse in an emergency room and in a delivery room. She's worked as a school nurse.
Previously in New York, nurses could be certified as nurse/teachers, which allowed them to lead discussions of health and medical topics in schoolrooms. But in 1975, it was decided there was a staff surplus, Lincoln said, and the nurse/teacher positions ended. 
By 1967, Lincoln's 15-year-old daughter was dating the 16-year-old son of a man in Parents Without Partners, a group that Lincoln had joined. The parents decided, "Why don't we get together?" Lincoln said.
She married Judson Lincoln and gained a family of four more children.
"At that time, we had kids 9, 10, 13, 14, 15, 16, and one in college," she said.
Judson Lincoln retired as a major in the Air Force and later became a teacher. The couple retired in 1979. They moved into their Inverness home in 1992. Judson died in 2014.
What was it like being in the midst of a Brady-Bunch-like family?
Lincoln said she and her husband "managed together. I was feeding three, so I just doubled the food."
Three years after they married, their house burned down, but no one was hurt and she's still unsure of the cause. So, Lincoln, ever the unflappable nurse with a military background, and her Air Force husband carried on.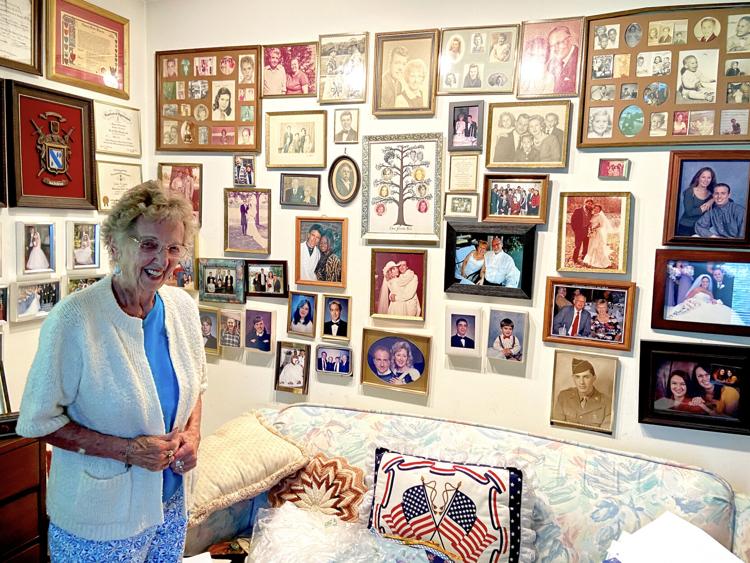 "I've had two good marriages," she said from her home she shares with her fluffy cat, Gypsy. She has 15 grandchildren, 18 great-grandchildren and "one is on the way," she said. One of her sons is a nurse married to a nurse.
She's a member of First Christian Church in Inverness. She's involved in a retired military group. She's volunteered at Precious Paws Rescue in Inverness, where she plays with the kittens.
"I've always been active," she said. "I enjoy my home. I'm doing fine."