Service Above Self. That's a motto of Rotary International and it's also a key to what makes Vietnam veteran Tom Gotterup of Crystal River tick.
The 74-year-old Marine combat veteran is president-elect of the Rotary Club of King's Bay in Crystal River. He not only credits Rotary, but also the Marine Corps, the New York City Police Department, the United Church of Christ, his family and open-water diving for contributing to his service-oriented life.
"I was raised that way," he says. "I was raised in a church where service is expected. It's just something in me."
As his wife Ardath Prendergast sees it, "He's involved with his occupation. Part of the Marine mantra and philosophy is, 'Always help others. Never leave anyone behind.'"
"I think he also loves sharing his knowledge," she says.
Gotterup seems to have lived four or five lifetimes. He's been a Marine and a New York City Police Department sergeant. He's owned dive shops in Naples, and on Little Cayman Island. Don't overlook his stints as a hotel security supervisor for three hotel chains, his time as a nuclear power plant security officer, nor his service as a volunteer for the Citrus County Sheriff's Office Seniors vs. Crime unit.
In addition, Gotterup has volunteered for an array of nonprofit groups, serving on the boards of many. He comes from a three-generation Marine family. Service for country and others seems to be in his blood.
He grew up in Queens in New York City. When he was 17 and still in high school, he had first considered the Navy, but then enlisted in the Marine Corps when a friend persuaded him to join under the corps' buddy system. At first, Gotterup didn't tell his family.
About the same time, two men showed up at his door, offering him a track scholarship for college. Gotterup asked to speak with his dad in another room and confessed he had joined the Marines. He told his father he feared if he accepted the scholarship, he'd fail in college.
"I only was interested in track and girls," he explains.
His father tried to prevail, pointing out the honor of being the first in his family to attend college.
Finally, Gotterup and his father reached a deal. If Gotterup enlisted, he promised that when he returned home, he'd attend college under the GI Bill.
Soon after graduating from Richmond Hill High School in Queens, New York, in 1963, Gotterup found himself at the Marine Corps training camp on Parris Island in South Carolina. From there, he went to Camp Lejeune in North Carolina and then to the Caribbean with a battalion landing team. It was while he was in the Marines that he learned to dive.
He was sent to Okinawa and then to Danang in Vietnam with the 9th Marine Expeditionary Brigade. Before he was discharged in 1967, he served as an explosives instructor back in the states.
These are some of the bare details. Gotterup says he doesn't want to talk about Vietnam. At least part of the reason he doesn't want to dwell on his military service, he says, is because of what happened when he returned home.
"They called us baby killers," he says.
But Gotterup soon made the best of the situation. He was appointed to the New York City Police Department in 1968. He honored his pact with his father and graduated from New York Technical Institute, attending night school.
In the police department, Gotterup served in many capacities. First, he was on patrol, then he transferred into the Special Operations Bureau and became a mounted officer, riding a horse through Central Park. Gotterup next went back on patrol, then worked as a SWAT officer in the Emergency Services Unit. He was sent back to patrol duty, this time in Greenwich Village, after massive police, fire and sanitation worker layoffs.
Next came tactical patrol. After that, Gotterup was promoted to a sergeant's position in Brooklyn and retired in 1983.
Meanwhile, he says he didn't go diving after he returned from Vietnam. However, a friend of his owned a dive store and kept trying to persuade Gotterup to help out.
One Saturday morning the friend said, 'You owe me. I'm up to my neck in students. You've got to help." So, Gotterup did. He later got his instructor's certificate, first with the Professional Association of Diving Instructors and after that, with the National Association of Underwater Instructors.
After Gotterup retired from the police force, he and his family moved to Florida's Marco Island. He was approached about serving as a security supervisor at a Marriott hotel. He accepted and later was offered a job opening the security department at a brand-new Hilton hotel. After getting that department set up, Gotterup was asked to set up security at a new Radisson hotel. He did that, too.
By about 1986, he wasn't content, he says. He resigned and told his wife they were going to Europe. They left for a five-week tour of England, Belgium and Holland. It was then Gotterup decided he wanted to open a dive shop.
He opened Southwest Florida Watersports and Dive Academy in Naples, a 4,000-square-foot store with a pool. He gave diving lessons right in the store. He took customers on dives in the Cayman Islands.
Gotterup was on Little Cayman Island in 1988 when Hurricane Gilbert hit. He wasn't able to evacuate. Weather forecasters were predicting a 40-foot tidal surge. "We got through it," he says.
Immediately after the hurricane, it was not possible to leave the island, and an island woman offered him a job, he says. He stayed, helping with her dive operation and wearing a bathing suit and flipflops most days.
He says everything on the island came in by boat or airplane. There were no food stores and no television. There was one road that went halfway around the island. There was no electricity. There were three resorts. Everything ran by generators.
But according to Gotterup, the folks he lived among were "such a gracious and warm people. Nobody every locked their doors."
"That's when I realized, everything is nothing and nothing is everything. … It was one of the happiest times of my life," he says.
Later, a man who owned a large food business in the Caymans asked if Gotterup would open his own dive operation on Little Cayman Island.
Gotterup says it wasn't time to make such a move. But once the island finally got electricity, he opened up Paradise Divers and Villas. He was making two and three dives a day. Eventually, he grew tired.
By 2001, he had returned to the United States and was in Washington, D.C., playing with his godchild when the 9/11 terrorists struck the Twin Towers in Manhattan. Gotterup got in his car and drove into Manhattan as far as he could. He walked the rest of the way.
"When I saw it, I just stood there," he says. He volunteered as a rescue worker for three weeks.
About this time, a friend and retired colonel told him about a nuclear power plant security officer's job in Crystal River. Gotterup applied, got the job and a security clearance. He worked 12-hour shifts.
When he turned 62, Gotterup needed a knee replacement. He decided it was time to leave the power plant. A friend told him about volunteering at the Citrus County Sheriff's Department's Seniors vs. Crime program. But after some time, he grew weary of hearing the same complaints over and over about seniors getting scammed. The scammers, he says, "Don't care about seniors at all."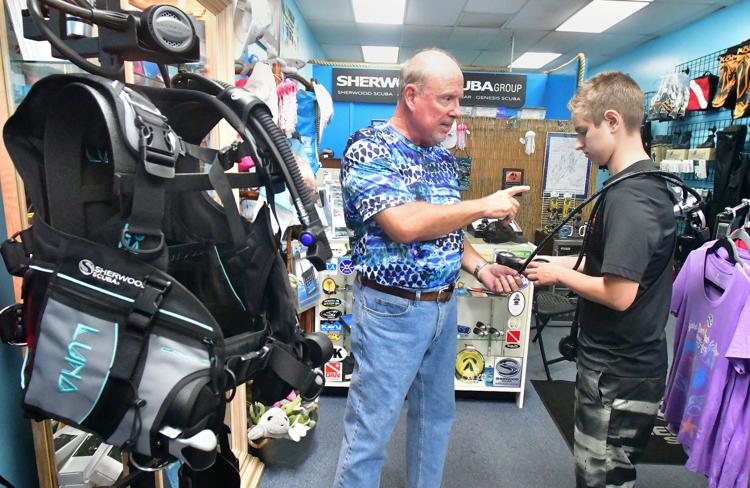 Gotterup also has been active in Rotary and has served on the board and as president of the Friends of the Crystal River National Wildlife Refuge. Over the years, he's served on two Christian school boards. He's been a poll worker and deputy for the supervisor of elections. And he's overseen developing a one-of-a-kind dive program that's part of the curriculum at the Academy of Environmental Science, a ninth and 10th grade public charter school in Crystal River. He serves on the Academy's board.
He has a daughter, Kristen Hutchinson of Long Island; a grandson, Preston, and a granddaughter, Mikayla.
He also participates in the United Way's ReadingPals program at Lecanto Primary School. At first, the children, who can be as young as 4-5 years old, may be wary of a big, burly grownup, but within three weeks, "They come running up to you and trust you and hug you," Gotterup says. He helps out, he says, because "a lot of kids have nothing. … And they are so receptive.
"How can you not love that?" he asks. "How can you not do that?"