The night before, they had laughed, danced, drunk, and eaten corned beef and cabbage at their last communal meal until the coronavirus no longer is the enemy. The day after St. Patrick's Day, three members of Edward W. Penno VFW Post 4864 of Citrus Springs and four auxiliary members reflected on the camaraderie the post provides.
When her family moved to the area, the post "welcomed us with open arms. It has become a family — a community," said Eva White, junior vice president of the auxiliary.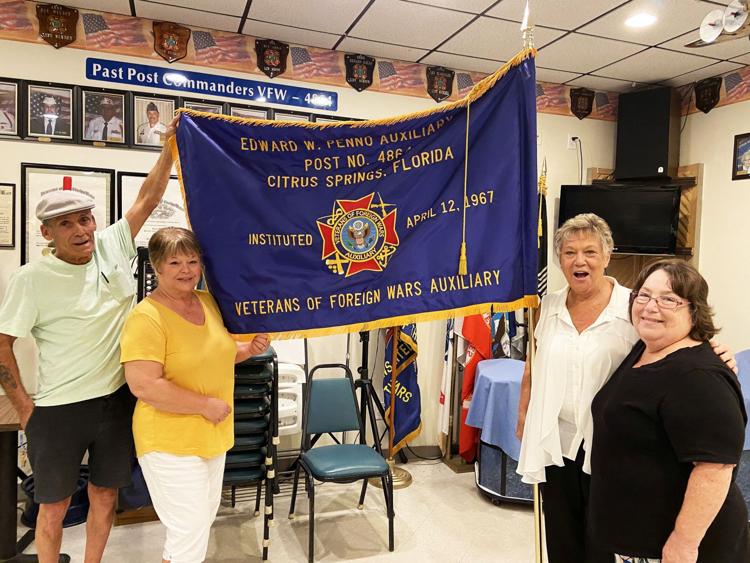 And like a family, the members kid each other and quibble over details. White's husband, John, who is the post's senior vice commander, served in the Marines during the Vietnam War, and he asked, "Do you know what Army stands for? Ain't Ready to be a Marine Yet." It's probably good that Gary Languirand, who served in the Army in Vietnam, hadn't arrived yet to participate in the discussion. Neither had the Rev. Keith Grady, the auxiliary's chaplain.
"Nobody leaves our post a stranger," said Cmdr. Rich Lamond, who served in the Navy during Vietnam. Doug Wilson, junior vice commander, who served in the Air Force during Desert Storm, said he lives between Chiefland and Cedar Key and had tried a different post. But from his first meeting with the Citrus Springs crew, "I felt welcome." Driving nearly one hour to get to meetings and social events is worth it to Wilson, he said.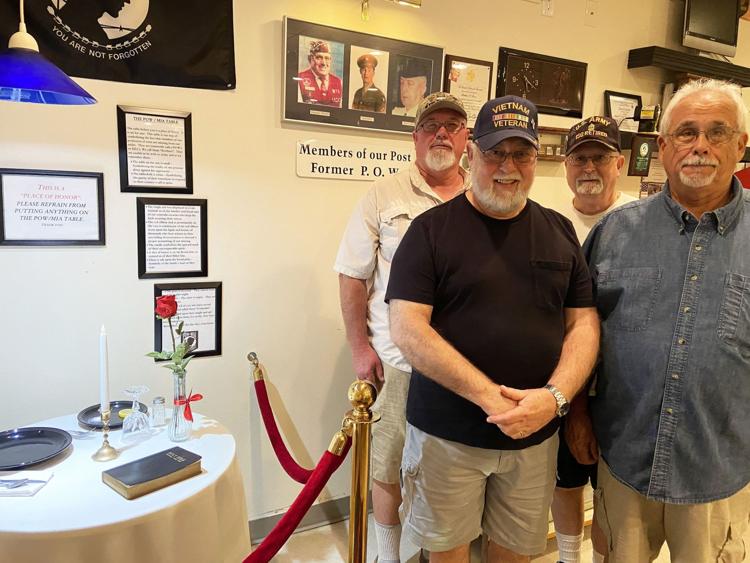 To generate this enjoyment of sharing each other's company, the post sponsors many social events. There's a meal from 5-6:30 p.m. every Friday, which is open to the public. There's bingo on Monday, darts on Tuesdays, cards on Wednesdays, and soon, there will be bowling. The post was planning an Easter egg hunt for children, which has been canceled because of the coronavirus. Members are hoping they still can hold their annual Memorial Day, Fourth of July and Labor Day picnics. On Veterans' Day for the last three years, the post has hosted a picnic and joined with the Dunnellon Lions Club to offer a car show.
But it's not just the social events that engage the members' attention. Cmdr. Lamond said since June, the post has offered over 200 programs or services, and many of these involve charitable activities.
For example, Lamond's wife, Harriet, who is secretary of the auxiliary, cooks meals three times a week for some elderly veterans, and the post feed homeless veterans and others, even delivering meals to some who live in the woods. The post helps out 101 veterans and families who are homeless or needy, according to Cmdr. Lamond.
The auxiliary takes doughnuts and coffee to Citrus Memorial Hospital. The post supports blood drives. It supports high school JROTC and gives a $1,000 scholarship to a deserving student. The auxiliary also awards a $1,000 scholarship to a student who deserves the money. The post sponsors a "Voice of Democracy" essay contest, which has financial awards.
Members donate to the Citrus Veteran's Coalition Food Pantry. If some people need help paying an electric bill, the post will try to help out. The post supports St. Jude's Hospital and an assisted living facility for veterans in Fort McCoy. At Christmas, post members go to the Malcolm Randall VA Medical Center in Gainesville and give hospitalized veterans "a ditty bag" with socks, games, and other items. Some members make quilts and lap robes for those in need. The post sent coats and shoes to those children whose lives were upended by Hurricane Michael. The post fed first responders and electrical workers when the hurricane swept through our area.
Cmdr. Lamond said although the Friday night meals raise money, they also are attended by many elderly people who depend upon them. Denise Wilson, senior vice president of the auxiliary, said the post offers a place for veterans to come to socialize and feel at home. "Some have PTSD and people here understand," she said.
Recently, the post raised money for the mother of the teenage Hernando boy who died in December after a sibling accidentally shot him. The post replaces tattered flags, including one of an 87-year-old widow "who still cuts her own grass," Lamond said.
Why do members contribute so much service not only to veterans but to the community?
Sr. Vice Cmdr. White said, "These brothers were there, backing me up in war, and I'm backing them up right now."
The members mentioned people to whom they'd like to draw attention.
Of course, there's Edward W. Penno, for whom the lodge is named. His brother, Adolph, was a life member of the post, which was chartered in 1982. Adolph was instrumental in getting the post's name changed to honor Edward, who served with the Marines during World War II in the Pacific.
There's Jim Pry, who is a founding member. Auxiliary member Stella Shepherd's late husband, Bob, was a former post, district and state commander. Past Cmdr. Carl Carlberg received a purple heart during World War II and recently presented the lodge with a samurai sword that he took from a Japanese officer in Tarawa. There's Russell Telfer, who's still active at 91, who donated a pavilion the post uses for picnics, as well as an electric sign outside. Languirand, a trustee, has donated much, the other members said. But then they all do, giving up their extra pots and pans, tables, or whatever they can spare.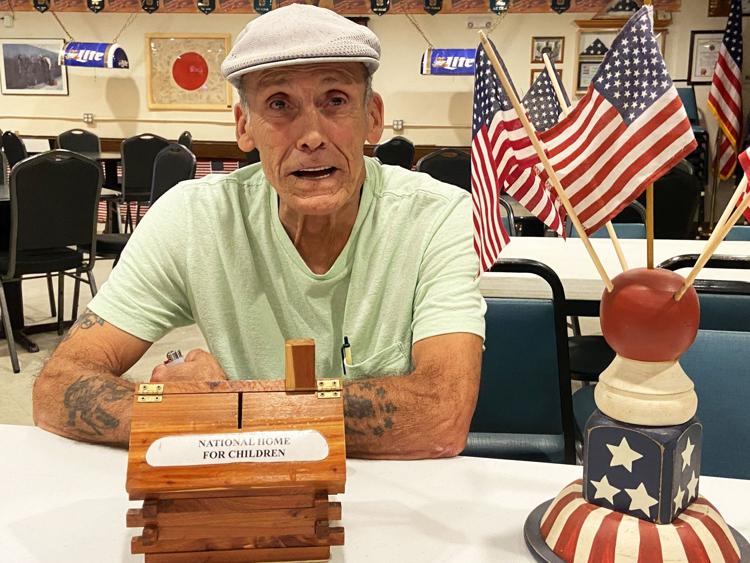 The post does what it can to raise funds, even charging members 25 cents each time someone swears. Who's the member who has contributed the most to this fund? The members laugh. It might be a toss-up between Jr. Vice Cmdr. Wilson and Auxiliary President Sam Salamone, but the members decide Salamone should win the title.
Salamone, among others, said the post, which has 302 active members and 306 members of the auxiliary, would like to grow but has had trouble attracting younger members. Salamone said one reason may be because the average age of members is 65-70 and the majority are Vietnam vets. There are some members who fought in World War II and Korea and a few from Desert Storm. Salamone suggested younger veterans may prefer a younger crowd.
White said younger veterans also are busy with their families and work, and it's only after people retire that they start looking for other outlets. Wilson said there was a lull of a couple decades between the Vietnam War and Desert Storm, so there was a lack of veterans who served in combat on foreign soil during those years.
But an even more pressing problem for the post than recruiting new members is handling the lack of income and fellowship during this time of the coronavirus.
"We all love each other. Can't you tell?" Auxiliary Secretary Lamond asked. The others chuckled, like sparring siblings. "This separation for a month is going to kill us," she said.
For information about the post, call 352-465-4864.