There are currently 71 living recipients of the Medal of Honor out of the 3,508 who were so lauded. It is the United States military's highest decoration.
Citrus County residents, Lew and Jackie Tippett, were friends with Medal of Honor recipient Gerald Orren Young, meeting him in the late 1970s. Lew Tippett and Young were both assigned to the U.S. Defense Attache Office in Bogota, Columbia. Young was a Lieutenant Colonel in the Air Force and Tippett was a Sergeant First Class in the Army. Both men were veterans of the Vietnam War. It was Young's heroic actions in Vietnam that earned him that esteemed honor.
---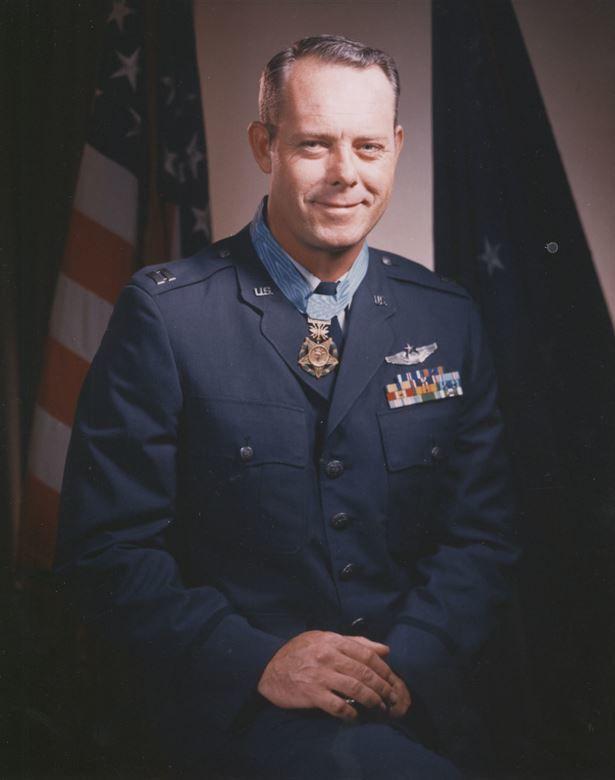 "Gerry was such a humble man," said Tippett. "We didn't even know about his Medal of Honor until several years later."
When Young was a captain he piloted the HH-3E Jolly Green Giant Helicopters in Da Nang, rescuing downed pilots and crew members from the Vietnam jungle. His 60th mission would result in his earning the Medal of Honor.
He and his crew volunteered to help rescue the team from two helicopters that had been shot down. An earlier chopper was able to rescue three victims, but had to leave due to heavy enemy fire causing it extensive damage. Despite the danger, Young still elected to go in and try to rescue the two remaining crew members. Touching down in the flare-lit darkness, both injured team members were loaded onto the helicopter under heavy attack, with enemy troops closing in. As they were taking off, the HH-3E received a direct hit in one of its engines, flipping it over. Bursting into flames, it went crashing down the hillside. Badly burned, he was able to escape through the cockpit window, roll down the slope and give aid to one of his injured crew members who also escaped the crash. As the enemy was approaching the crash site, he acted as a decoy to lead them away in case there were any other survivors. After stumbling for six miles, several hours later he was able to call for help, and lead the rescuers to his crew member that he had hidden in the bushes, away from the enemy.
Young spent six months in the hospital recovering from his burns. In May of 1968 he was awarded the Medal of Honor by President Lyndon Johnson, for "conspicuous gallantry and intrepidity at the risk of his life above and beyond the call of duty."
He retired as a Lieutenant Colonel in 1980. He died on June 6, 1990, of a brain tumor at the age of 60, and was buried in Section 7-A of Arlington National Cemetery, near the Tomb of the Unknowns.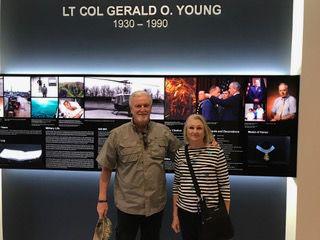 Lew and Jackie remained in touch with Young's wife, Yadi, who settled in Seattle with their daughter, Melody. Yadi told them in October that the helicopter squadron at Joint Base Andrews was being dedicated to Young. They were not able to get there for the ceremony, but went there two weeks later.
"Because of our relationship with Young, we were given a private tour of the facility, which is located next to the hanger housing Air Force One, by Lt. Matt Reiser," said Lew Tippett.
The Gerald O. Young Helicopter Operations Facility is an impressive building. It is also a memorial to Lieutenant Colonel Young, containing his Medal of Honor, flight suit, medals, photos and much more memorabilia.
On Oct. 26, Yadi invited them to the Medal of Honor book signing event, which was held this year in Tampa. Held annually, this was the first book signing event that Yadi had attended.
"She and her daughter met with us for a wonderful lunch before going to the book signing event. There were three 45 minute sessions. The schedule was strictly adhered to by the FBI, acting as security for the event," Tippett said.
Forty of the living Medal of Honor recipients were in attendance, including two still alive from WWII. There wasn't time to meet all of them, but Lew Tippett as able to meet several of these heroes and get their autographs.
"I think the most impressive was Hershel Woodrow 'Woody' Williams," said Tippett.
Williams was a corporal in the Marine Corps. He was a flame thrower in a demolition unit. He received his Medal of Honor for heroism above and beyond the call of duty during the Battle of Iwo Jima in WWII. He retired as a Warrant Officer 4 in 1969. Among the many honors bestowed upon him, he had a USNS ship named after him, the Hershel "Woody" Williams, a Mobile Landing Platform. He was at the keel laying ceremony in the San Diego shipyard in August 2016.
Lew and Jackie Tippett have been married for 54 years and have a son and daughter. They have lived in many places around the country and the world such as Israel, the Congo (now known as Zaire), the Ivory Coast and Columbia during his 21-year career in the Army, and 17 years working for the Army after that. Serving in the military is in his blood.
"My father, sister and son are all also veterans," said Tippett.
Natives of Maryland, they are now happily settled in Sugarmill Woods. Jackie is adamant about never moving back to Maryland.
"Just for visits," Tippett said.