The Florida Artists Gallery will have a special open house from 5-7 p.m. Thursday, Aug. 22. The event will feature five gallery artists who work in a variety of media to create three-dimensional (3-D) art.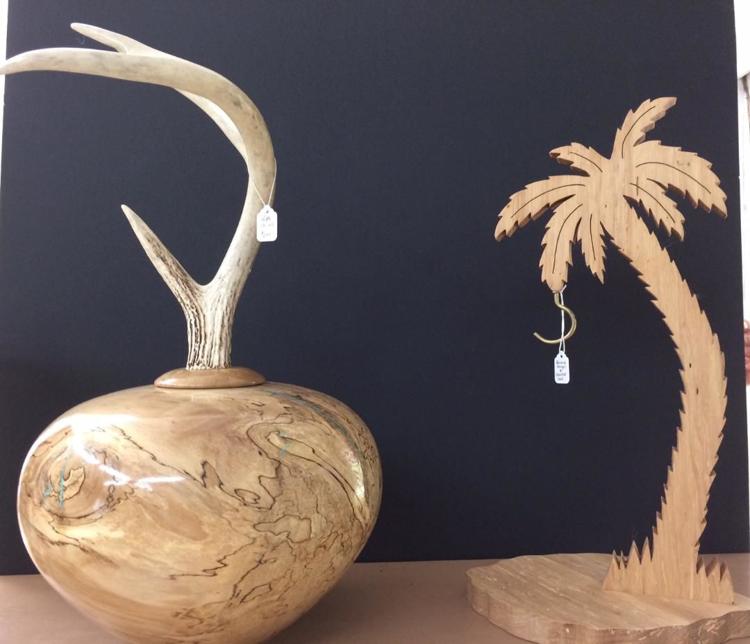 The artists include Dorsey (Dee) DeMaster, fused/kiln formed glass; Carole Haines, porcelain painting; Robert Haines, copper art; Barrie Harding, wood art; and Brenda Spilios, folk art assemblages. Join us and meet the artists and see some demonstrations. Light refreshments will be available. There is no charge to attend this event. 
Dorsey (Dee) DeMaster is a retired air traffic controller and airline operations manager, and describes herself as a self-taught artist. She initially dabbled in stained glass as a form of stress relief, then discovered and embraced fused/kiln formed glass.
Fusing glass is the process of taking pieces of glass that are cut, layered into form, then placed in a kiln and melted (often multiple times) until it reaches the artist's vision/design.
DeMaster's inspiration comes from nature and studying with exceptional fine glass artists.
Carole Haines has loved to sketch and draw her whole life. She and her husband, Bob, retired from the Florida Keys, giving them time to pursue their dreams of creating art. In 2005, they moved to Citrus County and Carole Haines discovered she had aw passion for porcelain painting.
The textures that can be created and the way the paint can be maneuvered are inspiring. Firing in the kiln is exciting, as you can never predict the end result. She fires many pieces three to eight times, enabling her to get the layered effects on her pieces.
Carole Haines has some of her work displayed at the World Organization of China Painters in Oklahoma City, Oklahoma, and she has been featured in the China Painter Magazine.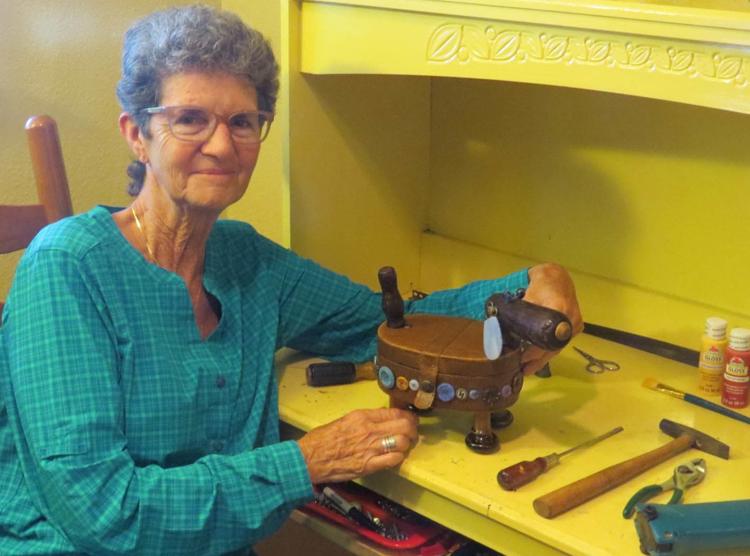 Robert Haines paints with fire. He has a long history of working with metal. He attended several metallurgy schools and was an aviation metalsmith in the U.S. Navy. While living in Key West, he excelled in creative welding courses. Bob Haines has always been creative and loves to transform images he has in his mind into beautiful copper art pieces.
"Flame Painting" is a term that describes the process of using flame to create colors on copper with enough control to produce a painting with intentional shapes, patterns, colors, composition and design. The colors he creates are an oxidation. Haines says that when you heat copper, you are adding oxygen molecules to its surface. Different colors are created by controlling the amount of heat he applies.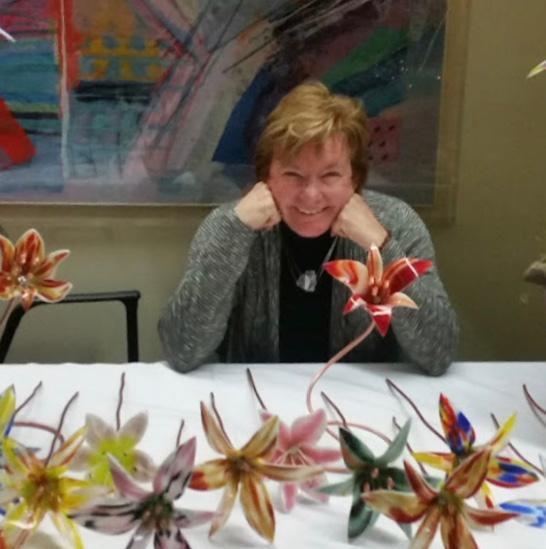 Barrie Harding says that making pretty things out of wood is his passion. A mechanical engineer by formal education, he spent 30 years at IBM and retired in 1998 to pursue this dream.
Harding specializes in letting the wood retain its natural feature such as natural edges (bark on and off). Bark inclusions, holes, crevices, voids, etc. He never changes the color of the wood with paint, stain, bleach or dye, and uses semi-precious stones (turquoise, opal, malachite, lapis, etc.) to emphasize the beauty of the natural colors.
He also uses wood lace designs (done by hand with a dentist's drill) to emphasize the natural figures and features of the wood.
Brenda Spilios grew up in the rural Midwest. She moved to Florida in 1973 to begin a 34-year teaching career.
Spilios has had an interest in folk art for many years and while viewing a 2014 folk art exhibit at Ocala's Appleton Museum she had an epiphany. Undaunted by her lack of formal art education, she began creating whimsical assemblages in the folk tradition, combining objects found in obscure shops along the waysides of America.
Her shadowboxes often incorporate vintage objects with her handmade paper and personal photographs taken during her many years of camping and traveling the back roads of this incredible country.
The Florida Artists Gallery is at 8219 Orange Ave. in Floral City in the historic Jont Knight House. The gallery features the work of many local artists and offers classes. Regular hours are from 10 a.m. to 4 p.m. Wednesday through Saturday, or by appointment. For more information, call 352-344-9300.