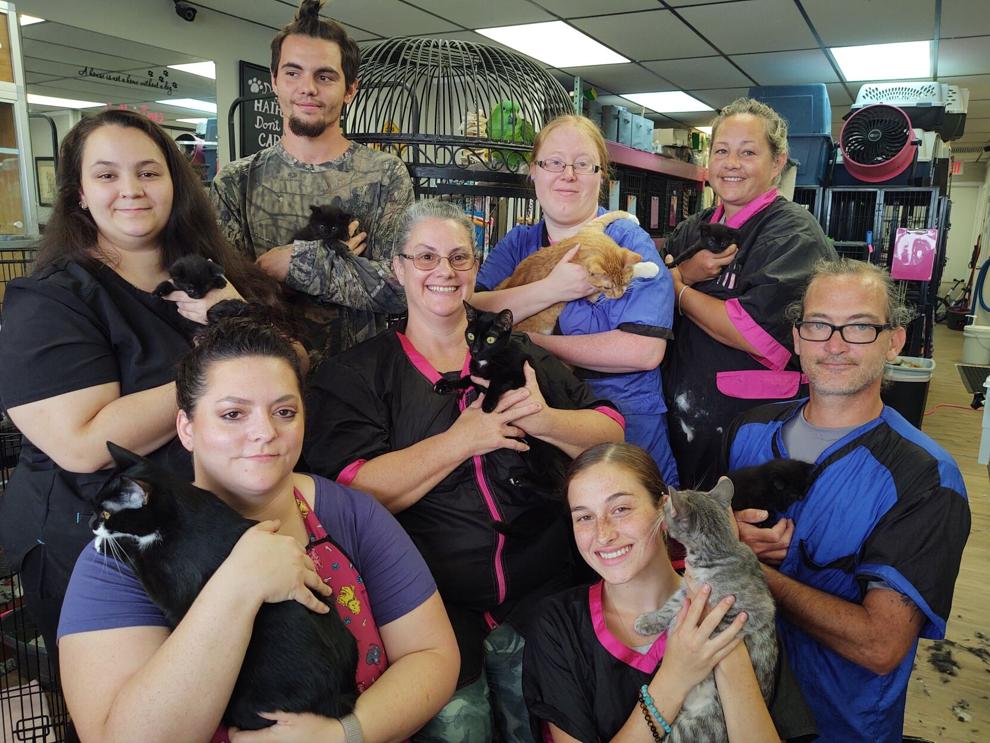 We are in the middle of kitten season and many orphan felines need help. The Precious Paws Rescue Adoption Center has over 40 cats and kittens in residence. Foster moms and dads in the community are caring for nursing moms along with their kittens. Tiny orphans without a mom are getting their mommy care from human foster moms.
Just as kitten season was starting, a Precious Paws Rescue volunteer and a Pet Center customer was asked for some help with three sibling kittens that were rescued by a staff member and being cared for at the Pet Center. The three little kittens are now officially Precious Paws Rescue fosters while remaining at the Pet Center. When fully vetted and ready for a family of their own — Chinny and Moe Moe were adopted by staff members at the Pet Center and the third by a customer.
Following these adoptions, the staff started fostering several Precious Paws Rescue kittens ready for adoption and they too have found loving homes. The "welcome mat" was out when Minny arrived at the door — pregnant and alone. The staff set up a quiet nook at the back of the shop and several weeks later she delivered four kittens that are now about 5 weeks old and residing with mom in the shop. Along came Cleopatra, a teenage orphan. She joined the Precious Paws Rescue family and will be ready for adoption shortly.
The Pet Center is a pet grooming facility located at 433 NE First Terrace in Crystal River.
Prior to the kitten arrivals — Bullwinkle, a 40-year-old parrot, was the official greeter and resident pet. Bullwinkle views his cage as home. Even during the Hurricane Irma evacuation, he had to be moved in his cage in the back of a truck. He interacts with customers, clients and cats. He will say, "hi there" to new arrivals and tells the dogs being groomed, "you are cute."
The staff at the Pet Center, all 11 of them, are pet lovers and pet owners. There's a steady stream of human voices as the bathing, clipping and combing is carried out.
There is an occasional protest from a canine accompanied by a comment from Bullwinkle.
Chinny and MoeMoe are now the official greeters and welcome the clients as they arrive, supervise the bathing and grooming and will curl up for a nap as needed.
The support of the Citrus County community is essential for the nonprofit charity organizations to fulfill their missions. Precious Paws Rescue is an all-volunteer charity based in Citrus County with a goal to reduce the pet overpopulation through rescue, foster and rehoming orphaned pets.
The staff at the Pet Center is helping Precious Paws Rescue by donating all tips collected the first week of each month. Having off-site fosters has
allowed Precious Paws Rescue to rescue and care for kittens when there is no space available at our adoption center.
If you would like more information, have some time and would like to volunteer, or are interested in fostering or adopting call 352-726-4700 — leave a message and a volunteer will return your call.
Pat O'Brien does publicity for Precious Paws Rescue. For information, call 352-726-4700.