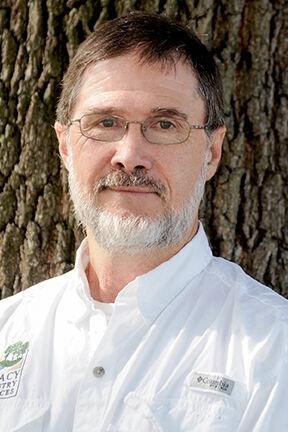 I have been an "off again, on again" member of the Florida Exotic Pest Plant Council (FLEPPC). This is an organization consisting of land management professionals such as park managers, biologists, county land management personnel, consultants and others who make their living by managing either public and/or private lands. The purpose of FLEPPC is to gather and disseminate information to members and the public regarding identifying and controlling the spread of invasive, exotic plants.
Approximately every other year, FLEPPC publishes a list of invasive plants which are considered to be disruptive to our natural environment by outcompeting and replacing native vegetation. This list consists of what are classified as Category I and Category II invasive plants. Category I plants are the worst invaders and are defined as capable of "displacing native species, changing community (plant) structures or ecological functions, or hybridizing with natives."
Category II, while not quite as invasive, are defined as "invasive exotics that have increased in abundance or frequency but have not yet altered Florida plant communities to the extent shown by Category I species."
The 2019 list currently consists of 80 Category I species and 86 Category II species. When I first started practicing forestry in Florida in 1977, and prior to the formation of FLEPPC, there were only about three major species of invasives that were gaining attention – Brazilian pepper, melaleuca and Australian pine. These were all located in south Florida and numerous public agencies were doing what they could to try to eradicate these species. While melaleuca and Australian pine have been greatly reduced (but not eliminated), Brazilian pepper remains a serious invasive pest on numerous public and private lands even today.
The list has grown steadily over time. The first list, published in 1991, shows 14 Category I and 27 Category II species. By 2007, the list included 67 Category I and 69 Category II species.
What is frightening is that what used to be, and to some extent still are, common landscape plants are now on the list. For example, wedelia, kalanchoe (Mother of Millions), camphor tree, Mexican petunia, bottlebrush, queen palm, Chinese fan palm and Boston fern are now listed on the 2019 list and are all commonly found in the landscape in our area. However, unless a particular species is included on the USDA federal invasive species list, nurseries are still allowed to offer such species for sale. Many of these are recognized as a problem in Florida but not by the USDA.
Today, state and federal agencies in Florida are spending millions of dollars to control various invasive species. The Florida Fish and Wildlife Conservation Commission has set up a trust fund to assist various agencies and organizations in treating the many invasive species. Other agencies, such as the five water management districts, Department of Environmental Protection (DEP), and others also have money budgeted for this work. Floridians voted for Amendment 1 in 2014 to set aside some doc stamp money from real estate transactions to fund the purchase and management of public lands. As a result, funding has become available to the DEP and other agencies to treat invasive species on state parks throughout Florida. DEP has traditionally been underfunded for land management and this funding is a great assistance in addressing "pent up demand." The past several years has seen a large increase in invasive species treatment by the DEP as a result of this additional funding.
Many taxpayers may balk at this type of money being spent to control invasive plants. However, Category I species have been recognized as interrupting native ecosystems. Native species are displaced and, quite often, a monoculture (dominance by one species) of an exotic species takes over. This reduces biodiversity of both plants as well as animals within forest and plant communities. These monocultures are often flammable, greatly increasing heat intensity during a wildfire. Invasive ferns, such as Japanese or Old-World climbing fern, grow up into tree canopies, creating "ladder fuels" for fire, allowing the wildfire to race up into tree canopies, causing tree mortality.
How did these species get here? Many were introduced by well-meaning individuals and plant nurseries who brought a plant into Florida from Asia or Africa. Others were brought here via the ballast on cargo ships from overseas. Others "escaped" from botanical gardens into neighboring natural areas. Cogongrass, now a serious problem throughout Florida and other southeastern states, was used as packing material on cargo containers. Kudzu, the now famous (or infamous) spreading vine, was introduced as forage for cattle. Carrotwood was touted by a County Extension office in the early 1980s as a great ornamental tree. At the time of their introduction, these plants weren't known to be invasive and were desirable forest or ornamental plants in their native range in Asia, Africa or elsewhere. However, they found Florida's soils and climate to be suitable for growing and reproducing and, over time, became established to the point where their populations exploded.
What can homeowners and others do to prevent the spreading of invasive plants? Don't rely on nurseries to provide current information. Many may not know that plants they are selling are classified as invasive. Visit the FLEPPC website at FLEPPC.org and download the 2019 list of invasive species. This list provides both common and scientific names. When shopping for plants, take the list with you and confirm the scientific name of any plant you are buying. Common names are confusing and often interchanged to identify several species or the same plant may have several common names, depending upon local usage. I continue to learn that what I thought were nice landscape plants are now considered as either a Category I or II species. I do not want to be complicit in the further spread of these plants and I'm sure you don't either.
Eric H. Hoyer is a certified arborist, a certified forester, a registered consulting arborist and a qualified tree risk assessor with Natural Resource Planning Services Inc. He can be contacted at erich@nrpsforesters.com.