"It is easier for a father to have children than for children to have a real father." — Pope John XXIII
"I cannot think of any need in childhood as strong as the need for a father's protection." — Sigmund Freud
Those famous quotes are among hundreds from notable people about fatherhood and no doubt almost everyone has inspirational sentiments about the dad in their life.
On Sunday, June 16, another observance of fathers throughout the world will find families celebrating with family get-togethers, gifts, recollections and foods you know he will enjoy.
Today's Flair for Food offers some new taste treats to make dad's dinner extra special.
The History of Father's Day 2019 dates back to 1910 in Spokane, Washington, where 27-year-old Sonora Dodd proposed it as a way to honor the man (a Civil War veteran William Jackson Smart) who raised her and her five siblings alone after her mom died in childbirth.
A bill to nationally recognize the holiday was introduced in Congress in 1913.
The holiday gained popularity during World War II, as most men were leaving their families to fight in the war. In 1966, President Lyndon B. Johnson proclaimed the third Sunday of June to be Father's Day. Six years later, the day was made a permanent national holiday when President Richard Nixon signed it into law in 1972.
Families don't need a designated day to celebrate their fathers, stepfathers, mentor "fathers" and grandfathers, but it's a perfect time to let them know how much you appreciate their love and support.
Favorite ways to spend time on Sunday include picnics, dining at dad's special restaurant or just cooking his favorite dishes..
Here are Florida-style ideas for a great Father's Day feast by Florida Chef Justin Timieri's Fresh From Florida recipes collection:
FLORIDA BEEF TENDERLOIN WITH GRILLED VEGETABLES & HERB-CITRUS BUTTER
4 Florida beef tenderloins (4 to 6 ounces each)
2 Florida zucchinis, sliced
2 Florida yellow squash, sliced
12 Florida grape tomatoes
4 to 6 ounces butter, room temperature
1 tablespoon fresh rosemary, finely chopped
1 teaspoon citrus zest, finely chopped
1 tablespoon seasoning blend (your favorite)
1 tablespoon olive oil
Sea salt and fresh ground pepper, to taste
Preheat charcoal or gas grill to medium-high. In a small bowl combine the butter, chopped rosemary and citrus zest. Lightly season with salt and pepper and stir to combine. Place on a sheet of wax paper and evenly roll it up to form a tube, place in the refrigerator to harden. When firm, slice into discs.
Add all the sliced vegetables to a mixing bowl, drizzle with olive oil and seasoning blend, stir to coat. Season each side of the beef tenderloin with salt and pepper. Carefully place the seasoned vegetables and tenderloins on the hot grill. The vegetables will cook quickly, but still be crisp-tender when cooked. Grill the tenderloins for 2 to 4 minutes on each side. When the desired doneness is reached, remove all food from the grill. Serve warm and garnish with the sliced herb-citrus butter.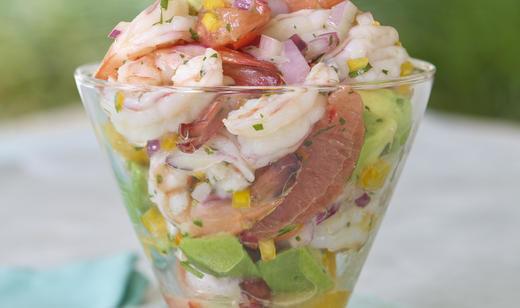 COOKED FLORIDA PINK SHRIMP & CITRUS CEVICHE
1 pound large Florida pink shrimp, peeled and deveined with the tail on
2 Florida pink grapefruit, peeled and segmented, seeds removed
3 Florida tangelos, peeled and segmented, seeds removed
3 Florida tangerines, peeled and segmented, seeds removed
1 Florida sweet pepper, diced
1 large Florida avocado, peeled, pitted and diced
2 tablespoons seafood boil seasoning
1 red onion, diced
1 tablespoon olive oil
3 limes, juiced
1/2 cup fresh cilantro, chopped
1 bag plantain chips or tortilla chips
Sea salt and fresh ground pepper, to taste
Fill a medium-sized sauce pot 3/4 the way with water and heat over medium-high. Add the seafood seasoning to the boiling pot of water. Add the shrimp and cook for 2 to 3 minutes or until completely done. As soon as the shrimp are done, plunge them into an ice water bath to stop the cooking and cool them off.
When the shrimp are completely cool, strain them and put them into a medium-sized mixing bowl. Add the citrus, sweet pepper, red onion, olive oil, lime juice, cilantro and avocado. Season the ingredients to taste with salt and pepper. Stir to combine ingredients. Serve ceviche with chips.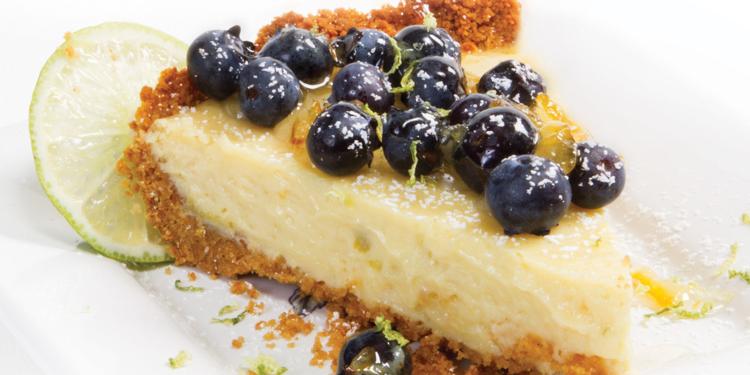 FLORIDA BLUEBERRY KEY LIME PIE GRAHAM CRACKER CRUST:
3 tablespoons sugar
1 1/2 cups finely crushed graham cracker crumbs
1/3 cup butter, melted
1/2 cup fresh squeezed Florida Key lime juice
3 teaspoons fresh Key lime zest
14-ounce can sweetened condensed milk
4 large egg yolks
FLORIDA BLUEBERRY TOPPING:
2 cups Florida blueberries
1/2 cup apricot jam
1/4 cup water
Graham Cracker Crust: Preheat oven to 350 degrees. In a medium-sized mixing bowl combine graham cracker crumbs, butter and sugar. Stir ingredients to combine. Press the graham cracker mixture into the bottom and sides of a 9-inch pie pan. Bake for 10 minutes. Let cool completely. Set aside.
Key Lime Pie Filling: Preheat the oven to 325 degrees. In a medium-sized mixing bowl combine condensed milk, egg yolks, Key lime juice and Key lime zest. Use a whisk to make sure all ingredients are combined (the combined ingredients will naturally thicken slightly).
Pour Key lime pie filling mixture into the cooled graham cracker crust. Bake pie for 10 to 15 minutes or until the pie looks almost set. Remove pie from oven and let cool to room temperature. Cover pie and place in the refrigerator as it is best served cold.
To serve, top pie with fresh whipped cream and slices of fresh Key lime.
Florida Blueberry Topping: Heat the apricot jam and water in a small saucepan over medium heat until completely melted. Arrange blueberries in a single layer over the Key lime pie. Using a pastry brush, brush a layer of melted jam over the blueberries. Let cool.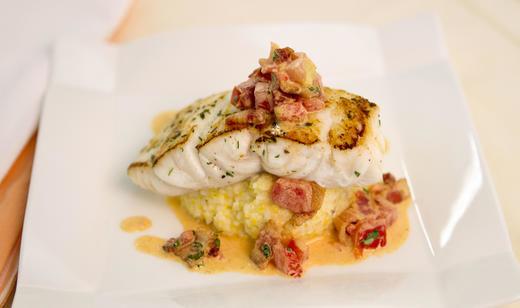 PAN-SEARED FLORIDA GROUPER WITH SMOKED GOUDA GRITS & TOMATO BACON GRAVY
4 (5- to 7-ounce) portions Florida grouper
2 large Florida tomatoes, diced small
1 cup thick-cut bacon, chopped small
1 cup grits, coarse ground
2 1/2 cups vegetable stock
1 cup milk
1 tablespoon butter
1/2 cup smoked Gouda cheese, cubed
1 teaspoon olive oil
1/4 cup fresh parsley, chopped fine
1 tablespoon fresh garlic, chopped fine
3/4 cup heavy whipping cream
1/2 lemon, juiced
4 scallions, sliced thin for garnish
Sea salt and fresh ground pepper, to taste
Gouda Grits: In a medium-sized saucepot, add 2 cups vegetable stock and
1 cup of milk. Bring ingredients to a simmer over medium heat. Add grits and butter and let cook according to the directions on the package of grits.
When the grits are cooked, add the smoked Gouda cheese and stir to combine. Taste grits and adjust seasoning with salt and pepper.
If the grits seem too thick, add a small amount of vegetable stock or milk until the desired consistency is reached.
Turn the temperature to low until the dish is ready to be plated.
Florida Grouper: Preheat a large sauté pan over medium-high heat. Add 1 teaspoon of olive oil to the preheated pan. Lightly season the grouper fillets with salt, pepper and fresh parsley.
Carefully place the seasoned fillets top side down in the sauté pan. Cook each fillet for around 3 minutes on each side or until golden brown and completely cooked throughout the thickest part of the fillet. Remove the cooked fillets from the pan and add the chopped bacon.
Cook the bacon until crispy, and add the tomatoes and garlic. Cook the tomato mixture until the tomatoes start to wilt and release their juices.
Add the heavy cream, lemon juice and 1/2 cup vegetable stock. Quickly bring ingredients to a boil and reduce heat. Taste tomato gravy and adjust seasoning with salt and pepper.
Serve the grouper over a bed of grits and top with the tomato gravy. Garnish with the thin-sliced scallions.