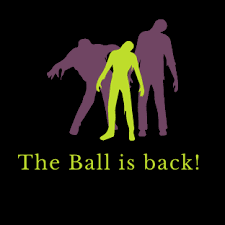 Citrus Blessings to host Halloween Ball
Citrus County Blessings will host their sixth annual Halloween Ball from 6 to 10 p.m. Oct. 22 at the Depot, 218a N. Apopka Ave. in Inverness.
The theme this year is "Zombies!" Party-goers are encouraged to dress up, however, it isn't required.
There will be a bar with drink tickets available for purchase, several food trucks, a live band and DJ. Throughout the evening, there will be many games and opportunities to donate to Blessings.
Admission is $35. Parking is available around the Depot and park, as well as the government building down the block.
For information, contact Christina Reed at christina@citruscountyblessings.org or 352-341-7707.
Have a laugh at Cooter Comedy Night
The Valerie Theatre welcomes Cooter Comedy Night at 7:30 p.m. Oct. 22, 207 Courthouse Square in Inverness.
The comedy show is hosted by local comedian Richard Spires and features Paul Jensen, JJ Curry and Carmen Vallone.
Tickets are on sale for $15 at tinyurl.com/3yyrah5x.
Learn painting from Florida Highwaymen Curtis Arnett
One of the youngest of the painters known as the Florida Highwaymen, famous for scenes of Florida landscapes, is coming to the Crystal River Mall on Saturday, Oct. 23, to demonstrate his techniques.
Curtis Arnett will teach a class from noon to 5 p.m. at Paint the Town Citrus.
"If you want to learn from somebody — he's a living legend. He's terrific," said owner Diane Marsh. "He comes in and teaches. He does one step, then goes around to everybody to see what they're doing. He's the sweetest, most humble guy you'll ever meet, and everybody who takes the class loves him."
The Florida Highwaymen are self-taught African-American artists who, historically, often used non-traditional materials in their work and sold paintings out of their cars as they traveled. The five-hour class costs $110 per person, and includes all materials for creating a painting as well as food, soft drinks, and wine. Each participant will complete a 12-by-16 painting under Arnett's guidance.
"It's a good time to come — it'll be a smaller group," Marsh said of the upcoming class. "After he's done he takes a picture with everybody, and signs the backs of their paintings."
For more information or to RSVP, call 352-601-1344 or visit paintthetowncitrus.com.
Black Diamond to host annual charity car show
The Black Diamond Invitational Car Show to benefit local charities will be from 10 a.m. to 3 p.m. Saturday, Oct. 23, at the Black Diamond Ranch Country Club, 3125 W. Black Diamond Circle in Lecanto. Registration begins at 8 a.m. and awards will be presented at 3 p.m.
The event is being sponsored by the Central Citrus Rotary Club.
Registration begins now and participants can enter their antique, contemporary and classic cars up until Oct. 16. Prizes include trophies and cash awards.
Food vendors include Mel's Island Cuisine, Lynn's Ice Cream and Monsta Lobsta. Entertainment from the Big Band era will be available all day.
Net proceeds go to county charities such as youth support programs, scholarships and more. The show is limited to qualified, approved and pre-registered entries. There will be no day-of-show registration.
For information and to register a vehicle, visit blackdiamondinvitationalcarshow.com, call Roger Carlson at 352-464-0324 or email AnnualBlackDiamondCarShow@gmail.com.
Visit artisans at Creative Connections fall fest
The Creative Connections inaugural fall fest will be from 10 a.m. to 3 p.m. Oct. 23 at the Historic Hernando School, 2415 N. Florida Ave.
Items for purchase include fabric wrapped bowls, baskets and pillows, barn and garden decor, custom sugar cookies, jewelry, pottery, ceramic art works, textiles, custom woodwork, photography and more.
Cash is preferred. Some artisans may accept PayPal, Venmo or Facebook Pay. While in attendance, consider donating to the ongoing renovations of the Historic Hernando School.
Free movie: 'The Addams Family'
Citrus County Parks and Recreation presents a free movie in the park, "The Addams Family," at sundown Oct. 23 at Wesley Jones Park, 2510 W. Castania Drive in Citrus Springs.
There will be a costume contest with trophies at 5 p.m. for all ages. A food truck will also be available.
For more information, call 352-527-7540.
Haunted maze and graveyard a scary good time
The 21st annual "The Nightmare on Pine Bluff Street" haunted maze and graveyard will take place from 7 to 10:30 p.m. Oct. 23 and from 7 to 9:30 p.m. Halloween night, Oct. 31, 8154 W. Pine Bluff St. in Crystal River.
The haunted maze and graveyard is back after skipping last year due to COVID-19. Come on out for a fun scare and good time. There will be bagged candy for the kids. Donations, cash and/or food will be accepted for C.U.B.
Audition for 'Champagne Charlie Stakes'
Auditions for the Art Center Theatre's "Champagne Charlie Stakes" will be 2 p.m. Oct. 23 and 24 at the Art Center of Citrus County, 2644 N. Annapolis Ave. in Hernando.
The play deals with the funny and serious aspects of accepting the realities of getting older. It takes place one afternoon at a racetrack near Philadelphia, where the sixth race has been named the Champagne Charlie Stakes.
There are five characters in the play, Champagne Charlie, a storyteller and life of the party; his wife of 53 years, Mary Lee, an incurable romantic who thinks Charlie is wonderful; their daughter, Mary, a divorced drama teacher; Mary's fiancé Paul, who has just returned from his mother's funeral in California; and Jackie, the local bookie who has been a friend of Charlie's since Mary was a baby.
Show dates are Feb. 11, 12, 13, 18, 19, 20, 25, 26 and 27. For more information, call 352-746-7606 or visit artcentertheatre.org.