Dear Gardener Gal: We've had a home in Sugarmill Woods for 13 years with varying luck concerning our grass. We have reoccurring large brown patches of dead grass.
Our lawn care service says it's not cinch bugs. They attribute the damage to our last freeze.
We resodded the St. Augustine grass in 2019. If we resod again should we use a different type of grass? Thank you. — Jeanine
Dear Jeanine: Judging from the photos you attached, it seems your problem area is in a low spot of your yard. Since you seem to have adequate sunlight, you could be looking at a fungal problem.
The only way to be sure is to take a sample of your turf into your nearest IFAS Extension Office. (A really good lawn care company would have done this for you ...)
Here is what you need to do in order to provide them with a good sample:
Choose a spot where grass is still alive but starting to show problems.
Dig out a section about the size of a sheet of copy paper, making sure to get roots and soil.
Place in a plastic container and head for the extension office.
I recommend calling them before you dig your sample to make sure there's someone on duty who is comfortable and experienced with turf diseases. If not, you can always leave the sample with them, but better to have them check it while fresh.
Also, they can return most of sample to you so you can plug the hole you made.
Now, if it is indeed a fungus, you definitely shouldn't throw your money away by resodding with St. Augustine. That fungus can be treated but never eliminated. It will ALWAYS be in the soil and just waiting for more St. Augustine to consume.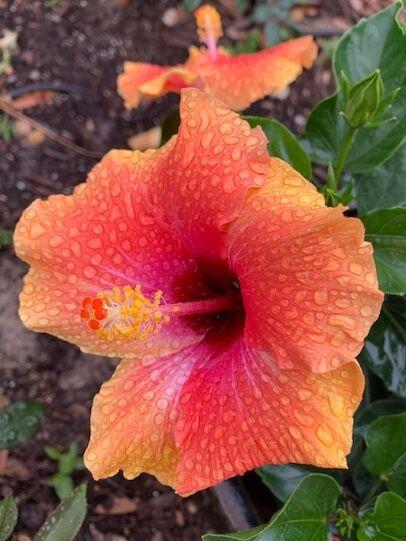 Should the time come to redo your whole lawn, I'd recommend Argentine Bahia. This is a hardier turf grass for most yards and is a lower-maintenance choice once established.
Good luck to you, and let me know what you find out.
Dear Readers: I was right. Last column I wrote that everyone has a special spot in their landscape that makes them smile, or that has a special meaning. I asked you to share yours, and LOTS of you did.
I'll feature at least one in every column so keep 'em coming!
Our first contribution is from Mary:
Dear Gardener Gal: The pandemic has given me more time to enjoy my garden. When the mist and rain are on my flowers, it adds to my number of smiles.
My zen cat under the weeping Loropetalum greets me when I step out the front door. I guess she makes me smile the most.
I received "Independence" from my daughter as a gift. I hesitated to display her outside, but couldn't resist the whimsical sight of her and her sweet and peaceful greeting each day.
"Gardener Gal" Leslie Derrenbacker is a Master Gardener and native Floridian. Send your questions to askgardenergal@gmail.com.