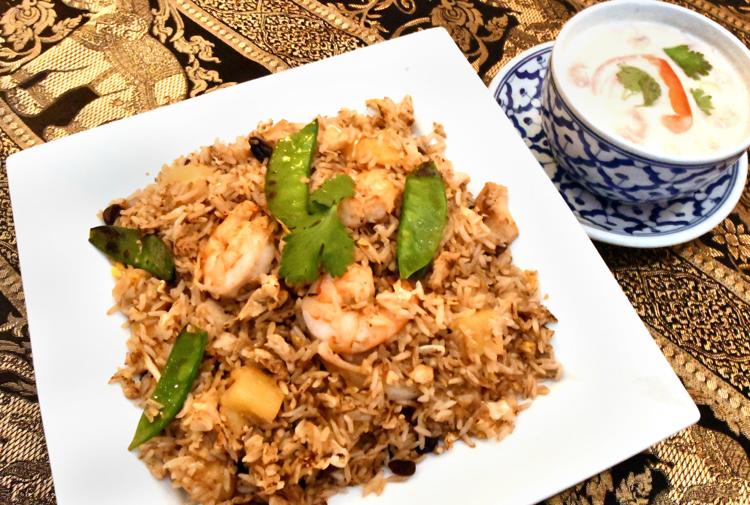 If presentation is a keynote to dining, then Bangkok Thai in Beverly Hills is way ahead of the ordinary with abundant decor that pleases the eye and an amazing menu that pleases the palate.
Now observing more than a decade in the Beverly Hills Plaza, the restaurant continues to dazzle customers with an array of Thai appetizers, entrees, sides and desserts accompanied, if desired, with a chilled glass of delightful, creamy Thai tea.
The spacious restaurant is a colorful vision of Asian decor and comfortable seating for up to 52 patrons at booths and tables, and owner/hostess Paula Pungsuwan and husband Wit are dedicated to serving the best their heritage has to offer.
Pungsuwan, the personable hostess, is a bit busier these days due to a new family arrival about five months ago, Mason, a chubby cherub who occasionally accompanies mom to work. Mason joins father Wit and teenage sisters Mikyala and Maegan.
The family enterprise extends to the kitchen with Pungsuwan's mother, Urai Tangsoonthorntham, adeptly in charge of preparing the many dishes so popular with longtime and new customers.
The family came to the United States in 2008 as Thai nationals. After settling in the area, they were soon joined by Tangsoonthorntham, previously a longtime chef at a restaurant in Gloucester, Massachusetts.
During a recent visit, we started with refreshing Thai tea and were quickly served a lunch of shrimp and vegetable tempura, tangy cucumber salad, chicken rice broth, spring rolls and shrimp, chicken and pineapple rice.
The tempura was perfect, with a light, crunchy exterior on the large shrimp and surrounding thin-sliced veggies including sweet potatoes, onion slices and broccoli florets. The tasty dipping sauce was incredible with just slight spicy kick.
The combination shrimp, chicken and rice dish enhanced with snow peas, raisins and scallions with a touch of curry, was an ample serving that more than satisfied.
The family tries to visit their native Thailand once a year and plan to do so in 2020, where they will vacation in Phuket, a popular Thai beach resort.
Expect a friendly welcome when you visit Bangkok Thai and expect the unexpected, on a menu with such innovative items as Crazy for Noodles, Dancing Squid, Drunken Salmon, combination plates and a medley of Thai curry dishes.
Pungsuwan said among customer favorites are the traditional Pad Thai, the Thai yaki soba noodle dish and the Panang Curry, a spicy version with coconut milk, red bell peppers, zucchini, ground peanut and kaffir (lime) leaves — ingredients typical of Thai cuisine.
Heritage tablecloths and other appointments are attractive and inviting.
Dipping sauces and chili pastes are served with meals.
Most dishes are mildly spiced, but you can order them medium, hot, very hot or Thai hot if you wish.
Pungsuwan noted that over the years, many patrons have graduated from ordering "mild" to asking for a spicier zing to their meals.
A large chalkboard greets customers with a number of daily specials, but expect to spend a bit of extra time at the restaurant to read an absorb the helpful descriptions of exotic Asian items.
Similar to most Asian restaurants, Bangkok Thai offers an extensive menu from soups and noodle dishes to stir fries, as well as chef's exotic specialties such as Fancy Duck with crispy boneless duck topped with cashews, onions, red bell peppers, cucumbers, tomatoes, baby corn and pineapple in a sweet/sour sauce.
Or you might opt for the frog legs with garlic and black pepper: crisp fried frog legs on a bed of steamed mixed vegetables with garlic and black pepper sauce.
A Chef's Specialty feast for seafood lovers is the Snapper Lad Prig, a fried whole snapper on a bed of steamed mixed vegetables topped with chili sauce (market price). Another, the Amazing Trio, is a combination of beef, pork and chicken with coconut peanut sauce and curry paste on a bed on steamed broccoli, topped with scallions.
Various teas, beer and wine are also available at Bangkok Thai.
Bangkok Thai is at 405 N. Lecanto Highway (County Road 491) in the Beverly Hills Plaza.
Lunch is served Monday through Friday, 11:30 a.m. to 3 p.m.; Saturday, noon to 3 p.m. Dinner is served Monday through Saturday, 4:30 to 8:30 p.m. The restaurant is closed Sundays. Call 352-746-0443 for reservations and carry-out. Major credit cards accepted.
Here is a recipe courtesy of Paula Pungsuwan that highlights her heritage:
PANANG DUCK
Duck breast, cut into slices
1 can (19-ounce) coconut milk
6 tablespoons Panang curry paste
2 tablespoons ground peanuts
3 tablespoons fish sauce
Fresh or dried kaffir lime leaves
4 tablespoons sugar
■ For duck breast: Coat duck breast with small amount of cornstarch and pan fry until crisp. Cut into slices and reserve.
■ For the Panang sauce: In a sauce pan, pour coconut milk and bring to a boil. Add Panang curry paste and stir until coconut milk are well mixed. Add fish sauce and sugar and ground peanuts. Lower the heat and then turn off. Add the kaffir lime leaves (leaves can be whole or sliced).
■ Top the pan-fried duck slices with Panang sauce to serve.
Most Thai ingredients can be found in supermarkets or Asian markets, but kaffir lime leaves are sometimes difficult to obtain, Pungsuwan said. Fresh and dried kaffir lime leaves can be order from some internet web sites, such as amazon.com.
She emphasized there is no substitute for the kaffir leaves, and it is integral to the Panang Duck dish.