The winter season in Florida offers residents and visitors much more than just sunshine and sandy beaches — it is also prime time for tasty, juicy Florida oranges.
And one doesn't have to search to find a favorite variety at roadside vendors and supermarkets, since the state produces the majority of citrus fruit in the United States — including tangerines and grapefruit.
As an ode to the abundance and popularity of citrus fruits and particularly oranges, today's Flair for Food offers readers recipes for using oranges in a variety of entrees, salads and desserts.
The many types of Florida oranges include the popular sweet and juicy Honeybell, available for a much shorter time than other varieties.
Honeybells trace their genetic lineage to grapefruits or pommelos and tangerines, as do all varieties of tangelos.
Because they are extremely sensitive to even slight variations in temperature, Honeybell oranges can only be grown in certain regions of the country. Today, most of the Honeybell oranges trees in America grow along a section of the Indian River in Florida.
The best time to grab a sack of Honeybells is during January when a variety of grapefruits, oranges, Honeybells and tangerines are at their peak.
Cushman's Florida HoneyBells are among the sweetest and juiciest oranges. A cross between a tangerine and grapefruit, they're available once — and only once — for a few short weeks in January, so the crop is limited.
Though the Sunshine State is know far and wide for its citrus and especially oranges, proper recognition was late to the party. Florida designated the orange as the official state fruit in 2005 due to the efforts of Sarasota County elementary teacher Janet Shapiro and her students at Southside Elementary School, who realized that although the orange blossom was the state flower and orange juice the state beverage, Florida had no state fruit!
Citrus fruits, especially oranges, are a major part of Florida's economy. Florida produces the majority of citrus fruit grown in the United States (in 2006, 67% of all citrus, 74% of oranges, 58% of tangerines and 54% of grapefruit). About 95% of commercial orange production in the state is processed (mostly as orange juice).
In fact, Citrus County was a major orange producer until a late 1800s hard freeze decimated the groves on the Nature Coast, followed by later cold spells that ruined the local industry.
After orange production failed as a major industry, most of the groves were converted to strawberry fields.
The first citrus was brought to the Americas in 1493 by Christopher Columbus and one of the early explorers, likely Ponce de Leon, planted the first orange trees around St. Augustine in the mid-1500s, according to state historians.
This is expected to be a banner year for citrus.
In the first forecast of the 2019-20 season, the National Agriculture Statistics Service of the U.S. Department of Agriculture projected increases in both the Florida orange and grapefruit crops over the previous season.
In a recent announcement, the USDA predicted Florida orange production at 74 million boxes and Florida grapefruit production at 4.6 million boxes for the 2019-20 season. The numbers are a 3% increase for oranges and 2% increase for grapefruit over 2018-19.
"This reflects what we've been hearing from growers," said Shannon Shepp, executive director of the Florida Department of Citrus.
FLORIDA CITRUS AND YOGURT CAKE
2 Florida oranges, 1 zested and 1 sliced thin
2 Florida grapefruit, 1 zested and 1 sliced thin
4 Florida Key limes, 2 zested and 2 sliced thin
2 1/2 cups sugar
1 cup plain (whole fat) Greek yogurt
1 stick unsalted butter, softened
6 eggs, room temperature
1 tablespoon pure vanilla extract
3 cups all-purpose flour
1/2 teaspoon baking soda
Pinch of sea salt
Preheat oven to 325 degrees. Zest 1 orange, 1 grapefruit and 2 Key limes into a small bowl and set aside.
Slice the other half of the citrus into thin rounds and set aside. In a large bowl, cream butter and sugar until light, fluffy and pale yellow in color. Add vanilla and eggs one at a time, blending thoroughly after each egg.
In a separate bowl combine the flour, baking soda, and salt. Add the dry ingredients to the creamed mixture, alternating with the yogurt. Mix until combined, being careful not to over-work the batter. Gently fold in the citrus zest.
Pour into a well-oiled bundt pan or two loaf pans. Bake for 1 hour and 15 minutes or until a toothpick comes out clean. Cool for 30 minutes. Using a plate or cake stand, place the sliced citrus around the outer edges, overlapping as you go. Gently unmold the cake and place on top of the sliced citrus. Serve warm or room temperature. — Fresh From Florida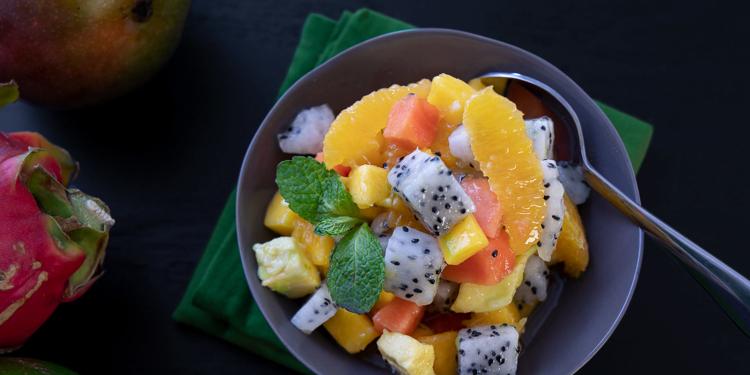 TROPICAL FLORIDA FRUIT SALAD
2 dragon fruits, diced
2 mangoes, diced
2 Florida oranges, segmented (reserve juice)
1 Florida avocado, diced
1 papaya (ripe), diced
2 Florida Key limes, juiced
2 tablespoons Florida orange blossom honey
Combine all fruit in a large bowl. Mix the Key lime juice, orange juice from membrane and honey together until smooth, the pour over the fruit. Gently fold all the ingredients together. Store in refrigerator until ready to serve. — Fresh From Florida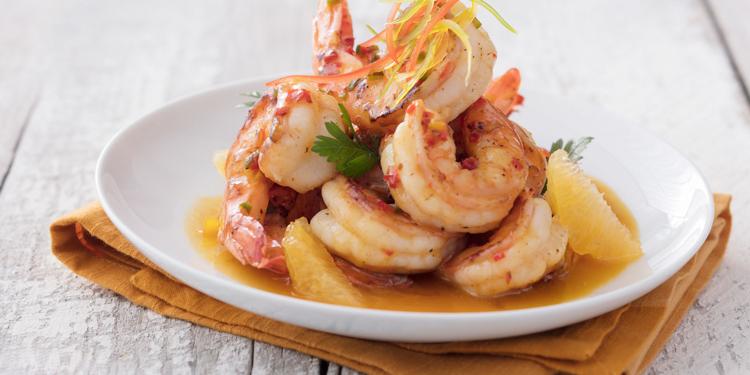 FLORIDA ORANGE-GLAZED SHRIMP
1 1/2 pounds Florida pink shrimp, peeled and deveined
2 cups Florida orange juice
1 teaspoon sesame oil
1 teaspoon low-sodium soy sauce
1 teaspoon hot pepper, finely chopped
1 tablespoon garlic, minced
2 tablespoons parsley, finely chopped
Sea salt and fresh ground pepper, to taste
In a large skillet over medium-high heat cook orange juice, soy sauce, sesame oil, and garlic until liquid has reduced by half. Add pink shrimp and cook approximately 6 to 8 minutes or until shrimp are opaque in the center and liquid thickens again. Add chopped pepper and mix well, taste and adjust seasoning as needed. Garnish with chopped parsley and serve immediately. — Fresh From Florida
1 1/4 cups Florida orange juice
1 cup skim milk
2 large egg yolks
1/2 cup sugar (scant)
3 tablespoons cornstarch
1 packet unflavored gelatin
Prepared graham cracker pie crust
2 Florida oranges, sectioned
Confectioners' sugar (optional)
In a heavy saucepan, combine orange juice, milk, yolks, sugar, cornstarch and gelatin until blended. Cook, stirring over medium heat until mixture is smooth and begins to boil. Remove from heat, and pour into pie crust when cool. Chill for at least one hour or until firm.
For pith-free orange sections, place unpeeled orange on cutting board. With a sharp paring knife, slice off the top and bottom of the orange, cutting deep enough so that no white pith shows. Sit the orange on its bottom, and working from the top downwards, shave off the sides of the oranges, cutting deep enough to remove all pith. When the orange is completely peeled, cut between the membranes that divide the segments so that again, no pith or membrane shows. Lay orange sections on top of pie in concentric circles and serve.
Just before serving, sprinkle orange segments heavily with confectioners' sugar. Place 4 to 6 inches under preheated broiler until browned. — Floridacitrus.org/Florida Orange Juice
1/2 cup Florida Orange Juice
2 pounds boneless, skinless chicken breasts, cut into bite-sized pieces
Salt for seasoning
Pepper for seasoning
2 tablespoon olive oil
3 cloves garlic, minced
1/2 cup honey
1/3 cup soy sauce
1/4 cup rice wine vinegar
3 tablespoons cornstarch
1/2 teaspoons ground ginger
1/2 teaspoon white pepper
Pinch of crushed red pepper flakes
Green onions, sliced for garnish
Toasted sesame seeds for garnish
In a medium mixing bowl, add minced garlic, Florida orange juice, honey, soy sauce, rice wine vinegar, cornstarch, ginger, white pepper and red pepper flakes. Whisk together until combined.
Heat oil in a large sauté pan over medium-high heat and add chicken. Season chicken generously with salt and pepper and sauté for about 4 to 6 minutes, stirring occasionally, until the chicken is browned.
Pour in the Florida orange chicken sauce into the sauté pan, and stir to combine. Bring sauce to a boil and continue boiling until thickened.
Remove from heat and serve immediately with rice. Garnish with green onions and sesame seeds. — Floridacitrus.org/Florida Orange Juice