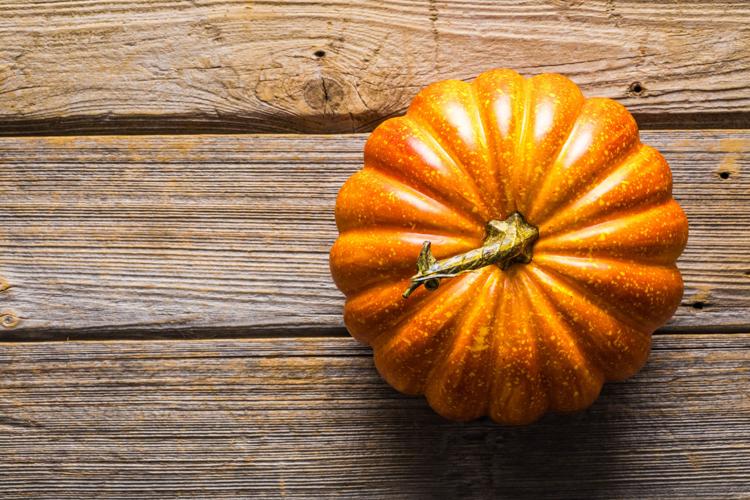 Fall is in the air in Florida and with it a huge array of great autumn produce including everyone's favorite pumpkin squash for Halloween, plus a bounty of delicious recipes.
Many folks will be searching for the perfect pumpkin to carve jack-o-lanterns and for scooping out the sweet orange flesh for soups, casseroles pies, breads, cakes and muffins.
With winter holidays on the horizon, it's hard to imagine family get-togethers without plenty of spicy warm pumpkin pies in flaky crusts to grace the dessert tables.
Florida Seminole pumpkins may meet all that criteria.
Traditionally grown by the native Calusa, Creek and Miccosukee peoples, Seminole pumpkins remain one of the tastiest and most reliable pumpkins for Florida gardens, according to the University of Florida extension office.
Right here in Citrus County the venerable pumpkin designates an area of Old Florida.
The name "Chassahowitza," given to a region on the Gulf in the county by the Seminole people, means "pumpkin hanging place." It's likely that the pumpkins they were referring to were Seminole pumpkins, or a related variety, say Florida agriculturists.
Seminole pumpkins are a cultivated variety (cultivar) of Cucurita moschata; some other notable cultivars of this species include butternut squash and Calabaza. Seminole pumpkins come in a variety of shapes and colors. While generally rounded and dull orange, their appearance can vary — even on the same plant.
The inner flesh of Seminole pumpkins is orange and tastes like butternut squash, but sweeter. The flesh is firmer and less fibrous than that of a traditional jack-o-lantern pumpkin (Cucurbita pepo). The mature fruits generally weigh 6 to 12 pounds.
Home gardeners can obtain more information about growing Seminole pumpkins from: gardeningsolutions.ifas.ufl.edu/plants/edibles/vegetables/seminole-pumpkin.html.
Growing advice includes: Pumpkin seeds do not germinate in cold soil, so they need to be planted after the chance of frost has passed. Plan to plant pumpkins in late spring or early summer for a fall harvest. Pumpkins typically take 95 to 120 days to mature.
Also in peak season now is acorn squash, available from early October through December, though many supermarkets carry it year-round.
It is one of the most popular eating squash with dark-green skin, sweet yellow-orange flesh and a handy size.
Acorn is a very hard-shell squash and cutting it is easier if first softened in an oven before slicing.
And easy side dish for a fall dinner is an acorn squash cut in half and then baked upside down on a baking sheet at 350 degrees until soft. When nearly done, turn right side up. Coat the inside with butter and top with a couple of tablespoons of pure maple syrup or brown sugar and cinnamon. Finish baking until edges start to brown.
Squash is also a perfect vessel for filling with bread stuffing, other veggies and meat mixtures such as sausage before baking.
Squash lend themselves to myriad ideas, including entrées, sides and salads, offering plenty of tasty, vitamin-rich dishes.
Today's Flair for Food has a bounty of recipes to pique your interest in using a variety of squash in meal planning for the cooler days of autumn.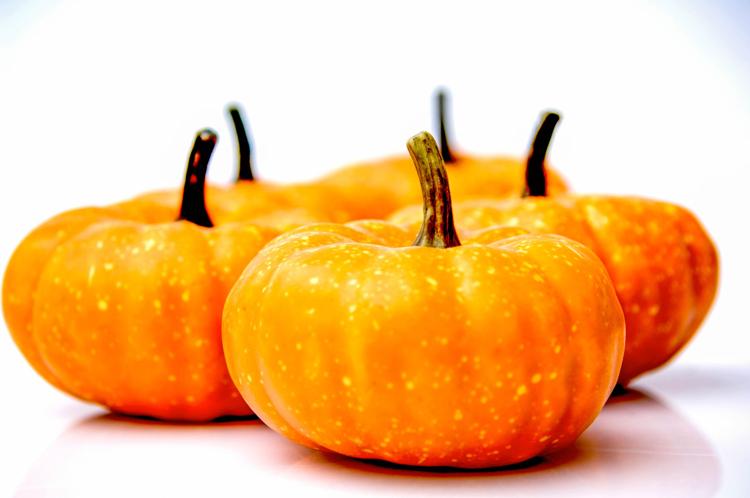 VELVETY CREAM OF PUMPKIN SOUP
1/4 cup butter
1 clove garlic, finely chopped
1/4 cup chopped onion
2 teaspoons firmly packed brown sugar
1 (14.5-ounce) can chicken broth
1/2 cup water
1/2 teaspoon salt and 1/4 teaspoon pepper (or to taste)
1 (15-ounce) can canned pure pumpkin
1 (12-ounce) can evaporated milk
1/8 teaspoon each ground cinnamon and nutmeg
Melt butter in 3-quart saucepan until sizzling. Add onion, garlic and sugar; cook over medium heat 1-2 minutes or until onion is softened. Add broth, water, salt and pepper; bring to a boil, stirring occasionally.
Reduce heat to low; cook 15 minutes, stirring occasionally. Stir in pumpkin, evaporated milk and cinnamon. Cook 5 minutes, stirring occasionally. Remove from heat.
Transfer mixture to food processor or blender. Cover; process until smooth. Return mixture to saucepan. Serve warm. (Adapted from Land O' Lakes Butter recipe)
Here is a tasty assortment of recipes and photos from Fresh From Florida's Chef Justin Timineri: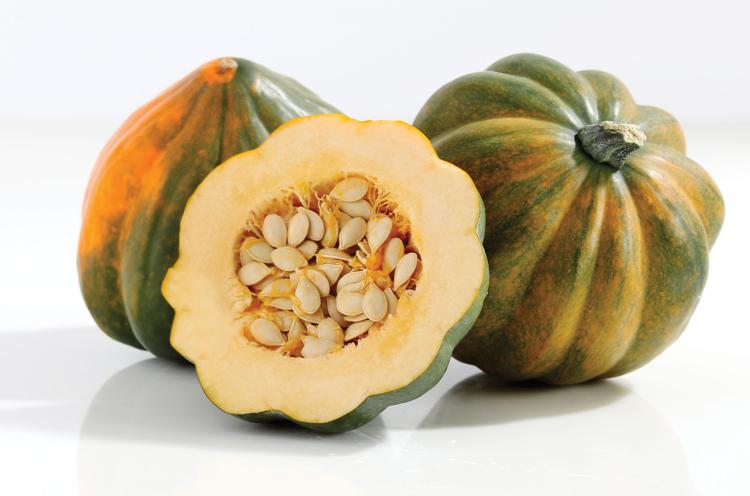 FLORIDA VEGETABLE TEMPURA
1 to 2 pounds Florida vegetables (mushrooms, squash of choice, zucchini, snap beans)
1 cup all-purpose flour
1/2 cup cornstarch
1 1/2 cups cold seltzer water
1 tablespoon all-purpose seasoning (your favorite)
Oil for deep frying
Sea salt and fresh ground pepper, to taste
Prepare vegetables by cutting into small pieces. Combine flour, cornstarch, and all-purpose seasoning into a bowl. While stirring, pour in seltzer water and mix until combined (some lumps are fine). Set aside.
Heat oil to 350 degrees. Dip vegetables into batter and allow excess to drip off. Place vegetables into oil and fry until golden. Do not crowd pot. Repeat until all vegetables are cooked. Place onto a paper towel-lined sheet pan to absorb excess oil. (Fresh tip: Cold seltzer water helps tempura achieve the light crispy texture.)
Serve warm with Asian-style dipping sauce.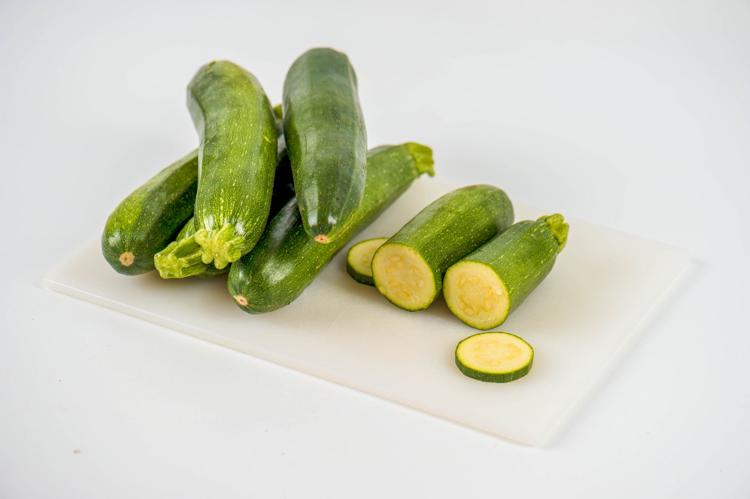 ROASTED VEGETABLE RATATOUILLE
1 eggplant, large dice
1 zucchini, large dice
1 yellow squash, large dice
1 pint cherry tomatoes
3 cloves garlic, minced
4-6 leaves basil, torn
3 tablespoons olive oil
Sea salt and fresh ground pepper, to taste
Preheat oven to 425 degrees. Prep all ingredients as stated above. In a baking pan add the cherry tomatoes, one tablespoon olive oil, and salt and pepper; mix to coat and set aside. In a separate baking pan add all the remaining ingredients, 1-2 tablespoons of olive oil, and salt and pepper. Do not add the basil at this point. Place both pans in the oven for about 15 minutes, or until desired tenderness. Remove the pans and combine ingredients into one bowl. Add torn basil leaves. Serve as a side or as an entrée over brown rice.
ZUCCHINI-RICOTTA ROLLUPS
2 large zucchini or yellow squash, sliced thin lengthwise
1 cup ricotta cheese
1 cup mozzarella cheese, shredded
2 cups marinara sauce (your favorite)
2 egg yolks
1 teaspoon Italian seasoning mix
1/3 cup Parmesan cheese, grated
1/4 cup fresh basil, hand torn
Sea salt and fresh ground pepper, to taste
Lay out all the zucchini and yellow squash slices on paper towels. Lightly sprinkle each side of the sliced zucchini and squash with sea salt. Let the salted slices sit for about 20 minutes. After 20 minutes use another paper towel to soak up any liquid from the vegetables.
In a small bowl combine the egg yolk, mozzarella cheese, ricotta cheese and Italian seasoning. Season cheese mixture lightly with salt and pepper.
Spread a thin layer of the cheese mixture on one side of each vegetable slice. Roll each slice up carefully and place seam side down in a baking dish. Evenly add marinara sauce to the top of the vegetable rollups. Sprinkle with Parmesan cheese and bake in a 375-degree oven for about 15 minutes. Top with hand-torn basil, serve warm.