No tailgating for this writer, but I always enjoy college football in the fall and having the big games on TV make for a cosy hiatus with plenty of tasty snacks.
We will be trying the following recipe for Touchdown Chili by Meg Hoffman, whose efforts captured two awards in a past Citrus Hills Chili Cooking Contest.
Chili is a great, easy to fix and keep-warm dish in a slow cooker that will satisfy everyone cheering for their favorite team.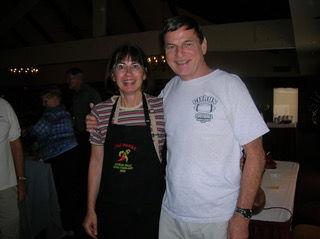 2 pounds ground beef
One 29-ounce can tomato sauce
One 29-ounce can kidney beans (with liquid)
One 29-ounce can pinto beans (with liquid)
1 cup diced onion (1 medium onion)
1/2 cup diced green chilies (2 chilies)
1/4 cup diced celery (1 stalk)
3 medium tomatoes, chopped
2 teaspoons cumin powder
3 Tablespoons chili powder
1-1/2 teaspoons black pepper (Use 2 teaspoons for spicy chili, or for even spicier chili, add 1 tablespoon cayenne pepper)
2 teaspoons salt
2 cups water
Brown the ground beef, drain off the fat. Crumble with a fork. In a large pot, combine beef and remaining ingredients. Simmer over low heat for 2 to 3 hours. Stir periodically.
Facing the usual crowded situation at breakfast options in Crystal River last Sunday, we opted for brunch at the Elegant Pelican at the golf club on Venable Drive.
It was a smart idea. Breakfast was delicious, service was exemplary and new staffer great-granddaughter Kristina Daigneau had time to sit with us a spell at a table overlooking the grounds.
Owners Angel and Kevin Lewis were on hand with friendly welcoming smiles, which elevated the ambiance even more.
Consider a trip to the Elegant Pelican for a pleasant new way to start your Sunday; open from 9 a.m. to 3 p.m.
For those who like their Subway sandwiches with a little more pizzazz, the sandwich chain announced recently that for a limited time, it will be launching its fall menu, which includes a collection of sliders and a 13-hour, pit-smoked brisket sandwich, featuring a zesty barbecue sauce and smoked cheddar cheese.
I can testify this is one amazing sub. Lots of tender brisket adorned any way you wish, including barbecue sauce if desired. Kudos to Subway.
The brand new Subway building is being built right next to the existing store on U.S. 19 in Crystal River. Sources tell me a tentative opening is set for early January.
Here is a delish recipe for all of you air fryer fanatics:
BROCCOLI, CHEESE & SPINACH-STUFFED CHICKEN BREAST
Mix chopped fresh spinach, steamed broccoli with 1 package of softened cream cheese and
4 ounces finely shredded Cheddar cheese.
Add to taste: grated Parmesan cheese, chopped red peppers, green onions, garlic powder, salt and pepper.
Butterfly 2 large chicken breasts and season to taste with basil or Italian seasoning, paprika, garlic powder, salt and pepper.
Fill chicken breasts with stuffing mixture.
Air fry at 380 degrees for about 12 minutes, longer if necessary to ensure chicken is done.