Christmas 2019 will soon be but a memory as the entire world looks ahead to celebrating and welcoming 2020.
Folks in Citrus County will join the worldwide festivities with year-end parties and Champagne toasts and New Year's resolutions as 2019 winds down to the magic midnight hour that herald the next 12 months.
Though no official fireworks displays are scheduled in Citrus, There will be plenty of parties offered at numerous restaurants, country clubs and in private homes throughout the area.
To help you plan for those events, today's Flair for Food has gathered a bounty of Florida seafood recipes ensure plenty of delicious tasting, along with the usual libations.
For those who are not traveling to exotic destinations to celebrate the new year, there are some ideas for those who might want to partake of something new and different in coming years.
Here are a few choice venues for a night of spectacular fireworks and partying to welcome a brand new year compiled by internet travel site at www.cntraveller.com/gallery.
Most of the world's cities most famous New Year's celebrations are televised live for TV watchers. Times Square in New York City is probably the most visited and watched live event on television on New Year's Eve.
The travel site recommends the Renaissance Hotel's R Lounge for peerless views of the famous One Times Square building due south, where the ball drops.
Other cities of note included Reykjavik, Iceland, harbor with bells and horns sounding the welcome amid fireworks.
In Edinburgh, Scotland, the Scottish capital's Hogmanay event kicks off on Dec. 30 with a Viking-style torchlight processing along the Royal Mile, before a concert in the Gardens amid fireworks over Edinburgh Castle.
In Australia, Sydney Harbor attracts more than a million viewers along the water shore and is usually televised around the world.
But if you are content to enjoy all the New Year's Eve activities from a comfy armchair, just be sure to take advantage of Florida's famous seafood for recipes that will take you into the next 365 days with style and taste.
Recipes and photos are courtesy of Fresh From Florida, Chef Justin Timineri.
FLORIDA BLUE CRAB-STUFFED MUSHROOMS
1 pound Florida blue crab
4 large portobello mushrooms, cleaned
1/2 cup bell peppers, chopped fine
1 rib celery, chopped fine
1 scallion, chopped fine
1 lemon, zested and juiced
1/3 cup mayonnaise
1/2 cup panko (Japanese breadcrumbs)
2 tablespoons fresh parsley, chopped fine
Oil for cooking
1 tablespoon seafood seasoning (your favorite)
Combine bell peppers, celery, scallions, mayonnaise, bread crumbs, parsley and all-purpose seasoning in a large bowl and mix. Gently fold in crab meat. Scoop into portabello caps until full.
Preheat large pan over medium-high heat and add 1 tablespoon oil. Place mushrooms filling side down and cook for 2 to 3 minutes or until golden brown. Flip and continue cooking with lid on for 5 minutes or until mushrooms soften slightly and filling is heated through. Serve warm.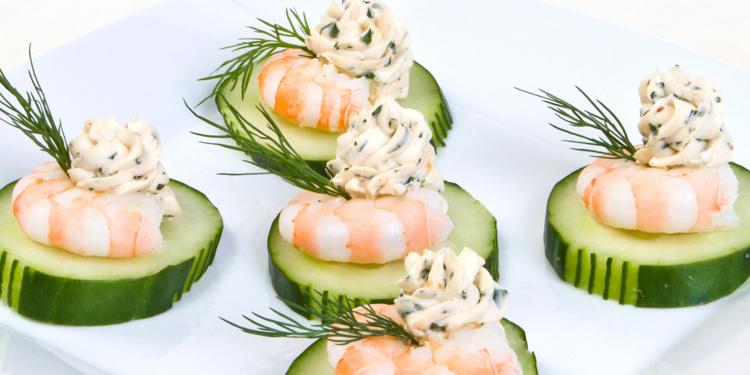 FLORIDA SHRIMP WITH CUCUMBER AND HERB CREAM CHEESE
2 dozen Florida shrimp, cooked,  peeled, and deveined
2 cucumbers, sliced 1/4 inch thick
1 tablespoon fresh herbs, chopped fine (such as dill, rosemary or parsley)
1 tablespoon fresh chives, chopped fine
1 (8-ounce) package cream cheese, softened at room temperature
1/4 cup low-fat sour cream
1 tablespoon fresh-squeezed lemon juice
Fresh dill, for garnish
Sea salt, ground pepper, to taste
In a medium mixing bowl, combine and mix together softened cream cheese, sour cream, herbs, chives and lemon juice. Taste and season with salt and pepper. Cut the cucumbers (peel them if desired) into (1/4-inch-thick) rounds (one for each shrimp). To assemble top each cucumber with a small spoonful of cream cheese mixture, then place one cooked shrimp on top. Garnish with a fresh dill sprig. Keep refrigerated until served.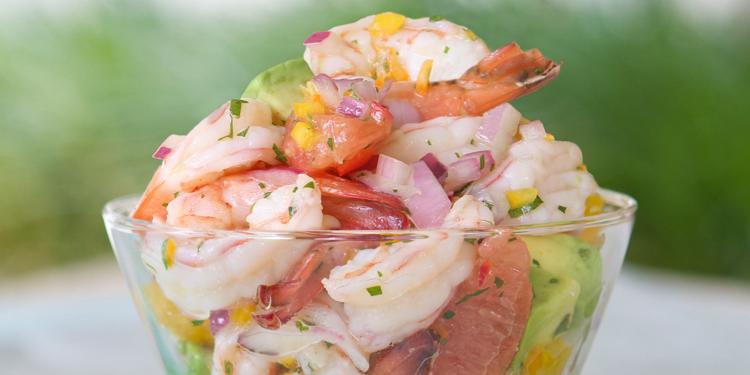 PINK SHRIMP AND CITRUS CEVICHE
1 pound large Florida pink shrimp, peeled and deveined with the tail on
2 Florida pink grapefruit, peeled and segmented, seeds removed
3 Florida tangelos, peeled and segmented, seeds removed
3 Florida tangerines, peeled and segmented, seeds removed
1 Florida sweet pepper, diced
1 large Florida avocado, peeled, pitted and diced
2 tablespoons seafood boil seasoning
1 red onion, diced
1 tablespoon olive oil
3 limes, juiced
1/2 cup fresh cilantro, chopped
1 bag plantain chips or tortilla chips
Sea salt and fresh ground pepper, to taste
Fill a medium-sized sauce pot 3/4 the way with water, and heat over medium-high. Add the seafood seasoning to the boiling pot of water. Add the shrimp and cook for 2 to 3 minutes or until completely done. As soon as the shrimp are done, plunge them into an ice water bath to stop the cooking and cool them off. When the shrimp are completely cool, strain them and put them into a medium-sized mixing bowl.
Add the citrus, sweet pepper, red onion, olive oil, lime juice, cilantro and avocado. Season the ingredients to taste with salt and pepper. Stir to combine ingredients. Serve ceviche with chips.