Juicy, mouthwatering hamburgers are a warm weather staple that taste perfect right off the grill.
Everyone can benefit from having a tried-and-true burger recipe in his or her repertoire when entertaining a backyard full of guests for Memorial Day celebrations, or enjoying a cozy weeknight meal with the family.
Many things constitute a great burger, including flavorful meat, the right ratio of fat content, a crispy roll or bun and fresh, cold toppings and condiments.
That's all guaranteed and more in this recipe for "The Great American Hamburger and Cheeseburger" from "Mastering the Grill: The Owner's Manual for Outdoor Cooking" (Chronicle Books), by Andrew Schloss & David Joachim.
THE GREAT AMERICAN HAMBURGER & CHEESEBURGER
(Makes 6 servings)
2 pounds ground beef chuck, 85 percent lean
5 tablespoons ice-cold water
1 teaspoon ketchup
1/2 teaspoon ground black pepper
Oil for coating grill grate
12 slices good-quality American, provolone, or cheddar cheese (optional)
6 hamburger buns, split
Heat the grill to 425 degrees for gas, or achieve light ash for charcoal or light ash for wood.
Using your hands, mix the beef, water, ketchup and pepper in a bowl until well blended; do not overmix. Using a light touch, form into 6 patties no more than 1 inch thick. Refrigerate the burgers until the grill is ready.
Brush the grill grate and coat it with oil. Put the burgers on the grill, cover and cook for 7 minutes, flipping after about 4 minutes, for medium-done (150 degrees, slightly pink). Add a minute per side for well-done (160 degrees).
If you are making cheeseburgers, put 2 slices of cheese on each burger 1 minute before the burgers are going to be done.
To toast the buns, put them cut-sides down directly over the fire for the last minute of cooking.
If serving the burgers directly from the grill, serve on the buns. If the burgers will sit, even for a few minutes, keep the buns and the burgers separate until just before eating.
The best garnishes for burgers are the classics: a slice of ripe beefsteak tomato, a mound of sauteed onions, a leaf of romaine lettuce, a dollop of coleslaw or a few slices of dill pickles.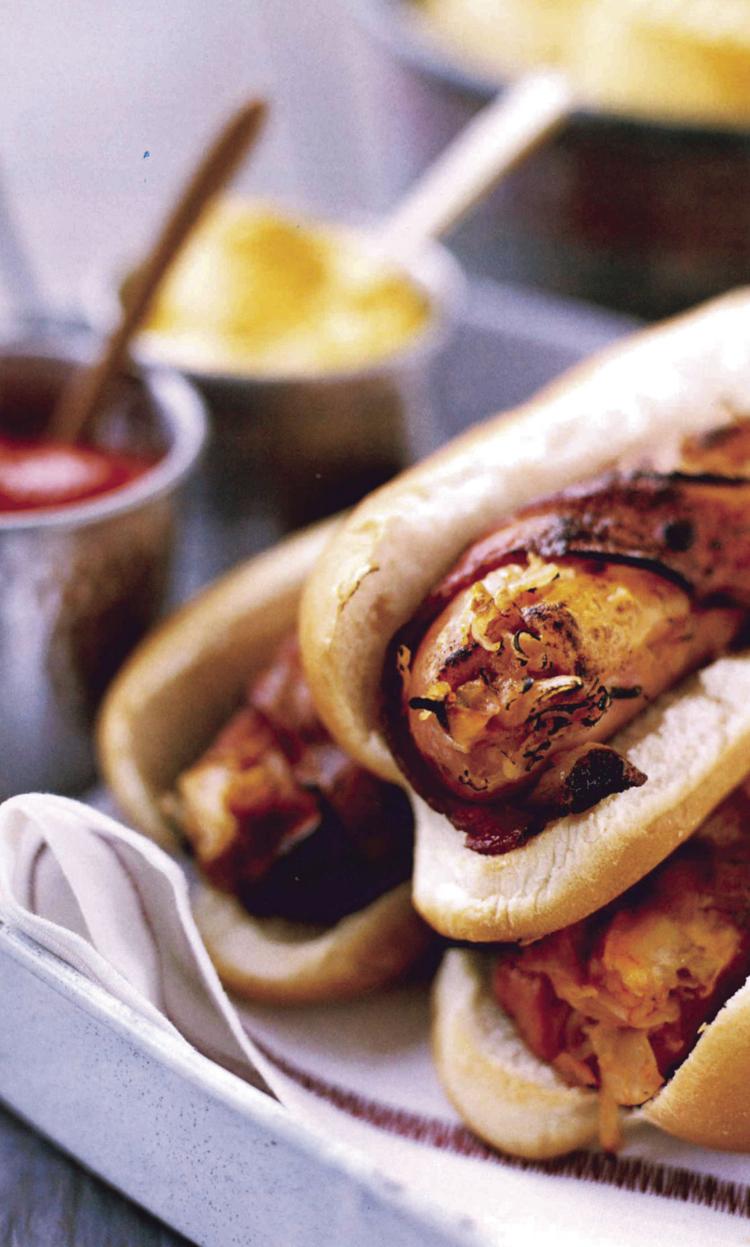 Wonderful wieners
Backyard barbecues simply would not be the same without hot dogs. While many people may not eat hot dogs during much of the year, come Memorial Day and summertime when the grills are fired up, hot dogs take center stage.
Hot dogs make great additions to backyard barbecues because they can be tinkered with to provide a host of different flavors. Those who really want their hot dogs to pack a flavorful punch can try the following recipe for "Hot Dogs Stuffed with the Works" from Andrew Schloss and David Joachim's "Mastering the Grill."
HOT DOGS STUFFED WITH THE WORKS
(Makes 6 servings)
2 teaspoons spicy brown mustard
2 tablespoons ketchup
1 cup refrigerated sauerkraut, drained, rinsed and coarsely chopped
4 large hot dogs, such as knockwurst
1/2 ounce cheddar cheese, cut into 4 small sticks
4 slices bacon
Oil for coating grill screen
4 long hot dog buns or small sub rolls, split
The Grill
Gas: Direct heat, medium high (425 degrees to 450 degrees); Clean, oiled grate
Charcoal: Direct heat, light ash; 12-by-12-inch charcoal bed (about 3 dozen coals); Clean, oiled grate on lowest setting
Wood: Direct heat, light ash; 12-by-12-inch bed, 3 to 4 inches deep; Clean, oiled grate set 2 inches above the fire
Heat the grill as directed.
Mix the mustard, ketchup and sauerkraut in a small bowl.
Slit the hot dogs lengthwise, forming a deep pocket end to end in each one. Fill the pockets halfway with the sauerkraut mixture. Put a stick of cheese in the center of each and top with the remaining sauerkraut mixture. Wrap a bacon slice around each hot dog to hold it together, and secure the ends of each bacon strip with wooden toothpicks.
Put the grill screen on the grill and coat it with oil. Wait a minute or two, until the surface is hot. Grill the hot dogs until the bacon is cooked through and the hot dogs are browned on all sides, about 2 minutes per side.
To toast the buns, put them cut-sides down directly over the fire for the last minute of cooking. Serve the hot dogs on the buns.