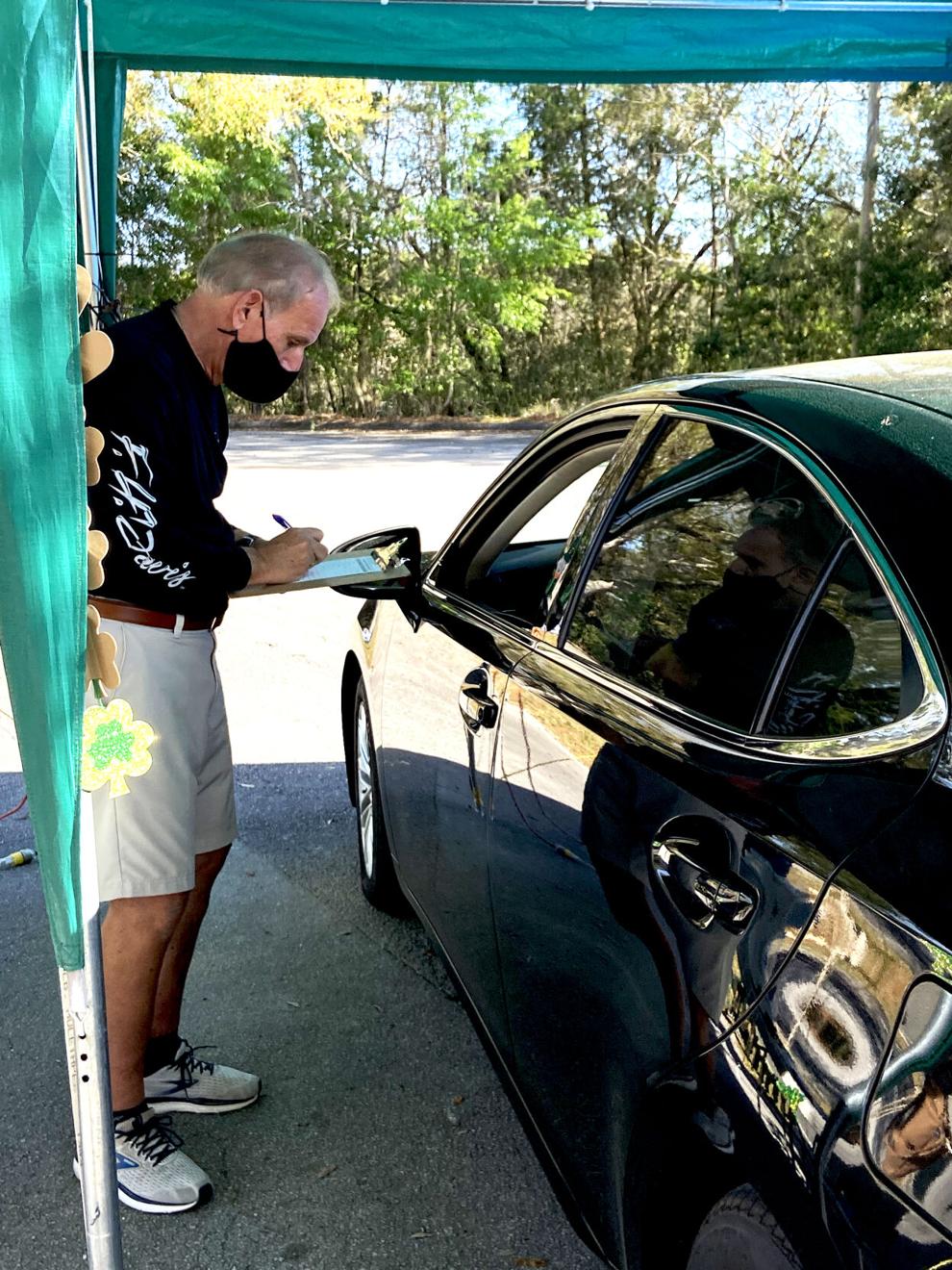 The parishioners of Archangel Michael Greek Orthodox Church of Lecanto have discovered a way during the pandemic to make the serving of fish on Fridays both an art and a science.
They have devised a drive-thru system on their spacious grounds that allows a driver and passengers in vehicles to see a menu, place an order, pay for their meals, and drive to a final spot to pick up their orders, all in a matter of minutes, all while keeping safe from the coronavirus, and all with transactions conducted under canvas canopies that deter raindrops.
And the only attitude the servers have is an attitude of service.
Like many churches, Archangel Michael has faced a challenging year during COVID. Although the church was closed just a few weeks during lockdown, only about half the congregants are attending services, according to secretary Georgia Nicolaou.
Meanwhile, the church has had a history of serving fish and Greek food, as a fundraiser, on Fridays since 2014. And the fish fries have not been just during Lent, but most Fridays from September to June, Nicolaou said.
When COVID struck, the fish fries — served in the church's multipurpose hall — ended, and so did the camaraderie. The twice-yearly Greek festivals also were shelved. That's when members of the congregation put on their thinking caps and came up with the idea for a drive-thru Gyro festival in October 2020.
The festival was successful, with 2,000 to 2,500 participants. That success inspired the church to try its first drive-thru fish fry in December 2020. That first effort drew 78 cars and 150 dinners sold, according to Nicolaou. That was quite a drop from the 448 dinners sold on March 13, 2020, the last time the church served an indoor fish fry.
Nevertheless, on March 5 of this year, the church attracted 115 vehicles and sold 257 dinners, Nicolaou said.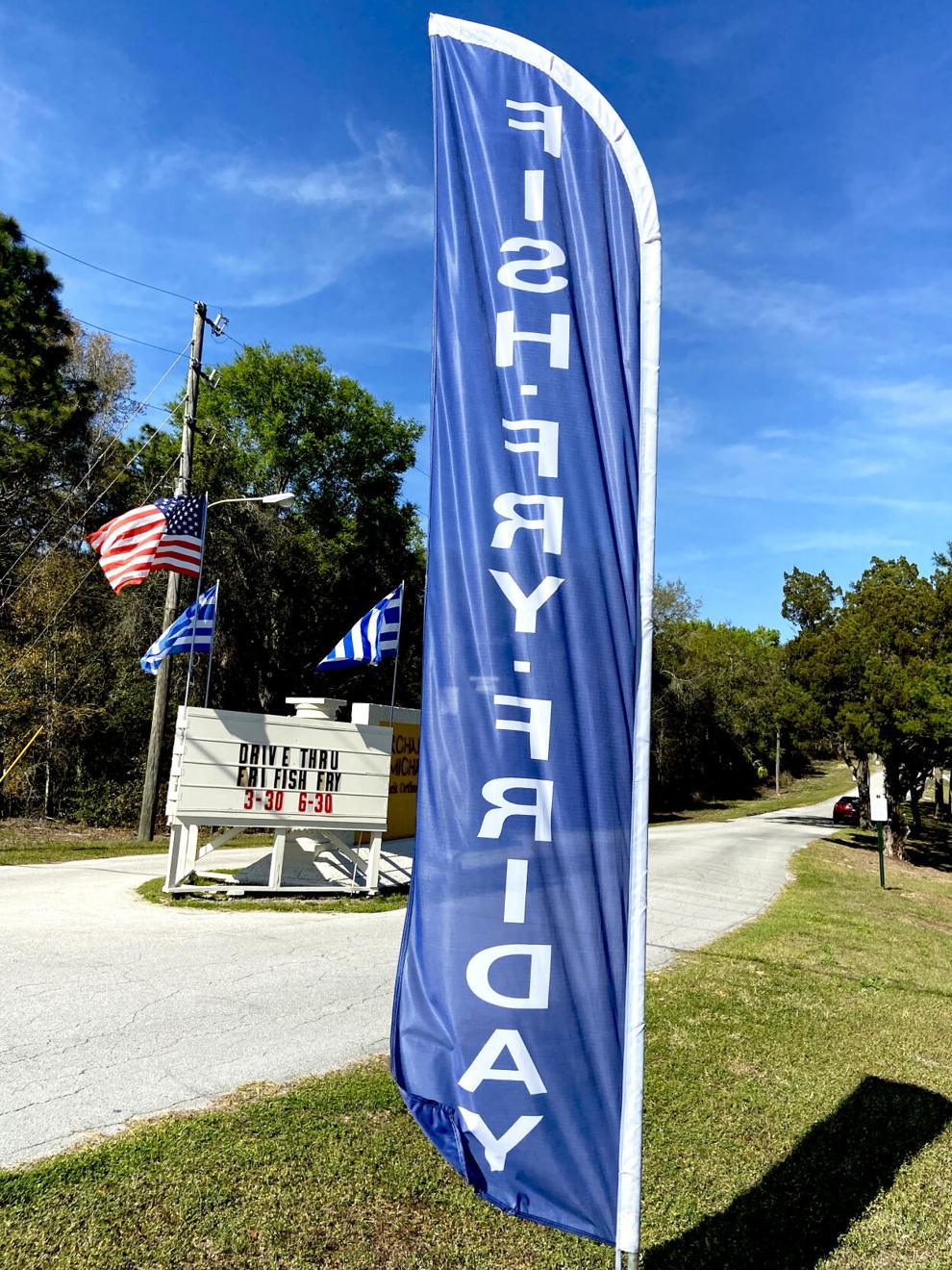 She said, among others, Roman Catholics, who don't eat meat — other than fish — on Fridays during Lent, are telling church members, "Thank you for doing this."
Every Friday, Archangel Michael members offer dinners of fried fish, fried shrimp, a fish/shrimp combo, a large Greek salad, or a Greek dessert variety pack.
They also offer a special that changes week to week. Although most of the specials are Greek food, the church was offering corned beef and cabbage on March 12. Other specials include spanakopita (Greek spinach pie), leg of lamb, Greek chicken, and dolmades (stuffed grape leaves). The specials are accompanied by a salad and rice pudding.
The fish dinners are accompanied by fries and cole slaw.
The dessert variety pack is from Hellas Bakery and Restaurant in Tarpon Springs and includes baklava, saraglia (rolled baklava), kataifi (shredded baklava), and kourabiedes (Greek wedding cookies).
Chef Alex Dalmanieras has been sharing his culinary artistry since the dinners started in 2014. He arrives at the church at 8 a.m. on Fridays to start preparing the fish and specials, Nicolaou said. She said he's famous for his Greek chicken.
The science of serving the Archangel Michael dinners these days is in the efficiency with which they're served.
George Mavros, former chief operating officer of Citrus Memorial Hospital, helped create the church's precision serving team.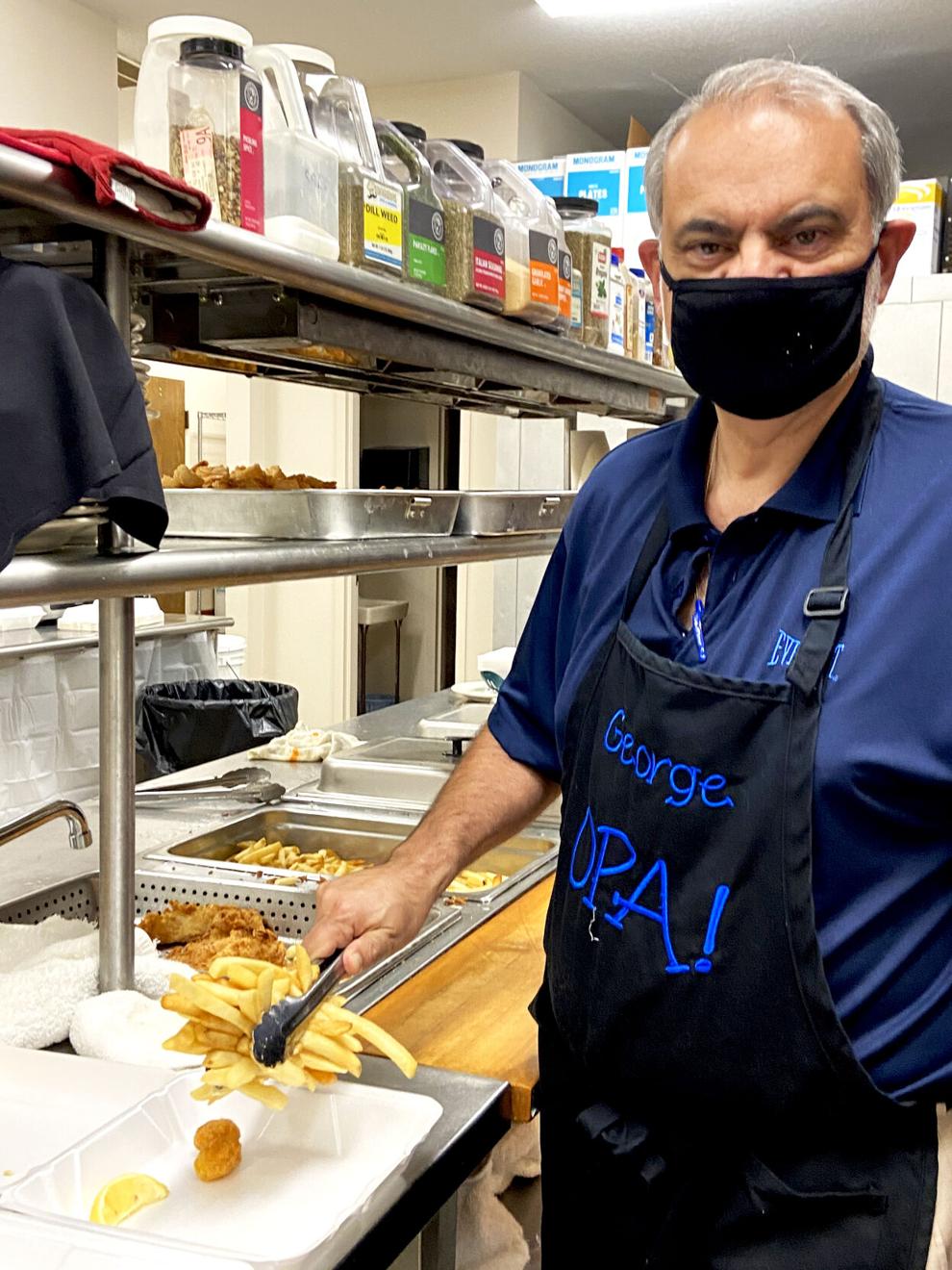 He said the church used "queueing theory" in figuring out how to have a smooth serving operation.
Wikipedia says queueing theory is "the mathematical study of waiting lines, or queues. A queueing model is constructed so that queue lengths and waiting time can be predicted."
In practice, when a vehicle drives under a canopy at the church, an order-taker at a table uses a push-to-talk device to relay the order to volunteers right outside the kitchen in the multipurpose hall. These volunteers jot down the order, repeat it, and take it to the kitchen.
There, parts of the meals are prepackaged, and the cooks and servers dish up the hot food and make sure the meals stay in order with a numbered ticket system.
Outside, the vehicles proceed to the next table under a canopy, where they pay for their meals. The outdoor stopping points are spaced far enough apart to accommodate several stacked-up vehicles, Mavros explained.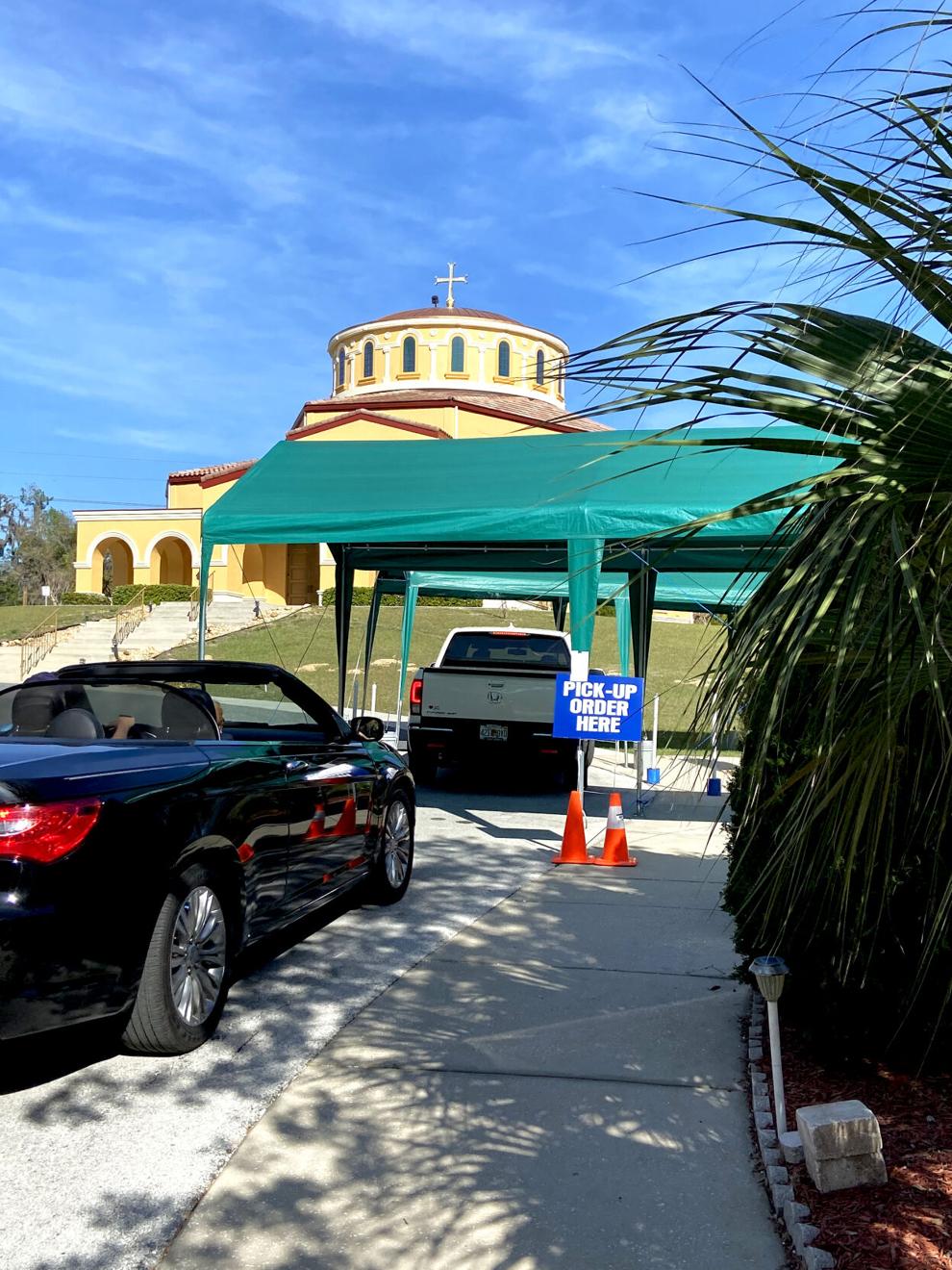 The vehicles then roll to the pick-up point, also under a canopy, where a server brings the food in containers.
To prevent confusion, no call-in takeout orders are accepted. Patrons must place their orders in person.
The system also is designed so servers and patrons don't get too wet in case of rain. Nicolaou said it's rained twice in the nine times the dinners have been served since January. The
That has not deterred them from serving. James Manos was presiding over the order station on a recent Friday, even though he had had total hip replacement surgery of his right hip in mid-January. Manos said he was back at his order-taking post a week after surgery.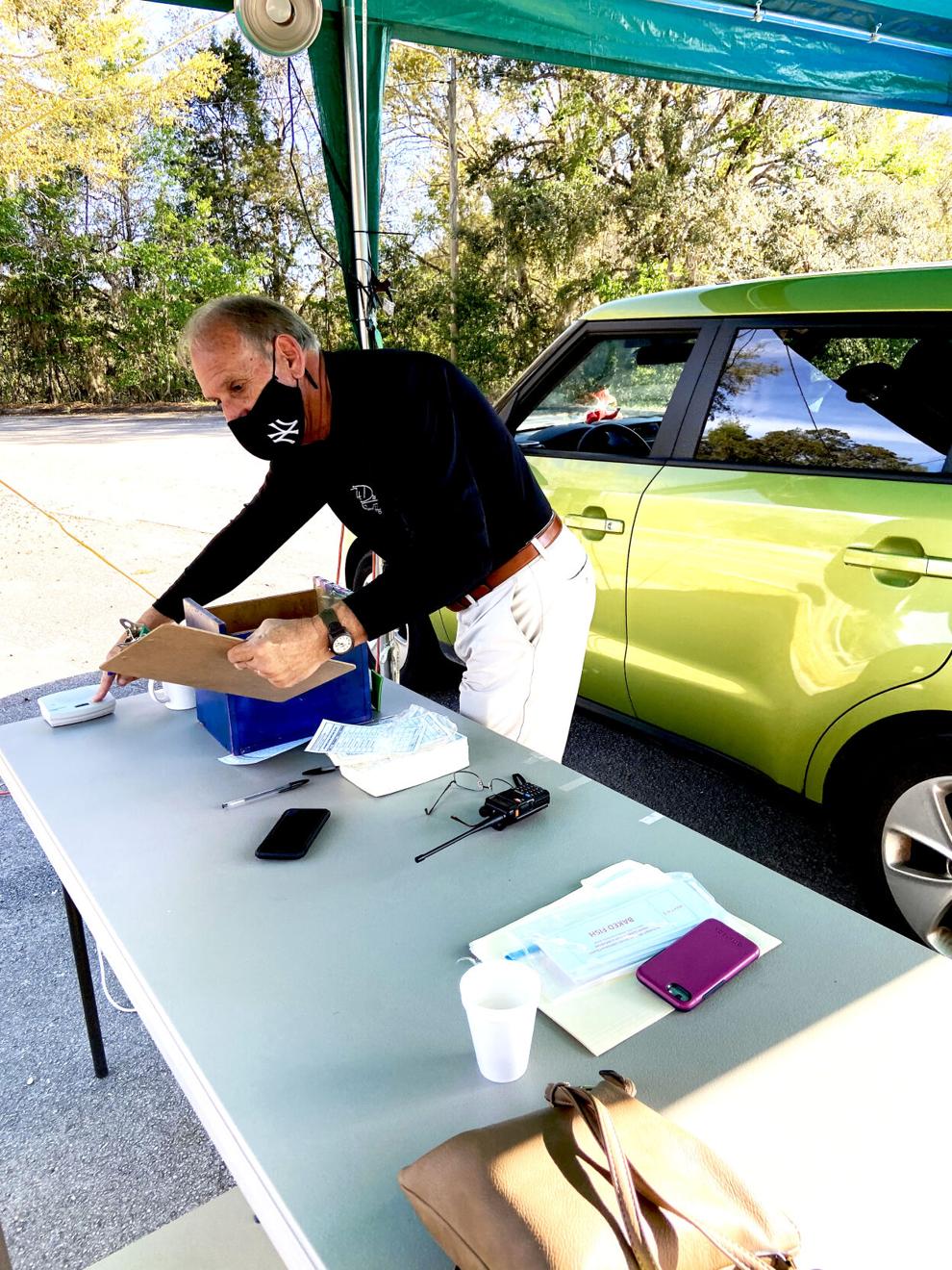 Inside, one of the women recording the called-in orders, Amy Mirialakis, had lost her husband two weeks previously. Student Nicholas Moskes had been called in at the last minute to substitute for a volunteer who couldn't make it.
The workers are dedicated. Nicolaou said she and her husband, Loizos (Lou), get to the church on Fridays about 7:30 a.m.
As she explained, if the orders are few, the days can seem long.
But when the orders are brisk, "You don't get tired making money for the church," she said.