The FFGC Floral City Garden Club held their first meeting of the year with an online face-time venue. It was a learning experience for many, but it went quite well. Seventeen members signed on to attend the meeting via Zoom and found the experience enlightening. The meeting opened with a tribute to 9/11/01 which occurred 19 years ago on that day of their September meeting.
Second Vice President Carol Wood summarized the activities the club had been doing during the summer months, mostly weeding and mulching their community gardens. And Past President Donna Thomas announced that the fall district meeting would be held on Oct. 14 via Zoom so all FFGC members can attend without leaving home. Our own Garden Club will be hosting the spring district meeting on May 19. Whether or not it will be via Zoom will be determined at a later date.
Kelley Wood took up the challenge to find an appropriate program while using Zoom and he presented a Garden Tour program titled, "Ten Best Botanical Gardens of the World" for all to enjoy. The public may see that program; just Google: "Top Best Botanical Gardens of the World."
Following the program, Horticulture Chair Kathy Lingusky gave the "Plant of the Month" a presentation with photos on suggestions for shaded ground covers. Then each member attending was given an opportunity to share how they were coping and what gardening activities they had been doing during the social distancing restrains this summer.
The club continued in August to participate in the County Blessings Program at their scheduled times: every first and third Thursday of the month and they have set aside a day this month to tend to the various landscaped areas in the community that they established. The club, also, will be continuing into their 31st year with the county's Adopt-A-Highway/roadside clean-up program when they meet at the Duval Island Boat Ramp Parking lot on Thursday, Sept. 24, at 9 a.m.
Prior to the meeting, club members read the "Horticulture Hints" sent out by Horticulture Chair Kathy Lingusky. In the hints, we all learned something new about our common dragonfly. Lingusky began by saying, "Since we're in Florida (the heat and insect capital of the nation), I would like to say a word or two (maybe three) about dragonflies. In the dry west, dragonflies are somewhat of a rarity. But here, the insect is as common as the butterflies. And, one soon learns, they are very useful in the garden."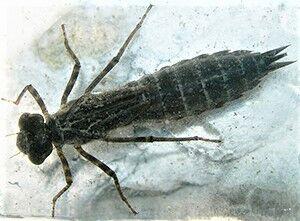 She shared, "There are some one hundred (plus or minus) types of dragonflies, and their close relatives, the damselflies. Dragonflies spend most of their lives underwater as nymphs. That is the immature, wingless form of the insect. When time and temperature are right, the nymphs crawl out of the water onto a stem or stick, break out of its exoskeleton and become the winged adult."
"The adult form lives for a varied amount of time, but generally four months to a year. And during that time (and here's the good part), each dragonfly can eat hundreds of mosquitoes a day. They also have been known to eat ants (go dragonflies!!), small flies and wasps," said Lingusky.
"On the same subject," she continued, "There are some plants that will encourage dragonflies to stay in your yard. Among these are black-eyed Susan (rudbeckia hitra), swamp milkweed (asclepias incarnate), and Joe Pye weed (eutrochium purpureum). All of these will grow in our zone 9a location."
In addition, she advised, "Putting rocks or sticks in your pond will be helpful when the nymphs get ready to crawl out of the water to become adults. Certain pond plants also are helpful to the laying of eggs, and sheltering of nymphs and the young adult: cattails (typha latifolia), water horsetail (equisetum fluviatile), and water lilies. Water lilies are especially ideal because they allow the adult female a place to rest before and after laying her eggs."
"The fall months might also be a good time to consider adding some bird habitat to your back yard. I know some people don't like to feed the wildlife (and, as a rule, you shouldn't), but everything that I have read says that the only drawback to feeding birds is the possibility that you won't be able to feed them all the time. Say if you go on an extended vacation or some such thing. But I have always enjoyed watching the antics of birds in the yard, and have fed local varieties for years. And sometimes, yes, I inadvertently feed a few squirrels along the way," Lingusky said.
"There are a few things, in addition to feeders, that may help to draw birds to your backyard. Shade is very helpful, but not necessary. A water source is very important. Gently moving water is preferred, but I find, not necessarily required for the birds to be interested. A wide shallow water source is best: bird baths in the hollows or depressions of rocks for an example. This allows for all types of bathers — both the "dip-and-run" type, and the "fluff-an- flutter" type. Plus, the birds are able to perch on the edge and take a sip if desired," Lingusky said.
She concluded, "Leaving a brush pile somewhere not too far from the feeder provides a place for shelter and rest for some smaller birds. Leaving a dead tree as a snag provides a place for some larger birds to perch and scan the neighborhood. Vines on a fence or pergola gives an outlook before attacking the feeder.
Kathy reminded gardeners, "Not least important, to further assist and protect these "friends" of the garden, is to stay away from insecticides."
Enjoy our impending cooler weather — it's bound to show up sooner or later!
The public is invited to the club's meetings and to attend via ZOOM; call Carol Wood for guidance at 813-235-3917. For general information about the FFGC Floral City Garden Club, visit www.floralcity garden club.webbly.com or call President Susan Metcalfe at 352-637-3828.