Are you bonkers for Bunco?
The women of Altrusa International of Citrus County are hosting an evening of food, fun and fundraising on Thursday, Oct. 3, at the Central Ridge Community Center, 77 Civic Circle, Beverly Hills.
Besides exciting game play, this catered event will include a pick-a-prize auction, cash prizes, drawings, door prizes and more. Watch out — the dice will be flying!
Tickets are $25 and includes plenty of food, desserts, beer and wine.
Social time starts at 5:30 p.m. with drinks and food. Bunco begins at 6:15 p.m. and the fun continues until 9 p.m.
There will be tons of prizes, plus an auction and prizes for the Bunco winners.
Bunco is a fun and easy parlor game that's usually played by women. It's a very simple game which requires no skill or prior experience. The game is played at tables of four, in competing teams of two. The rules are easy and will be explained the night of the event.
All proceeds from this fundraiser will be donated to the Citrus County Education Foundation's First Library Initiative. To learn more about this wonderful community cause, visit www.citruseducation.org/programs.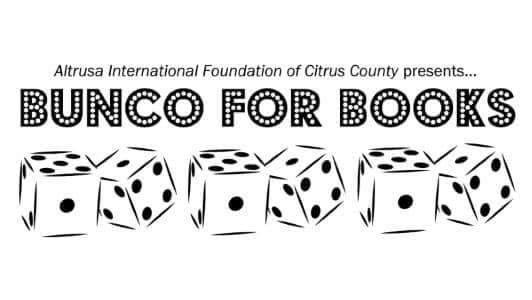 Altrusa International is an international nonprofit organization, making local communities better through leadership, partnership and service. Members are civic minded people who strive to create better communities worldwide.
For more information about this event and to purchase tickets, visit Facebook page www.facebook.com/CitrusAltrusa or call 352-513-5990.
Join Altrusa for a fabulous evening of fun while contributing to a very worthwhile cause that is making a difference in the life of a child.