Armed with finely pointed paint brushes, acrylic paint, and 2-feet-by-2-feet plywood boards, Dan Nichols of Homosassa is creating barn quilts fit to hang in an art gallery.
And that's just what the Performing Art Center of Citrus County is planning when Nichols' work is exhibited Friday, April 23, from 5 to 7 p.m. He also will be speaking about his art.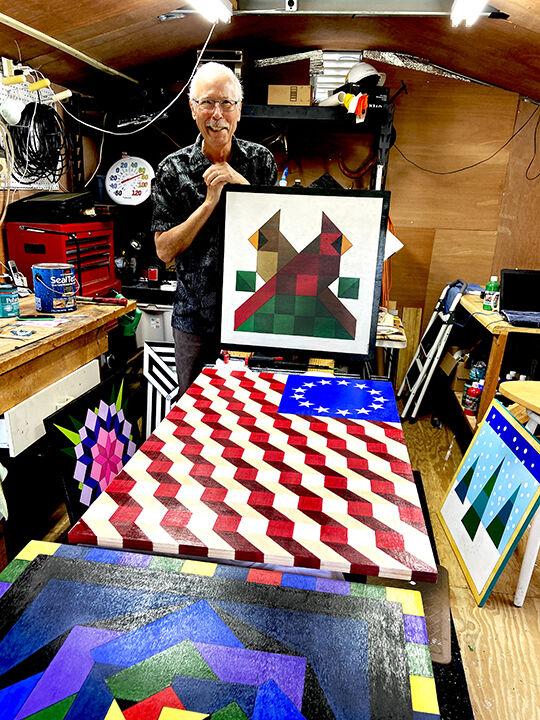 For Nichols, a retired draftsman and salesman, as well as a Navy veteran, having his art on display at the Art Center is a surprise.
He said when the center's Assistant Vice President Gerri Pennington called and said the center would like to exhibit his work, "It just blew me away."
Pennington described Nichols' work as "very vivid, very analytical. It plays strongly with the concept of optical illusion. … It reminds me of op art. … It's linear. He makes lines look like they bend."
She said Nichol's talk and one-night-only exhibit is the first such venture for the Art Center since the pandemic hit. The center's longer exhibitions and art luncheon programs have been on hold for the past year.
Nichols said he likes his work, especially the ones that look 3-D, "and I'm pleased that other people do, too. I'm proud to have the talent to do them. But I'm not trying to be famous. And this is not a business."
Nevertheless, he said if people have a request for a certain kind of painted quilt, he'd be happy to help them out.
The modest Nichols claims, "I can do straight lines. Real art I can't do."
However, it's his steady hand and eye that create the fine lines that turn his paintings into work that is a step up from the quilts painted on barns that one sometimes sees in the Midwest and elsewhere.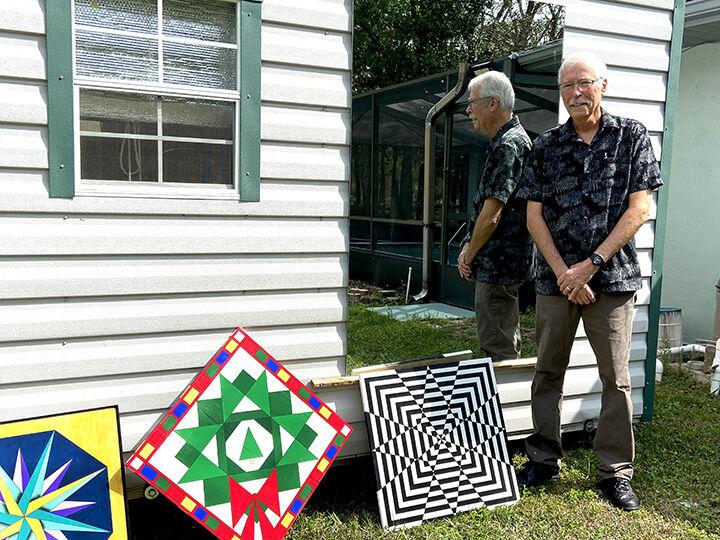 Nichols has been painting barn quilts on square pieces of pine and maple and other plywood only since about October of 2019. He had retired as a salesman from Cooling Tower Depot, based in Golden, Colorado, in February 2019 and was looking for something to do. As he tells it, he likes doing yardwork, but he's not into golf.
In the summer of 2019, he and his wife, Coralee, had attended the annual reunion of Navy veterans who had served on the aircraft carrier USS Independence. That year, the reunion was in Dayton, Ohio. During the trip, Dan and Coralee stopped to visit Coralee's sister, Diane, in Fort Smith, Ohio.
And Diane was painting barn quilts. She told Dan and Coralee how in Ohio, people drive around barn quilt trails to admire the quilts painted on barn walls or elsewhere outside. After Dan and Coralee admired Diane's barn quilts, she thanked them but said she had to pay someone to sketch out the design.
Then Nichols, the retired draftsman, said, "I can do that."
He said he sat on Diane's sofa and in a couple hours had designed three or four quilt sketches.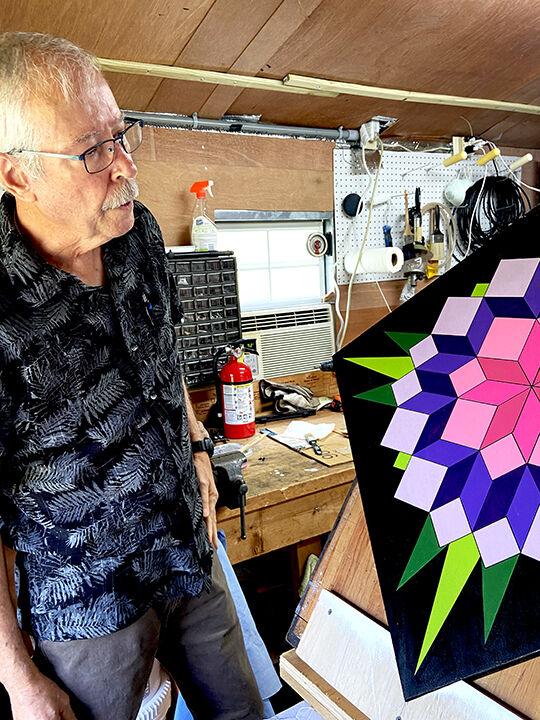 Nichols, who joined the Navy in 1968 after graduating from Lakeland High School, served at Roosevelt Roads Naval Station in Puerto Rico on the fire department crew that tended to plane crashes. Later, he served on the USS Independence aircraft carrier out of Norfolk, Virginia, as a "yellow shirt," directing planes around. Nichols' ship visited the Mediterranean to maintain a U.S. presence there, and then sailed to the North Sea for sea exercises with NATO.
After his four-year Navy stint, he studied design and drafting at Tampa Technical Institute. He landed a job as a draftsman at Piper Aircraft in Lakeland, then moved on to work as a draftsman for Zurn Industries, based in Erie, Pennsylvania, a company that designed concrete hyperboloid cooling towers and round mechanical drafting towers, also out of concrete. He worked for several companies across the country that specialized in cooling towers, both as a draftsman and later, as a salesman, before returning to Florida in 2004.
Fifteen years later, after Dan and Coralee came home to Florida following their USS Independence reunion and their visit to Coralee's sister in Ohio, Nichols thought a little more about his sister-in-law Diane's quilts and realized that he, too, might paint barn quilts.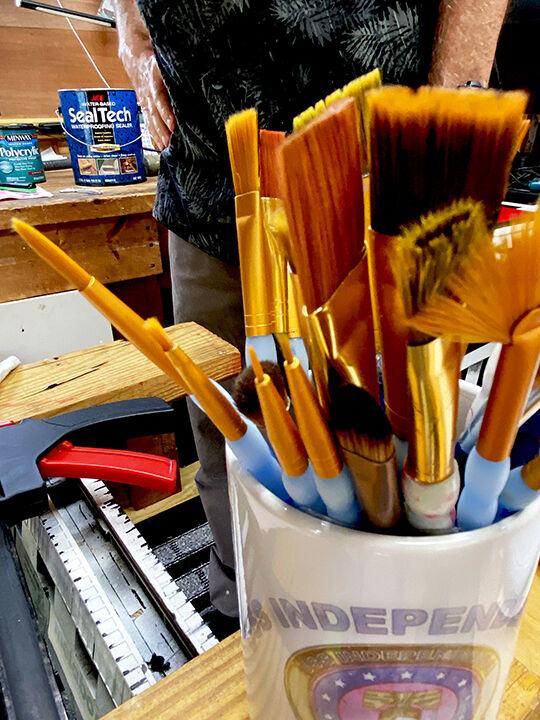 He got busy on the couple's dining room table, starting with simple designs.
He put a couple on Facebook and sent some photos to Diane.
She suggested that Dan try selling them online on Etsy.
But he said, "I don't need a job."
Then, one day, Dan and Coralee saw the Citrus County Craft Council doing a show at the mall in Crystal River. They applied and became Craft Council members. Their first show was at The Depot in Inverness in the fall of 2020.
Nichols sold three or four painted quilts, and two to the same woman, after cutting in half the prices he had started asking earlier in the day. The woman inquired if he could do other designs. He created a Betsy Ross flag for her, a flag with a circular field of stars and with stripes that appear to be waving. After a photo of the flag appeared on Facebook, three friends wanted one.
By this time, Nichols had insulated a shed in his backyard and had moved his quilt-making there, freeing the dining room table.
When Nichols' barber saw the painted wooden quilts, he ordered one. People at church ordered some. Then one evening, some friends, Robert and Maryann DiSimone, whom Dan and Coralee had known at St. Thomas the Apostle Church in Homosassa, invited the couple to dinner. Also attending was Pennington from the Art Center.
Two weeks later, Pennington called Nichols and said, "I want to talk to you about doing a show. … And bring as many as you can."
Nichols said he's been busy since then building up his inventory. He's trying to create two, three, or four at a time. He said the process of preparing the wood, sketching out the design, then painting and repainting, and finally sealing the plywood squares with three coats of deck sealer takes at least a week per square.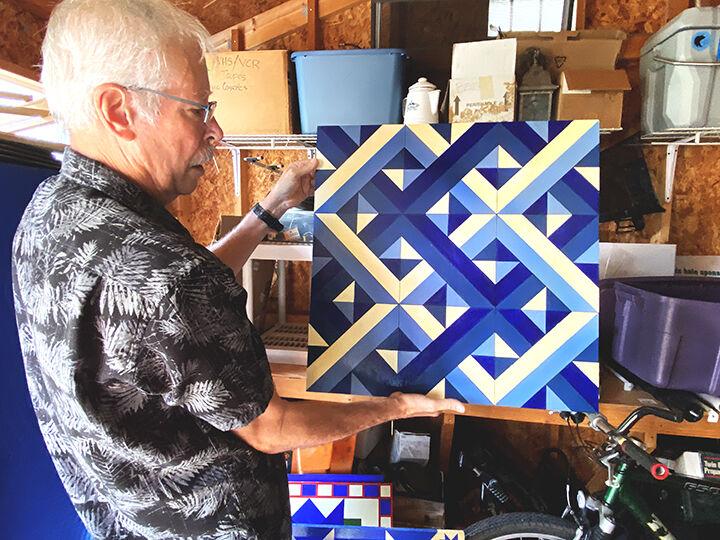 For his designs, he uses traditional quilt patterns that he finds online or that someone suggests and then translates them into a barn quilt on his two-by-two, 3/4-inch plywood sheets. He uses an architect's triangular ruler to help compute the proportions of his design. He said traditional quilt squares typically are three-inches-by-three-inches, or six-inches-by-six-inches, so scaling them to two-by-two is not that difficult.
For the fine lines he paints, he uses either brushes with small tips or broader brushes that are angled. He said the angled brushes help him get right up to an edge.
He finishes his paintings using a fine-tipped black pen to outline some of the detail.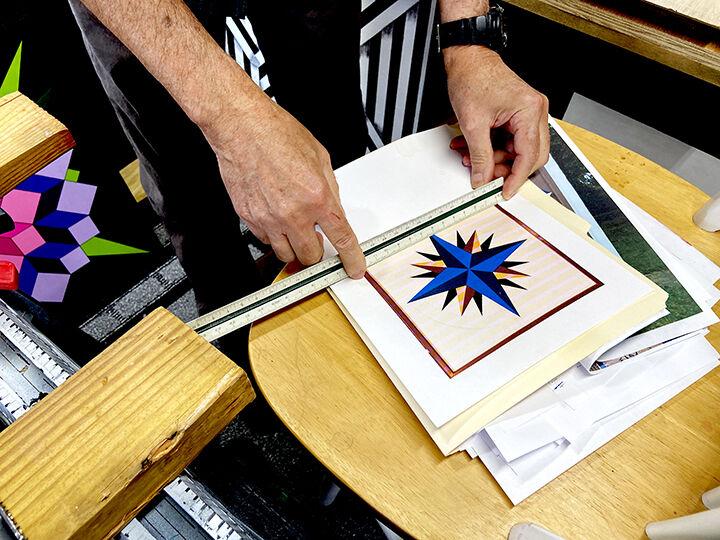 One of his newer designs is a thistle, with a purple flower head, a geometric-patterned stem and leaves, and a receptacle that's painted in the color and "weave" of tartan cloth.
Nichols is Scottish and has fashioned the receptacle of this flower so precisely that he's painted the number of horizontal and vertical lines to correspond to the number of threads that make up a wool tartan that is his Mac Nicol family's plaid. The lines are amazingly small, but Nichols said he doesn't use any kind of magnifying glass, microscope, or other viewing device to do his work. He just uses his steady hand.
He said he's tried taping off areas to cut a straight line, but a little paint always gets under the tape. For some of the miniature spots on his plywood canvas, he's tried using a toothpick, but that didn't work well, either.
He said he would enjoy painting the tartans of other clans. And he's open to exploring new designs. He's experimented with psychedelic 3-D designs that suggest op art or work by M.C. Escher. The geometric precision of these patterns and interwoven use of two colors and shading creates optical illusions.
Pennington said Nichols' use of color really stresses its optical illusion quality.
Nichols said his wife, Coralee, is his "color consultant."
Nichols also has created simple bird quilts of cardinals that he said easily could transform into a blue jay design.
When he gives his talk at the Art Center, Nichols said he expects he will talk about why he chooses plywood to paint on (it's inexpensive, holds the paint well, and does well outdoors).
He will talk about the paint he uses (acrylic — It works well on plywood, is inexpensive, and is available locally in many colors.) And he will talk about his technique.
"I'm a sales guy. I can talk," he said.
But he emphasized he's not really interested in turning his art into a sales enterprise. He just enjoys creating it.
"It's different," he said.
Pennington said the center is hoping people will support Nichols' talk, so that it might lead to similar one-evening talks and exhibits by other artists.
An artist, herself, who usually creates realistic portraits, Pennington recently put together, "just for fun," some "whimsical abstract watercolors," to help set the mood for the center's Youth Theater performances of "The Secret Garden," on stage through April 18. Pennington's paintings are in the theater lobby.
After the year-long shutdown of the Art Center, "We're trying to get back into community awareness," Pennington said.