Take some time to explore the website of the Citrus County Library System, www.citruslibraries.org. You not only can find the library's physical books and other media, but also its e-books and audiobooks.
At the top left corner of the website, there's a little yellow box that says, "My Account/Library Catalog." If you click on this, one of the first things you'll see is "What's New."
Here you can view the most recent physical Fiction, Nonfiction, Teens, Children's, and Picture Books that the library has acquired and has placed on the shelves.
The website will tell you if someone already has checked the book out. If someone has, you can place a "hold" on the book and the library will let you know when the book is available. If the material is on the shelf, you can put it in your shopping cart and the library staff soon will notify you they've got it ready for you to pick up at your preferred branch.
From this same main library website page, you can search for a book using the white search box near the top of the screen. Say you want a book about manatees. Type "manatee" into the search box, and voila! Up pop 433 results. You can click on each item, choose which book or books you want, and place them in your shopping cart. Then, when notified, go retrieve them from the library.
On the library catalog page in the left column, you'll see "Quick Links." Here, you'll see such choices as "Novelist Plus," "Research Databases," "Ask a Librarian," and "eBooks" and "eAudio."
"Novelist Plus" is a new service that will recommend similar books for you based on your choices and allow you to make recommendations for other patrons.
Under "Research Databases," you'll find the "Florida Electronic Library," the "Westlaw" legal database, and three genealogical databases. You only can access the "Westlaw" database and two of the genealogical databases from a computer inside a library building, which is not possible during the coronavirus. But you still can look up, from your home computer, information about your ancestors on the "HeritageQuest" database. You will need to know your library card bar code number to access this information.
"The Florida Electronic Library" also is accessible at home and found under the "Research" tab. This database is a treasure trove of information, allowing you to search for online books, magazines, newspapers and other media about most any topic.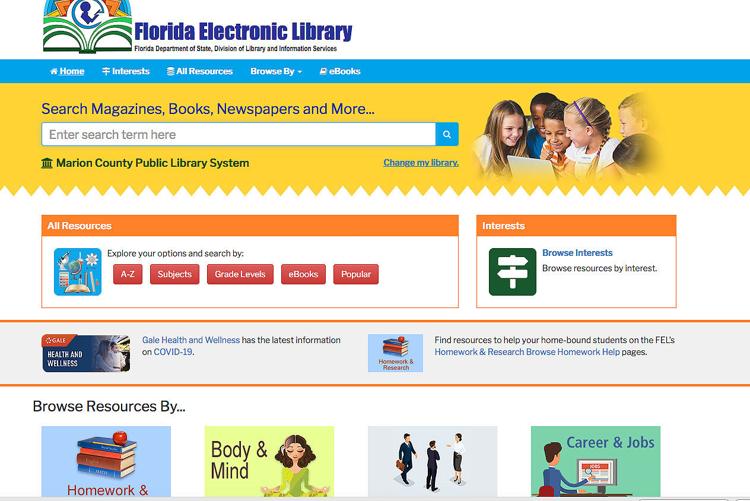 "The Florida Electronic Library" also categorizes its collection by such broad topics as "Homework and Research," "Body & Mind," "Art & Culture," "DIY & Small Business," "History & Society," "Career & Jobs," "Florida Resources," and "Magazines & Newspapers." Click on any of these topics and scads of information is at your fingertips.
For example, under "Body & Mind," you'll find medical databases, a veterinary database, a physical therapy and sports medicine database, a psychology database, and a religion and philosophy database.
What might be an interesting topic to search? Let's try, "the meaning of life" in the "Body & Mind" database. We find 1,889 online magazine articles on the topic, 2,986 academic journal articles, 11 books, 222 news articles, and one video, which you can watch online, about a woman interested in selling her eggs to an infertile couple. Much of this material is rather scholarly, but if you're cooped up at home, here is a good way to expand your knowledge.
Under the "Research" tab on the library's main page, you'll also find "Homework Help," which gives access to three databases chock-full of information aimed at student scholars. You'll need your library card's number to access the material.
There's also "Ask a Librarian," dubbed "The Human Search Engine," whereby a child or adult can text, chat with, or email a real, living, breathing Florida librarian and get answers to tough questions. For example, the library's Communications Facilitator Ben Kampschroer said some people might have a hard time thinking of a search term that produces fruitful results. A librarian can help a person zero in on search terms that will produce the most relevant information.
You also can access e-books and audiobooks for which the Citrus County Library System has licenses. There's a tab on each of the library website's pages for "ebooks" and "eaudio." Click on this tab and you'll discover "Libby by Overdrive," "Overdrive Classic," and "EBooks on Ebscohost," as well as some "Help" tabs. Kampschroer recommends trying "Libby by Overdrive" first.
On "Libby," you'll see newly added e-books and audiobooks that you can reserve if somebody already has checked them out. Yes, an online book can be "checked out" because the library may own just one license for a book, Kampschroer explained.
If someone is reading the book, the library may not have a second license that allows you to read the e-book. But you can place a "hold" on the e-book, and when the first patron has finished, you'll be notified – unless another person or more are in line ahead of you. You'll need your library card number for this.
To find out what's available to read online or listen to right now, click on "What's Available." One e-book title that popped up for this story was "The Handmaid's Tale," by Margaret Atwood.
A potential reader could either read the book online by checking it out or read a sample of it on the spot. An audiobook that was available was a memoir written and read by actress Sally Field, "In Pieces." One could hear Field reading a sample of the work or could check out the whole audiobook.
Again, a library card number is needed. Kampschroer said there is a Libby app for digital tablets and smartphones. It can be downloaded at www.overdrive.com/apps/libby/
It's surprising how much information can show up on your computer by exploring a few tabs on the Citrus County Library System's website. Tap a tab or two and you just might learn volumes about "How to Think Like a Monk" (by Jay Shetty), "How to … Cut an Onion Without Crying," (from the "Vegetarian Times"), or "How to Listen to Music" (by Henry Edward Krehbiel).