As people experience ongoing physical/mental decline or the challenges of an advanced illness, they often choose some type of healthcare in the home, wherever home may be. 
This raises a common question: what's the difference between hospice care and home health care? VITAS® Healthcare, an end-of-life care provider in Citrus County, offers these explanations:  
Hospice is comfort care provided to a patient who has been given a prognosis of 6 months or less for an advanced illness when curative treatments are no longer effective or preferred. Hospice care manages symptoms and pain while focusing on quality of life—not recovery—for the patient and family.  
Home health care helps patients recover from injury or illness, or improve functions they have lost from illness or decline. Patients must be homebound and continue to show improvement in order to keep receiving home health services at home.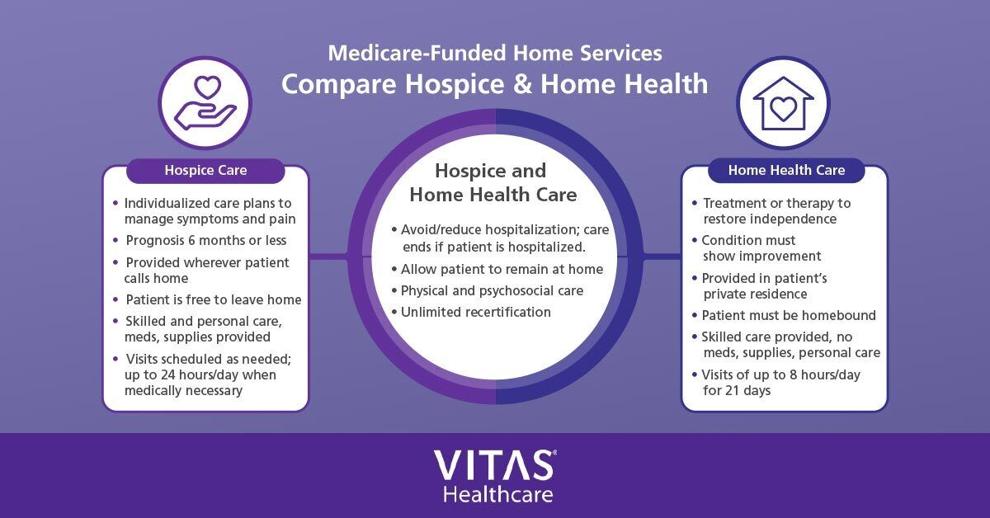 Both types of care help avoid repeat trips to the hospital or emergency room by allowing patients to be cared for at home. Key differences are evident in these areas: 
What types of care are provided?  
Each hospice patient receives an individualized care plan that is tailored and updated regularly, based on their medical, emotional, and spiritual needs.  
Home health care patients receive specialized care that is targeted for improvement and independence, evaluated weekly and offered for a limited time.  
Where is care offered?  
Hospice can be provided in a private residence, nursing home, or assisted living facility. Additional support is available at the VITAS Inpatient Hospice Unit in Lecanto when inpatient care is medically necessary or during times of respite until the patient can return home.
Home health care is limited to a private residence. 
Who provides care?  
Home health patients receive care from nurses or specialized therapists, based on their diagnosis and needs. A patient mut show improvement, and progress must be documented. 
Is it covered by Medicare?  
Hospice: The Medicare hospice benefit covers up 100% of care related to a patient's terminal diagnosis, plus home medical equipment, supplies, and medications.  
Home health: Medicare does not cover medications; patients may be asked to cover the costs of supplies and equipment.  
Find answers to other frequently asked questions about hospice vs. home health care at VITAS.com. For more information about end-of-life care options in Citrus County, contact VITAS at 800.723.3233—available 24/7/365.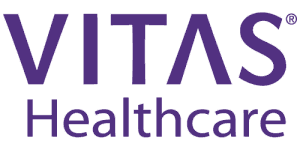 This VITAS hospice office serves as a "home base" for our care teams, which includes physicians, nurses, home health aides, chaplains and soci…